Two Surprising Runoffs Likely in L.A. School Board Elections
Board president Kelly Gonez will likely head to a runoff against teacher Marvin Rodriguez in the fall for the district 6 seat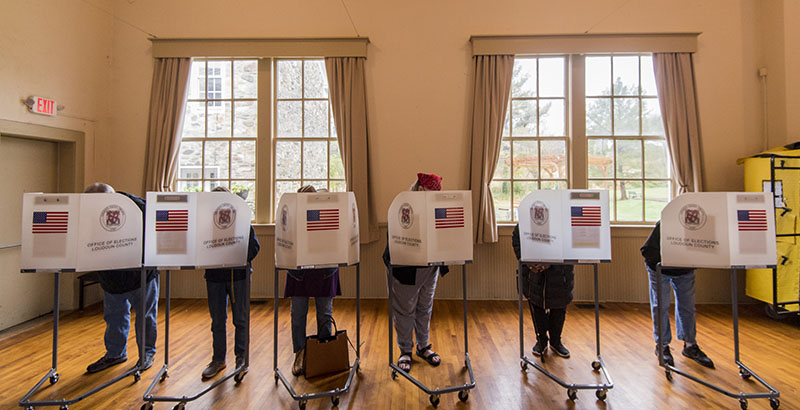 LAUSD school board president Kelly Gonez will likely head to a runoff against teacher Marvin Rodriguez in district 6 this November — a surprising outcome for the five year board member who was backed by the powerful Los Angeles teachers union.
Maria Brenes and Rocio Rivas will also likely head to a runoff for the district 2 seat on the seven-member board.
As an LAUSD teacher, Rodriguez has taken votes from Gonez because he had "credibility as someone who knows the system from the inside. Teachers have a lot of sway with the public right now," said Pedro Noguera, Dean of USC Rossier's School of Education.
Gonez, the board member for the East Valley and the frontrunner heading into the election; has led the board on crucial decisions, including pandemic recovery and expanding school choice. "I have a track record of successfully fighting for our students and delivering for our community …," she said. "I thoroughly understand what the position entails."
Gonez was endorsed by both the United Teachers Los Angeles union and charter advocates, but as of Friday her vote count hovered at 47.64%. She must receive more than 50% of the vote to avoid a runoff.
"I think this election was really framed by the issues during the pandemic. Voters' top priorities right now are education and public safety and we had a teacher and a police officer on the ballot in district 6," said Ana Ponce, the executive director of the non-profit Great Public Schools Now.
Jess Arana, a police officer and the third candidate running in district 6, received 21.1% of the vote, which Ponce said also likely contributed to Gonez not winning the primary.
"Unlike my opponent … I have the unique perspective of my community and share their experiences … My direct experience with students makes me more qualified to make decisions on their safety and success," Rodriguez said.
There are still hundreds of thousands of ballots left to be counted. The results in district 2, which covers most of East Los Angeles, also took an unexpected turn. The two frontrunners, Rivas and Brenes, will vie for the open seat in their district in the fall.
While a runoff was expected between the two, Rivas surprisingly pulled ahead of Brenes. Rivas collected over 43.84% of the vote, while Brenes gained just over 30%.
"The two candidates are very similar on the issues, so you can't draw a stark contrast between them," Noguera said. Rivas and Brenes both prioritize pandemic recovery and expanding opportunities for historically underserved communities in their district. "That race is going to be a question of name recognition and getting the word out … who can mobilize more voters?" said Noguera.
Rivas is backed by the teachers' union, while Brenes is backed by the Service Employees International Union. Brenes also was endorsed by the Los Angeles Times, which Noguera said gave her a boost with voters as well.
The teachers union launched an independent campaign for Rivas, spending more than $772,000, while Local 99 of the Services Employees International Union, which represents employees like bus drivers and janitors, doled out almost $900,000 on an independent campaign for Brenes.
The other two competitors in district 2, who had no big union backings, will not advance to the runoff. Miguel Segura, a substitute teacher received 17.8% of votes and Erica Vilardi Espinosa, a parent in Los Feliz, received just 7.8%.
There are still ballots left to be counted, but as anticipated incumbent Nick Melvoin will keep his seat in district 4.
Melvoin received almost 60% of votes in his district which covers some of the wealthiest neighborhoods in Los Angeles, including Hancock Park and the Pacific Palisades, as well as parts of the San Fernando Valley.
"The fact that Melvoin won shows that a lot of concerns that people had about him four years ago when he ran have gone away. They see him as a credible board member who is really taking action," Noguera said.
Melvoin went up against two lesser known candidates – Tracey Schroeder, an LAUSD teacher who received 26.3% of the votes, and Gentille Barkhordarian, a parent who received 13.9%.
According to the LA Times, Melvoin spent more than $550,000 on his campaign and he received an additional $1.6 million from retired businessman, Bill Bloomfield. Four years ago, Melvoin raised hundreds of thousands in order to defeat incumbent Steve Zimmer.
Melvoin was previously an attorney and a school teacher. He has helped increase internet access during the pandemic and was one of the leading members in efforts to recruit Superintendent Carvalho to Los Angeles.
Melvoin said that his first priority now that he's been elected is to help students recover academically and emotionally from the pandemic.
"Melvoin is willing to make difficult decisions when it comes to making sure the focus is on students and recovery and safety … he's shown bold leadership on the board," Ponce said.
Ballots will continue to be counted and results will be updated every Friday and Tuesday until July 1. The necessary runoffs will take place on Tuesday November 8, 2022.
In the primary, voter turnout was extremely low. Only about 25% of LA County's registered voters cast ballots, according to USC's Center for Inclusive Democracy. This was just a bit lower than state voter turnout, which came in around 26%. In midterm years without a presidential election, voter turnout is historically lower, said Noguera. Ponce also attributed the low voter turnout to voter literacy and complicated ballots.
"I heard from a lot of voters that the ballot was confusing … I think we really need to focus on making sure folks are equipped to participate in the democratic process come fall," Ponce said. She said that the low voter turnout in the primary could be contributing to unexpected results that might change if more people show up to vote in November.
Get stories like these delivered straight to your inbox. Sign up for The 74 Newsletter