EPA's Clean Bus Program Provides Millions to Schools for Electric Vehicles
Two Idaho school districts will receive funding for electric buses as part of the U.S. Environmental Protection Agency's Clean Bus Program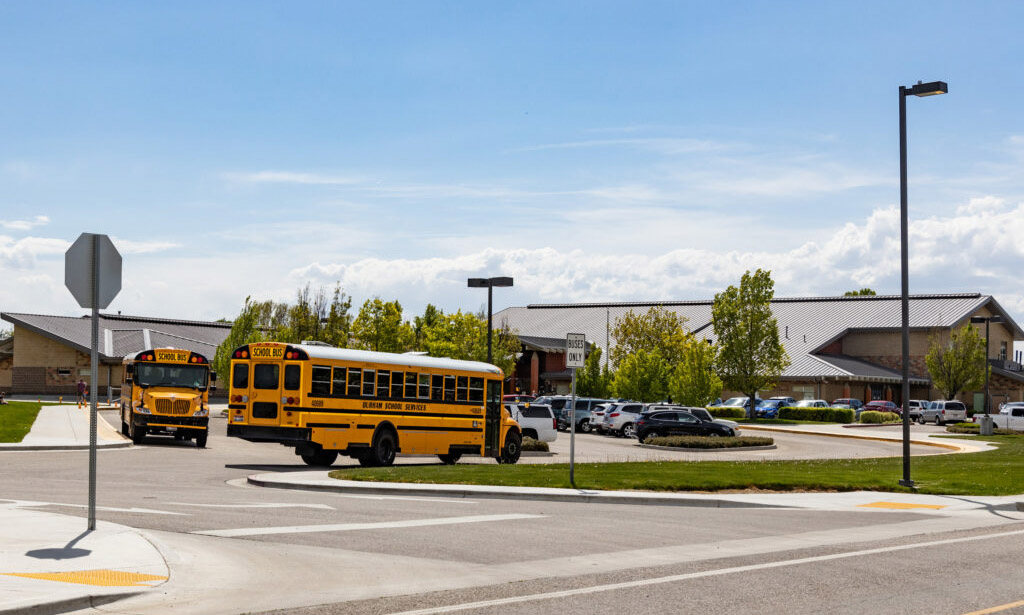 Get stories like these delivered straight to your inbox. Sign up for The 74 Newsletter
Two Idaho school districts will receive more than $5 million in total grant funding for electric buses as part of the U.S. Environmental Protection Agency's Clean Bus Program, the first round of a five-year, $5 billion federal initiative that was approved through the Bipartisan Infrastructure Law, according to a press release.
Genesee School District in North Idaho requested funding for three buses, totaling $1.185 million, and McCall-Donnelly Joint School District requested funding for 10 buses, totaling $3.95 million. The Idaho districts were eligible to apply for the funds after the Idaho Legislature passed a bill in the 2022 legislative session extending the acceptable contract length for school buses from five years to 10 years.
Both of Idaho's Republican senators in Congress, Sens. Mike Crapo and Jim Risch, voted in favor of the Bipartisan Infrastructure Law, while the state's two Republican U.S. Reps. Russ Fulcher and Mike Simpson voted against it.
The Clean School Bus Program aims to reduce greenhouse gas emissions, save money for school districts and produce cleaner air, the release said. Diesel air pollution is linked to asthma and other conditions, the release said, and can cause a student to miss school, particularly in communities of color and tribal communities. The program is also meant to save school districts money as they upgrade school bus fleets, replacing older diesel buses with brand new clean school buses, while freeing up resources for schools.
"President Joe Biden's historic Bipartisan Infrastructure Law is accelerating our nation's transition to electric and low-emission school buses while ensuring a brighter, healthier future for our children," EPA Administrator Michael S. Regan said in the press release. "As many as 25 million children rely on the bus to get to school each day. Thanks to the Biden-Harris Administration, we are making an unprecedented investment in our children's health, especially those in communities overburdened by air pollution."
The 389 grant recipients span all 50 states and Washington, D.C., and were chosen by a lottery system. The total grant amount to be distributed is $913 million, which will support the purchase of 2,463 buses, 95% of which will be electric. More applications are under review, the release said, for a final total of $965 million in funding.
The EPA will distribute awards to school districts and several federally recognized tribes and U.S. territories. School districts identified as priority areas serving low-income, rural or tribal students make up 99% of the projects that were selected. More applications are under review, and the release said the agency plans to select more to reach the full $965 million in the coming weeks.
Those school districts who received an award can now proceed with purchasing new buses and eligible infrastructure, according to the release. The EPA is also partnering with the U.S. Department of Energy and Department of Transportation to provide school districts with robust technical assistance to ensure effective implementation.
The next rounds of program funding are expected to launch in the coming months, which will include a grant competition for another $1 billion in funding in fiscal year 2023, the release said. School districts not selected in the first round of rebates, and those that did not apply this funding cycle, are encouraged to participate in future rounds.
Idaho Capital Sun is part of States Newsroom, a network of news bureaus supported by grants and a coalition of donors as a 501c(3) public charity. Idaho Capital Sun maintains editorial independence. Contact Editor Christina Lords for questions: info@idahocapitalsun.com. Follow Idaho Capital Sun on Facebook and Twitter.
Get stories like these delivered straight to your inbox. Sign up for The 74 Newsletter