New Report Shows That Fears About Immigration Enforcement Could Hinder Students' Future Employment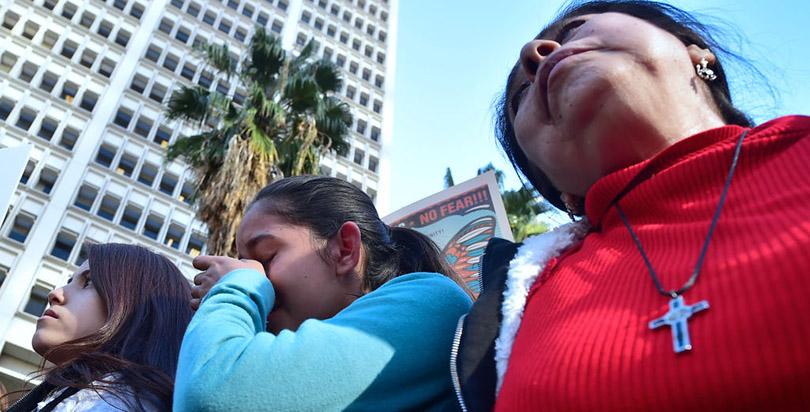 Fear that stems from President Trump's efforts to ramp up federal immigration law enforcement could trigger a negative, long-term hit to the U.S. economy. That's a key takeaway from a new report released Monday by the Center for American Progress, a progressive think tank based in Washington.
As heightened enforcement separates families and instills fear in immigrant communities,
the report
notes that emotional distress and economic insecurity could disrupt the future success of undocumented children and those with undocumented parents.
In 2012, according to the report, children of immigrants contributed an average of 12 percent more per person in federal income taxes than those of native-born residents. That same population, which is more likely to receive a college diploma and avoid poverty, also contributed $30.5 billion in state and local taxes.
"The administration's mass deportation agenda evidences a striking disregard for the emotional and physical well-being of America's young children and, as a result, our country's own future," Tom Jawetz, the center's vice president of immigration policy, said in a news release. "These wrongheaded policies will do long-term damage to children's development and also to our nation's current and future workforce."
An estimated
1 million undocumented children
live in the U.S., and 5.5 million children live with at least one undocumented parent. Since Trump issued executive orders encouraging increased enforcement,
arrests
by U.S. Immigration and Customs Enforcement have climbed nearly 40 percent. In a return Friday to his campaign rhetoric, Trump
promoted strict enforcement
as a mechanism to counter gang violence, encouraging officers and immigration officials to be "rough" on "animals" who have "transformed peaceful parks and beautiful, quiet neighborhoods into bloodstained killing fields."
Separating families, however, can have a debilitating effect on children. Fathers, who often serve as a family's breadwinner,
account for a majority
of detained and deported undocumented immigrants — and arresting them can reduce a household's median annual income by about 75 percent, denying children, including those who are legal U.S. residents, access to food, housing, and medical services.
Kids who experience trauma, separation from a parent, or poverty during early childhood are more likely to suffer from poor health and unemployment, the report notes. They're also more likely to drop out of high school and experience poverty as adults.
Heightened anxiety can affect children even before birth, the report says: Nine months after a high-profile Iowa immigration raid in 2008, babies born to the state's Latina mothers were 25 percent more likely to have low birth weight than those born the previous year.
Among the children who have been affected by immigration enforcement this year are the daughters of Romulo Avelica-Gonzalez, an undocumented immigrant who has been held at a federal detention facility in California since February, when federal agents arrested him as he dropped off the girls at school. Avelica-Gonzalez, a Mexican citizen who has lived in the United States for more than two decades, could be deported as early as next week, the
Los Angeles Times reports
.
"No child, regardless of their family's immigration status, should live with the fear that their loved ones will be torn away from them at a moment's notice," Leila Schochet, a research associate for the center's early childhood policy team, said in the release. "The culture of fear created by mass deportation has significant consequences for young children and could undermine their ability to thrive."
Get stories like these delivered straight to your inbox. Sign up for The 74 Newsletter