Trump Calls for New School Choice Initiatives, Big Cuts to K-12 Budget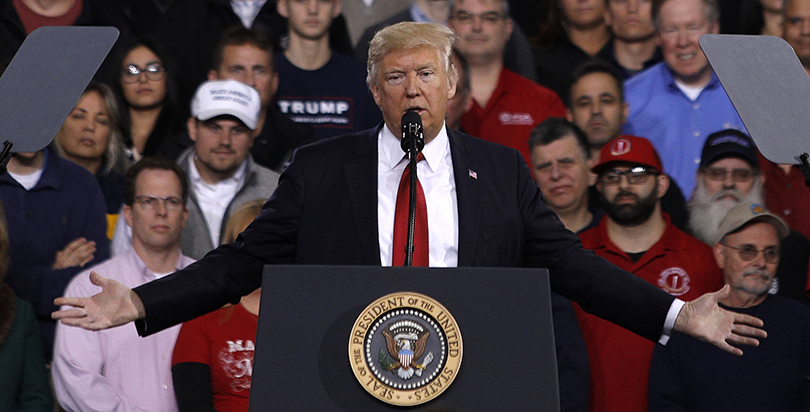 Updated 1 p.m. EST
President Donald Trump's first budget proposal includes a huge increase for school choice while making big cuts to the Education Department's overall budget.
The
budget
includes increases for the charter school fund, a new program for private school choice, and incentives for states to make sure some Title I dollars for low-income students follow them as they move among schools. The $1.4 billion in new dollars for school choice eventually will ramp up to $20 billion, the budget says, matching the amount Trump pledged to spend on school choice during his campaign.
"We will give our children the right to attend the school of their choice, one where they will be taught to love our country and its values," Trump pledged at a rally in Nashville Wednesday evening.
The department overall would see cuts of $9 billion, which amounts to 13 percent of its "discretionary" budget (the part not including mandatory higher-education spending).
The president proposes increasing funding for charter schools by $168 million and creating a $250 million program for private school choice.
Nina Rees, president of the National Alliance for Public Charter Schools, thanked Trump for his support of the schools, which are publicly funded but independently run.
"In the current school year, more than 200,000 new students are attending charter public schools, bringing nationwide enrollment to more than 3 million students," she said in a statement. "Still, there could be at least another 2 million students whose parents would enroll them in charter schools if they could. Increased funding for the CSP [charter school program] is essential to expanding charter school capacity and reducing the wait for these families."
The additional $1 billion for Title I would be "dedicated to encouraging districts to adopt a system of student-based budgeting and open enrollment that enables Federal, State, and local funding to follow the student to the public school of his or her choice." Title I money now flows into schools with large numbers of poor students.
The "skinny budget" is light on details. The education section, for instance, is only two pages, versus the dozens presidents usually release for each agency. It also doesn't include any information on taxes, including any proposals for tax credit scholarships, which some observers thought might be Trump's preferred and politically easier route to expand school choice.
The budget proposal, for fiscal year 2018, is an opening salvo in what will be a protracted negotiation with Congress.
There has long been bipartisan support on the Hill for the charter school program, but many legislators will be deeply skeptical of the private school choice and Title I initiatives, and history shows proposals to make deep cuts to the Education Department haven't gone over well in the House or Senate.
Rep. Bobby Scott, ranking Democrat on the House Education and the Workforce Committee, said the budget proposal is "yet another broken promise" from the Trump administration and fails working families. "Committee Democrats will continue to press for a budget that supports public education in preparing all students for success from birth to college and career," he vowed.
The proposed cuts in K-12 spending are targeted at the 21st Century Community Learning Centers program, which provides before- and after-school care, and the "supporting effective instruction" grants, more commonly known as Title II, after their chapter in law.
The programs, which cost $1.2 billion and $2.4 billion, respectively, aren't meeting their goals, the administration said in the budget.
Dale Erquiaga, president of Communities in Schools, a dropout prevention organization, said the proposed cuts, particularly to the 21st Century Community Learning Centers, "overlooks the fact that children in poverty require a network of support to overcome the adult-size challenges they face."
"Whether it's after-school programs or programs that put all kids on the path to college, we owe it to our young people to demonstrate that we are all in this together for their future success," he added.
The budget calls for reducing spending on the TRIO and Gear Up programs, which help low-income, first-generation, and disabled college students prepare for and persist in higher education.
It also calls for eliminating or reducing 20 "categorical programs that do not address national needs, duplicate other programs, or are more appropriately supported with state, local or private funds."
Not all 20 are listed, but in K-12, Trump calls for ending Striving Readers literacy grants; Teacher Quality Partnership grants, which aim to improve or create new teacher training programs; and some parts of the Impact Aid program, which reimburses school districts with large amounts of non-taxable federal property.
Not all conservatives were on board with Trump's proposed school choice program.
Lindsey Burke, director of the conservative Heritage Foundation's Center for Education Policy, praised the proposed cuts but expressed reservations about the $250 million private school choice program. "Creating a new federal school choice program, while well-intentioned, could further entangle Washington in local school policy and private education," she said.
Beyond the Education Department, the budget also proposes eliminating the National Endowment for the Arts as well as the Corporation for National and Community Service, which provides AmeriCorps grants awarded to teachers participating in Teach for America and other alternative preparation programs that place them in struggling schools.
The Department of Health and Human Services budget does not detail how much money the administration would like to spend on Head Start (the decades-old early learning program for poor children) or preschool development grants (designed to help states better coordinate and increase the size of early learning programs).
The cuts to the Education Department and other agencies, including reductions of about 30 percent to the State Department and Environmental Protection Agency budgets, were made to offset an equivalent $54 billion increase in defense spending.
The budget proposal covers fiscal 2018, which begins Oct. 1. Trump and Congress will still have to work out funding for the current fiscal year; the current appropriations law expires in late April.
---
---
Get stories like these delivered straight to your inbox. Sign up for The 74 Newsletter