Trivers: As an Educator and a Parent of Color, I Stand Up for Charter Schools Against Politics, Hypocrisy and Inequity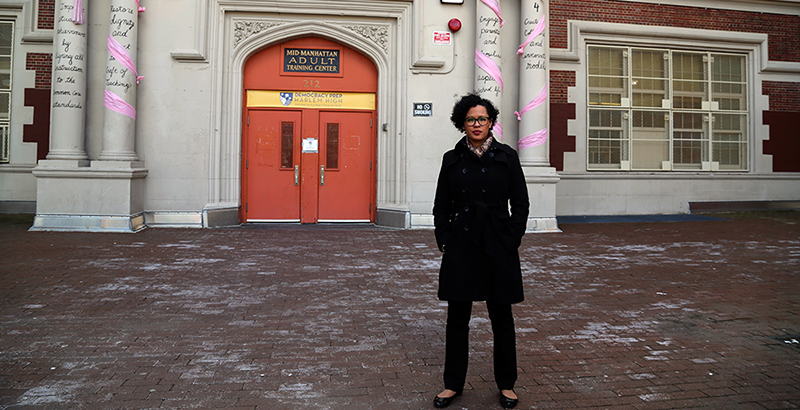 I don't know Andre Perry. He strikes me as a serious scholar who is committed to uplifting black communities. To be honest, I want to follow him on Twitter. But in an essay the Brookings fellow published at The Hechinger Report, which was reprinted by The Washington Post, he is wrong about charter schools. Charters are not the only solution to our dysfunctional public education system. However, they are one solution worthy of serious study and replication when they yield undeniably superior educational outcomes for the students they serve.
A new study by the National Bureau of Economic Research found that Boston-area high-performing charter schools, like Brooke Charter Schools, Excel Academies and Boston Prep, "generate test score gains large enough to close racial and socioeconomic gaps in a short time, as well as improvement in longer-run outcomes like teen pregnancy and four-year college attendance." A 2017 CREDO study shows the value that charter management organizations add: Students attending schools that are part of CMOs like Idea Public Schools or Yes Prep were found to gain 17 additional days of learning in math and reading. And, regardless of what you think of some of the practices employed by Success Academy in New York City, that high-performing charter network serves 8,000 students across 45 schools and boasts a 99 percent pass rate on the state math exam and a 90 percent pass rate on the English Language Arts test. This is double the pass rates of the city and the state. At Success, 70 percent of the students are low-income and 94 percent of them are young people of color.
Why would we deny black and brown families the ability to send their children to high-performing schools that can close the opportunity gap and get them to and through college? Why do we speak of black communities as a monolith, as if all black people believe the same things about public education or even that a single black parent would choose the same school system for each of her children? Why aren't we telling the truth — that so many Democratic candidates speak out against charters because they are taking the side of the teachers unions for political gain? Or because they are pandering to liberal white voters?
I am not only a CEO of a network of high-performing charter schools, I am a black mother. I sent one of my children to my school, Democracy Prep, for his high school education. Democracy Prep was not perfect for my son. More variety in course options and a robust coding program would have been good for him. But it was the best option for me and my family. It was a choice that we made. And I am so grateful that I was able to exercise that choice. I am grateful that we weren't relegated to a zoned school, as so many families are. You know, where zip codes determine schooling options and children are treated as a public resource? Why should wealthy families be allowed to exercise choice, with their feet and their pocketbooks, but low-income families be told to support the traditional public school system, even when that system is failing their children?
I am sick and tired of black leaders telling Democratic voters that speaking loudly about educational inequity and calling out hypocrisy is a show of support for President Donald Trump. Black voters are not a monolith. And, as a black mother exercising school choice, I can call out the Trump administration for its racism and complete betrayal of our ideals while also calling out Democratic front-runners for speaking from stock American Federation of Teachers talking points. The two are not mutually exclusive.
Let's stop putting adults and their interests first. Let's commit to truly putting young people first. Let's explore multiple options to the educational inequities that still plague us 65 years after Brown v. Board of Education. Let's not close the door on high-performing charter schools that are getting it done for the young people they serve.
Democracy Prep has an 84 percent college persistence rate and a 58 percent college completion rate. We are matching the national average on college completion and educating students who are 85 percent low-income and 98 percent black and Latino. There are many other high-performing networks like mine. There are also independent schools and public district schools doing amazing work. We need to dismantle the false dichotomies and tell the truth about the state of affairs in public education in America; to deny that truth in the name of political gains for black communities is foolish and extremely counterproductive. We also need to tell the truth about the overwhelming support for charter schools from black and brown families in the low-income communities we serve. Democracy Prep parents are not paid actors. They are hardworking people who believe deeply in the American Dream and want to ensure that their children have every opportunity to access that often elusive dream.
During Reconstruction, freed blacks in the South raised money and worked with the Freedman's Bureau and Northern benevolent societies to erect schools because they knew education would lead to true liberation. Somewhere along the way, we've lost our way. Post-civil rights, many of those who used to have fists raised in the air are now part of the bureaucracy and are trying to protect their place in that bureaucracy with all their might, as Dr. Howard Fuller has argued.
While black scholars continue to make lofty arguments in the gilded halls of academia, I'll keep opening our public school doors at 7:30 a.m. sharp. I'll keep welcoming our K-12 scholars into our schools, where the academic day is longer than in district schools, we see joyous celebrations throughout our week, we have lots of powerful traditions and rituals, and our teachers are maniacs who keep a laser focus on what their students know and what they have yet to master. I'll keep working with educators who don't know "No" when it comes to improving the life outcomes of the kids they educate. I'll continue to partner with our families. I will never call them pawns of "dark money," as Perry does in his column.
I will respect their intellect, their passion, their drive and their profound right to choose.
Natasha Trivers is CEO of Democracy Prep Public Schools
Get stories like these delivered straight to your inbox. Sign up for The 74 Newsletter