Trauma Counselors Across Texas Travel to Uvalde
Communities in Schools rallied Texas counselors to work in Uvalde schools this summer. The lessons they learned were invaluable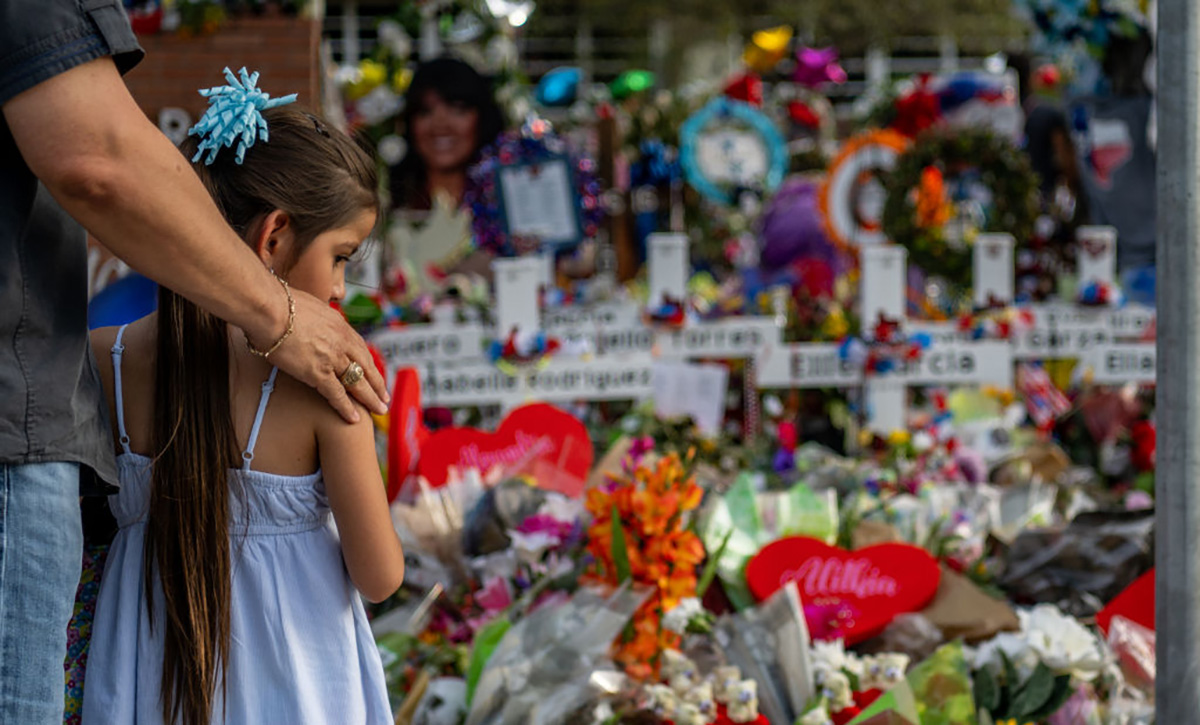 Support The 74's year-end campaign. Make a tax-exempt donation now.
In the small town of 15,000, no one was more than a single degree of separation from the grief that descended over Uvalde after 19 children and two teachers were murder on May 24.
Before the names of victims were even released, Communities in Schools of San Antonio — a branch of the national student support nonprofit — sent Spanish-speaking counselors to Uvalde to help through the toughest summer in its history.
As survivors relived the awful day and kids struggled with fear and anxiety, more than three dozen CIS staff were on hand to listen and respond, laying the groundwork for a permanent team to come in this school year.
They knew the grief in Uvalde would be ubiquitous.
"There's a heaviness that just exists." Communities in Schools of San Antonio CEO Jessica Weaver said of the town, whether or not they lost a friend or family member in the shooting. "It's hard to separate closeness at this point."
While not every community will have to respond to this exact tragedy, the intensive month in Uvalde reiterated what it means to be trauma-informed, staff told The 74; and full of reminders for those who want to help in the wake of tragedy.
Going Where Invited, Doing What is Asked
Communities In Schools' access to a statewide network of seasoned mental health professionals perfectly fit the needs of the grieving community, but it was their relationship-based approach that made it work, said Lisa Descant, CEO of Communities In Schools of Houston, who joined Weaver's team in Uvalde.
"We're outsiders coming into this close-knit community," Descant said.
Many families have been in Uvalde, a small west-Texas agricultural town, for generations. School superintendent Hal Harrell is the son of a former superintendent. Familiar last names show up over the decades on City Council, school boards, and yearbook ads. Losses and wounds are felt deeply, in ways that aren't immediately apparent.
Weaver anticipated the importance of being invited and listening closely to the community, rather than simply swooping in. While she understood the impulse to help, observing the ground scene in Uvalde in the month after the shooting showed her how confusing and unsettling that help can be when it's uninvited and unaccountable.
Communities In Schools operates on 1,300 sites providing professional mental health services, with professionals trained to address acute and long-term trauma and the effects of poverty as they show up in school.
Weaver rallied 42 Communities In Schools' (CIS) colleagues from around the state — counselors and social workers — to offer clinical services from a base inside the Uvalde schools offering  summer school mere weeks after the shooting.
Psychological First Responders
San Antonio clinical caseworker Sarah Martinez, was one of the first to arrive, and quickly found herself talking to children and adults who were in a state of shock — some confused, some overwhelmed. 
"It's not therapy, it's being a first responder," she said. Staff had to have an EMT or firefighter's reflexes to respond to whatever came up, whatever happened next.
"The people of Uvalde are the experts in this horrible, awful tragedy," Descant said.
They would need that first-responder mentality still when summer school started on June 7. News crews still lined the streets, many now delving into the police handling of the shooting. Politicians held press conferences. Police squads from all over Texas patrolled the city. News still broke almost every day, reopening wounds.
For many, said Descant, the process of "reliving" the shooting went on for weeks.
Care for the caretaker
In those first weeks, she said, Communities In Schools made its first pivot. Even as seasoned professionals, they had not fully anticipated how much secondary trauma the staff would absorb, hearing stories, immersed in a grieving community. Already they knew rotating the teams each week was important, giving staff the chance to see their families, rest, and process.
But even a week would be too long for staff to defer attending to their own emotional wellbeing. They were experiencing the trauma second hand as people shared stories of fear and loss, and staff starting to feel the overwhelm and heaviness themselves.
They quickly realized they would need their own emotional and mental health check-ins, focused on the impact each counselor was experiencing.
"You have to make taking care of the caretaker a priority," Weaver said, "It's not an option."
Martinez admits she was one who needed explicit instruction to step away. "Some of us don't know when to stop and we need to be told," she said. "You're grieving along with the community."
Grief is Long Term. Help Must Be Too
Because they would have to rotate, Weaver was clear with staff they needed to connect Uvalde residents to Communities In Schools as an organization, not to any particular staff person. More than that, they wanted students to associate school with safety, support, and care — a tall order in the wake of senseless tragedy. 
"It was about creating a safe place in a huge environment where safety and security had been attacked," said Kim Sayers, clinical project director for Communities In Schools of San Antonio. 
The Communities In Schools rooms in each school, which staff decorated and arranged as they would on any campus, became a reliable place where a counselor was always ready to talk, listen to anyone when feelings or memories of the day of the shooting flooded in.
While the shooting seems to eclipse all other concerns right now, it is not the only thing happening in students' lives, Descant said. They are more than Robb Elementary students or survivors. They are kids who will experience success and love, along with disappointment, frustration, and heartbreak.
"They had complicated lives before this," she said, "as we all do."
The grief, the complications, none of it was going anywhere any time soon. Weaver and school leadership knew it would take more than a summer for healing to get a foothold. So Communities in Schools is staying.
The district signed a contract with the nonprofit to bring in permanent Communities in Schools counselors so that whenever grief comes, and as ordinary life picks up again, Uvalde residents will know where to go when they need someone to listen.
Support The 74's year-end campaign. Make a tax-exempt donation now.