Torres: Most Education Reform Debates Ignore Course Content. Here's How 4 Districts Are Driving Student Gains Through Rigorous, Flexible Digital Curriculum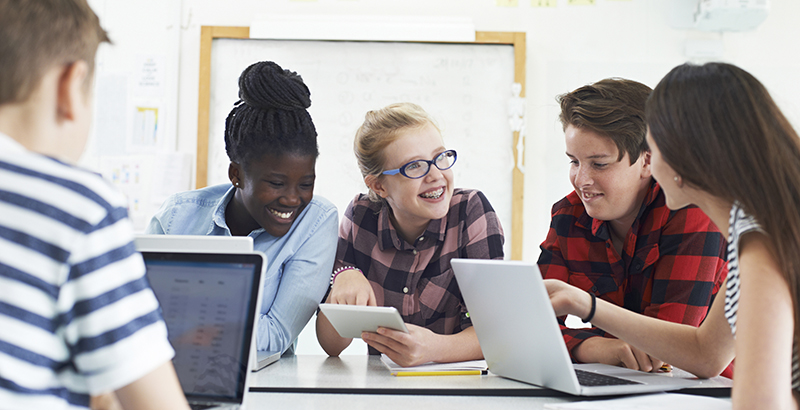 K-12 schools are facing more pressure than ever to increase graduation rates while ensuring students are achieving to standards. Although dropout rates have decreased and graduation rates have increased over the past 10 years, more than 1.2 million U.S. students still drop out of high school every year. That's 4,000 students every day, one student every 26 seconds, or 1 in 5 students not graduating with his or her peers. Of those who do graduate, just under 40 percent are performing at college- and career-ready levels, according to the 2015 National Assessment of Educational Progress results.
This pandemic calls for reform. Many have offered solutions: reimagining the way our teachers instruct, increasing school choice, making education more accessible and innovative.
One overlooked solution just might be the answer: curriculum.
According to the Glossary of Education Reform, curriculum can be described as the academic content taught in a school or a specific course, and can include learning standards, learning objectives, units and lessons, assignments, and assessments to evaluate student learning. Across the country, districts are using digital curriculum to meet the varying needs of students — whether they are struggling, looking to accelerate their learning, or seeking additional support. Digital curriculum is providing the flexibility students and teachers need to accommodate the unique learning needs of every child.
In fact, high-quality digital curriculum has the potential to drive student achievement and change teacher behavior, resulting in increased student outcomes, according to a report from Chiefs for Change, "Hiding in Plain Sight: Leveraging Curriculum to Improve Student Learning." This report concludes that an emerging body of research shows that content-rich, standards-aligned curriculum can lead to increased student achievement.
The report describes how leaders in Florida, Louisiana, Massachusetts, New York, and Washington, D.C., are leading the charge to develop a variety of strategies to make high-quality curriculum available within classrooms and ensuring that educators have access to rigorous, standards-aligned instructional materials. This was accomplished by providing incentives, emphasizing evidence, leveraging teacher expertise, using the procurement process to expand the use of high-quality curriculum, and creating professional learning focused on content.
Additionally, two columns in T.H.E. Journal noted that "while there are always 'new new things' in technology, in the K-12 classroom, the 'new, new thing ' remains the 'old, old thing': curriculum," and suggested that the key to effective teaching in classrooms where each student has a tablet or laptop is to provide teachers with curriculum, with lessons that guide students in using the devices while still maintaining a teacher-led classroom.
At Brea Olinda Unified School District, we implemented a digital curriculum program during the 2016–17 school year, seeking credit recovery as well as original credit options to offer a customized learning program to different student populations with varying needs. Already, we have seen many students who previously were unable to succeed within a traditional classroom environment now being motivated and engaged to complete their coursework. Students cite ownership of their learning as one of the main drivers of their success, as well as the flexibility of moving at their own pace and the ability to demonstrate mastery and skip over material they already know.
Many teachers who were initially skeptical of digital learning now consider it as effective as traditional classroom instruction, particularly for students who may have health or emotional problems and cannot learn within that sort of school environment.
In Florida's Sarasota County district, schools use digital curriculum to provide customized, self-paced coursework for high school students participating in the Performance Based Diploma program. This is an alternative education program, implemented at each high school, serving students who have not succeeded in the traditional classroom and are at risk of dropping out or not graduating at the end of four years. The goal is to give at-risk students the opportunity to master course content at their own pace, earn credits, and graduate college- and career-ready.
The district studied the impact of digital curriculum on student performance on the state end-of-course and Florida Comprehensive Assessment Test Reading Retake assessments, and found that students taking digital curriculum courses posted scores similar to those of their peers in traditional classroom settings. Since the district implemented the digital courses, the dropout rate has decreased by 50 percent.
Similarly, an independent study by Evansville Vanderburgh School Corporation in Indiana revealed that digital courses increased student performance on the state's end-of-course assessment during the 2011–12 school year. The study evaluated students seeking original credit and those recovering credits. The results revealed, on average, that students using digital courses achieved in the 51.2 percentile, while the average achievement for the comparison group was in the 48.8 percentile.
And, according to a recent study at Cherokee County School District in Georgia, schools in the district's alternative programs using digital curriculum for initial credit and credit recovery perform at similar levels to students completing courses for initial credit in traditional classrooms.
Providing educators with rigorous, aligned instructional materials is a critically important, evidence-based reform that has the potential to increase outcomes and improve student achievement. In our quest to achieve education reform, curriculum should not be overlooked.
Kerrie Torres is assistant superintendent of educational services for the Brea Olinda Unified School District in Orange County, California. She has served as an executive director of secondary education, middle school principal, high school assistant principal, middle school vice principal, and distinguished secondary science teacher.
Get stories like these delivered straight to your inbox. Sign up for The 74 Newsletter