'Too Good to Be True': NH Gives Students $1,000 for Tutoring — Yet Sign-Ups Lag
Any student whose learning was impacted by COVID is eligible, but only 724 youth have opted in, utilizing less than one-third of program capacity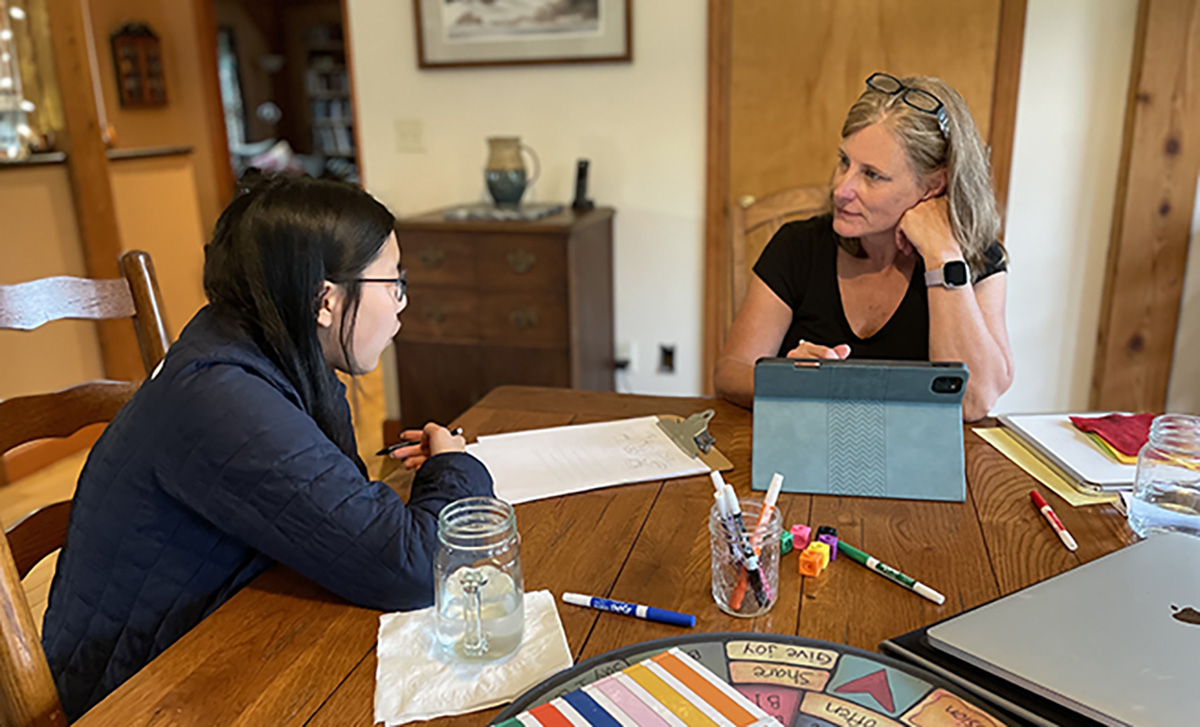 Support The 74's year-end campaign. Make a tax-exempt donation now.
For years, Kim Paige was panicked about how to help her daughter, as teachers for years — from elementary through early high school — brushed off the student's continued struggles to master one of the basic skills K-12 education is meant to deliver: the ability to spell.
When COVID struck in 2020, the then-eighth grader's Upper Valley, New Hampshire middle school campus shut down for several weeks to pivot to virtual learning, like most others across the country. Paige knew then that her daughter Amy — whose name has been changed in this piece for the student's privacy — was at risk of falling behind even further. Once online school started, live instruction was only on a "part-time basis," Paige said.
"There was lost learning time," she said. "Sometimes there weren't teachers because the teachers were sick."
Although Paige didn't know it yet, Amy had dyslexia. For years, the now-17-year-old's condition went undiagnosed. Meanwhile, it complicated the teen's part-time job at a clothing store, because she struggled to type in email addresses at the cash register.
In a last-ditch effort to help her daughter, Paige connected with a tutor specializing in phonics-based literacy, who she now works with via a relatively new state program. After beginning tutoring, Amy showed quick improvement on spelling and reading tests administered by her high school, Paige said. Amy's literacy coach recognized signs of dyslexia and pointed the family toward screening for the disability, which led to her diagnosis and extra services at school.
"I've seen progress," Paige said. "The way [her tutor] works with her is not a way … a teacher would have the time to work with her in a classroom situation."
That sort of individualized, intensive coaching is a key solution the Granite State has bet on to help students like Amy get back on track after the pandemic. The state is entering its second year offering the Yes, Every Student scholarship, which uses a digital wallet to provide $1,000 for private tutoring to any young person whose education was negatively impacted by the pandemic. The scholarship is available to all students, regardless of need, and can be applied toward tutoring from state-approved educators.
"When I explain the program to [parents], they become very excited, like, 'Oh, this is great,'" New Hampshire Education Commissioner Frank Edelblut said. "In some cases, they're almost like, 'It's too good to be true. How can this possibly be?'"
But families in New Hampshire have tapped into less than a third of the available scholarship funds. So far this academic year, 724 young people have received scholarships — accounting for just $724,000 out of a $2.5 million total funded by federal COVID relief cash. Upon inception, the state granted scholarship eligibility only to students from low-income families, but with signups lagging and substantial funds remaining, they made access universal.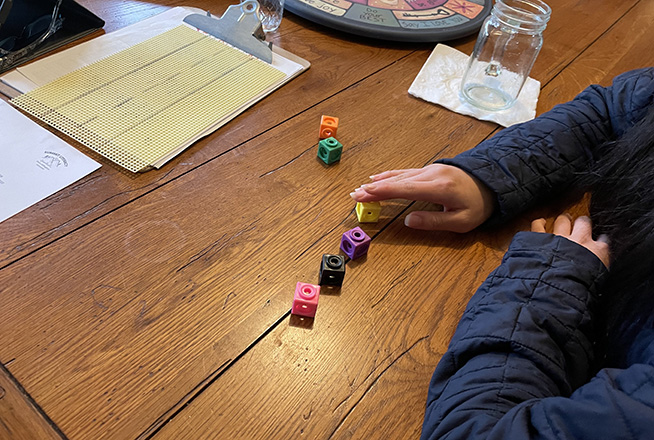 State testing in 2022 revealed that more than half of New Hampshire students were not proficient in math and over 40% were behind in English, though scores have rebounded slightly since 2021, according to data provided by the state. Research shows sustained individual or small-group tutoring can be one of the best ways to help children catch up.
"One student might be struggling with functions. Another is struggling with algebraic equations," Edelblut said. "Those are the kinds of things that in a one-on-one tutoring session with a teacher that can be drawn out, they can be addressed, they can be targeted, and we can fill in those gaps."
Soon after the Paige family began tutoring, they saw a post on social media about the YES! grant and realized they qualified. Though they're still working out the logistics of the digital wallet, the funds will cover more than two months of intensive lessons, which will be "definitely helpful, without a doubt," Paige said.
The program has also served its purpose for student Sylas Marrotte. The scholarship gave him access to a trained special education teacher for twice-a-week math and reading tutoring, grandmother Sherry Newman said.
"My grandson, who already had learning disabilities, was falling way behind [during COVID]," Newman wrote in an email to The 74. "The tutor was very flexible and supportive."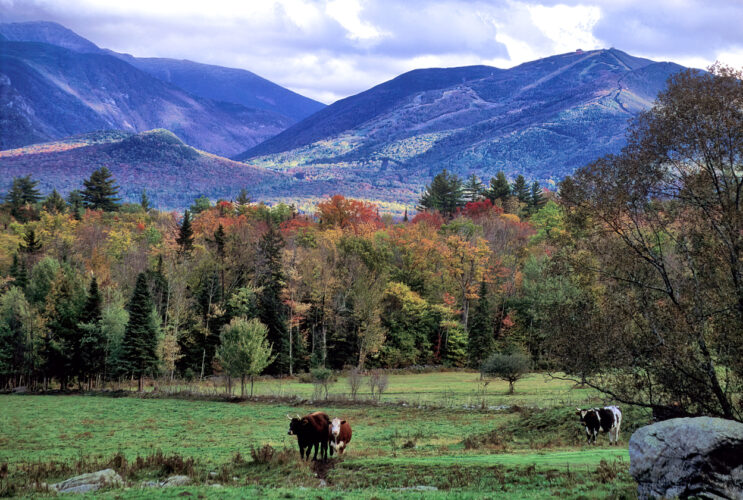 The program could help to "democratize" the private tutoring market, which often is available only to wealthier families, said Matthew Kraft, associate professor of education at Brown University.
But in his eyes, the slow uptake among low-income families is a damning indicator, signaling either poor advertising to the neediest parents or failure to alleviate other barriers such as transportation costs.
It's possible many families "just never learned about the program or couldn't figure out how to sign up or didn't think that they could make it work," Kraft said. "I don't think … they've met the demand in that group of students."
Nationwide, parental interest in learning recovery options has been lower than policymakers would have hoped, according to recent research from the Brookings Institute. Despite significant gaps in learning for millions of students across the country, less than a third of families said they wanted their kids to participate in tutoring and less than a quarter said they were interested in district-run summer camps.
Even if all the New Hampshire tutoring funds get disbursed, Kraft observed, it will still only serve 2,500 learners — a drop in the bucket compared to the state's over 185,000 students, including roughly 50,000 who are eligible for free- or reduced-price lunch, a proxy indicator for the number of students living in poverty.
The New Hampshire Department of Education does not "at this time" know the share of low-income students who have taken advantage of the tutoring scholarship money compared to wealthier youth, Edelblut said. Students could opt for virtual sessions in cases where transportation presented a barrier, he noted.
The YES! scholarship is one of three state-funded tutoring options available to New Hampshire families. The state announced this month that it had signed a contract with tutor.com that will give more than 100,000 students access to the site's 24/7 digital tutoring services. Since early in the pandemic, the state has also partnered with Khan Academy founder Sal Khan's schoolhouse.world initiative, providing the state's students with free access to the site's learning resources. That site has seen about 4,300 New Hampshire visitors, said Kimberly Houghton, a spokesperson for the state's Department of Education, although she did not have figures on how many tutoring sessions students have actually participated in.
Among the 74 individuals and organizations registered by the state as tutoring providers, including specialists in math, literacy, speech and executive functioning, a handful said over email that none or just one student had reached out for tutoring sessions.
But Krista Martin, who runs the Sylvan Learning centers in Portsmouth and Salem, has worked with six students who have used YES! scholarship money to pay for sessions. Two of those families were already paying for Sylvan tutoring services before the grant and now use the funds to offset costs, but the other four enrolled once they received the scholarship, Martin said.
For the most part, families come in hopes that the sessions will help their kids recover from the pandemic, Martin wrote in an email.
"​​For many of our students, the breakdowns started during the COVID years," Martin said. "Since the pandemic, we have heard from many families that they want their children to enjoy school again and show interest in what they are learning like they did before COVID."
For the Paige family, Amy's struggles began earlier, but YES! has helped — at least a little — along the way. On an August evening in northern New Hampshire, tutor Lynne Howard sat at her dining table and helped the teen break down words into their individual sound components. Howard was a longtime reading specialist in the local schools and now runs a tutoring company called Summit Literacy.
"Say hush," Howard said.
"Hush," Amy responded.
"Now say hush but change 'shh' to 'mm,' " Howard added on.
"Hum," Amy answered.
Word by word, sound by sound, Howard and Amy made out ways to fill the student's learning gaps. They identified prefixes, suffixes, root words, closed and open vowels — steadily making progress to improve her spelling. And their time together ended with praise that, for many years before tutoring, Paige was concerned she'd never hear about her daughter's literacy.
"And that's it, you worked hard today," Howard said at the end of an hour. "Excellent job."
Support The 74's year-end campaign. Make a tax-exempt donation now.