Today's Hero: Michigan's Brian Antisdel Just Paid Off School Lunch Balances for 71 Middle Schoolers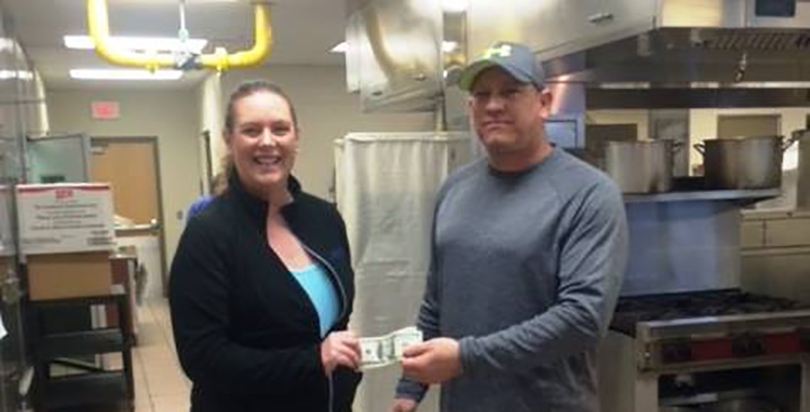 This article is one in a series at The Seventy Four which profiles the heroes, victories, success stories and random acts of kindness to be found at schools all across America. Read more of our recent inspiring coverage at The74million.org/series/inspiring.
Think of it as 71 separate acts of kindness. That's how many students at Michigan's Dowagiac Middle School had outstanding lunch balances, often racked up through forgotten packed lunches, lost lunch money or, sadly, inability to pay.
But now all accounts have been zeroed out, thanks to Brian Antisdel, who generously coordinated $600 worth of donations to cover the lunch debts.
Antisdel is the founder of Dowagiac IT3, a computer repair and network security firm. Running a successful business and performing good deeds hasn't always been the mission of his life. As reported by
WSBT
, Antisdel was in jail a decade ago, and it was actually that experience that made him want to turn his life around and perform random acts of kindness for his community.
It's not a one-man-show. He also rallies the community to support those in need. For Dowagiac Middle School, he
teamed up with Benton Metal Recycling
from nearby Benton Harbor for the funds to cover the lunch balances.
"Thank you to Dowagiac IT3 for helping our kids by coordinating this donation to pay off student lunch account balances. This speaks volumes about the Chieftain pride, passion, and support of our community," the school
posted to its Facebook page
:
In recent weeks, Antisdel has also used his
company's Facebook page
to reached out to customers in a bid to collect water bottles and money for Flint, Michigan which is suffering from an ongoing public water crisis.
Yet another act of kindness: When single mom Skyla Harrison brought in a dilapidated laptop with her last dollars for repair, Antisdel gave her a newer laptop and is paying for her internet connection for two months.
"Having to be a single mom without any help it's been hard, and my laptop broke so I brought that in. It was difficult," Harrison told
WSBT
. "I had to walk with my three kids and pushing the stroller in the snow, and trying to bring in my last $10 to fix my laptop so I could get things rolling again to get back on my feet, and he gave me this because my laptop is a mess."
Antisdel shrugs off any mention of heroism. He says he's not looking for accolades or awards or special recognition. For him, serving the community is in itself a gift: "Giving is receiving is how I look at life. If I can get to someone and walk away not needing anything, and I've done my job."
Support The 74's year-end campaign. Make a tax-exempt donation now.