To Get Students Engaged in Civics, This New Jersey High School Student Wrote a Textbook Featuring 56 Youth Voices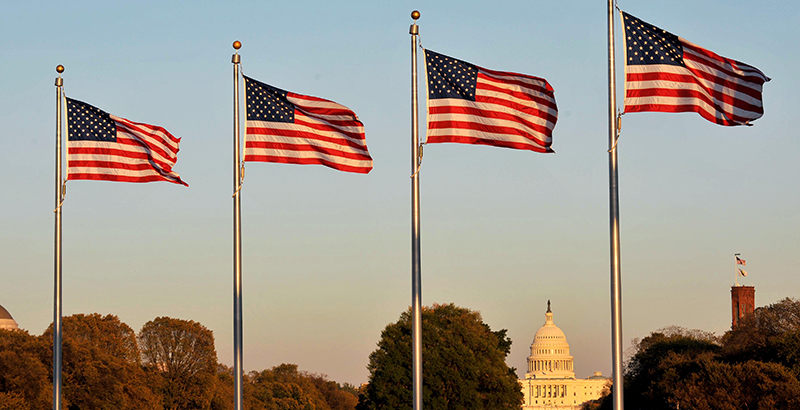 High school senior James Wellemeyer followed the 2016 presidential election every day on his phone, watched all the debates, and discussed the issues with his classmates at The Lawrenceville School in Lawrence, New Jersey. Wellemeyer also wrote for the student newspaper, participated in Model UN, and campaigned for presidential and gubernatorial youth councils.
But he noticed that not all young people were as engaged in politics and civics as he was. The low turnout among young voters was a particular concern — and he considered a lack of knowledge about the American political system to be the cause. He decided to try to change that by showing teens they can be informed and engaged even if they're not old enough to vote.
Wellemeyer figured he could best reach young people in a place they already have to be — the classroom. So he wrote a textbook for middle school civics and history classes, featuring interviews with 56 young people around the country. The idea was to bring out the youth voice, supplemented by traditional civics content such as checks and balances and the formation of political parties, as well as lessons on social media and registering to vote.
Young Voices is "a book about youth, focused on youth, written by a young person, trying to inspire the next generation of youth to be politically active," Wellemeyer said.
The ultimate goal, he said, is for students to be ready to engage in political discussions in high school and college, speak up on issues they care about, and vote.
"I think that it's important for young people to get involved in politics not just because the future is young people, but because it's our country too, and we should have a say in our government. And if young people are not voting, they're never going to have a say, and the government is simply going to represent the voices of those who are older," he said.
In the book's introduction, Wellemeyer suggests that teachers use his book to supplement a discussion-based course on civics or history.
"At the heart of this book is discussion, and the book highlights perspectives on both sides," Wellemeyer told The 74. "I think one thing that's missing right now from the political landscape is discussion. And lots of people just don't change their opinions, no matter what is presented … and they won't discuss their views with other people. But this book is really going to force young people, probably before they've even shaped views, to evaluate other people's political views and to discuss them with their classmates. It's really going to start the political discussion early that's needed later."
Gilberto Olvera, who teaches at the Chapin School in Princeton, New Jersey, noticed that balanced approach and decided to use the book in his eighth-grade global citizenship class this year. Olvera said he thinks Young Voices, which is available as a free e-book to any teacher upon request, will be a great "entry point" for getting students interested in civics and politics.
"There's not a whole lot out there that's as balanced … especially collected by a young person that can balance a lot of perspectives and give all of the viewpoints validity," he said.
Wellemeyer wrote the book over the summer after winning the Welles Award, an annual school stipend that funds selected projects.
Lawrenceville Dean of Academics David Laws said he was impressed by Wellemeyer's work.
"I really thought it was an interesting way to approach the project, and one that I think will resonate with young people," he said.
Laws, who was part of the committee that selected Wellemeyer for the award, said he notices an apathy and hopelessness toward politics among young people. He was eager to help a student who wants to change that.
"It's hard not to support that," he said.
Support The 74's year-end campaign. Make a tax-exempt donation now.