TN Kids: Lawmakers, Pull Your Heads Out From Under Your Desks & Pass Gun Policy
Tennessee legislators would rather hide behind words like "decorum" and "civility" than face hundreds of kids and teens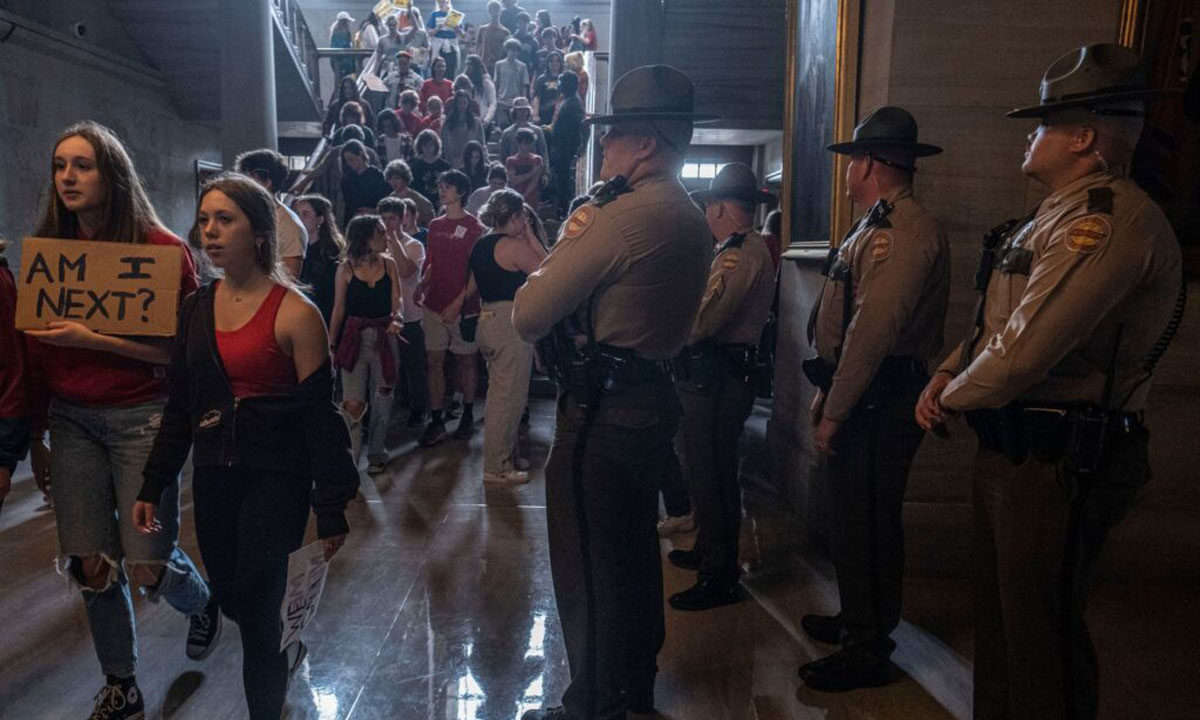 Emotions and tempers have been raw throughout Nashville all week after six people — including three kids — were killed in the Covenant School shooting.
For all the city's status as an "It City," the community still feels small, linked by a web of family, church, school and professional connections. Few I talked to didn't know someone affected by the tragedy.
Last Monday as I covered the shooting, I ran on adrenaline. By Tuesday, I was filled with rage — so much rage that had nowhere to go. I felt like I might explode, like I might come apart.
Kids and teens — who today participate in active-shooter drills and live with the threat of shooters as part of their academic experience — know the feeling.
Thursday, in an outpouring of grief, fear and anger, hundreds of them got permission from their school or parents to show up at the Tennessee Capitol and call on lawmakers to take up gun safety laws.
The protesters walked into the Capitol single file, through security checkpoints manned by troopers with the Tennessee Highway Patrol.
They chanted and sang. Some carried signs made on 8.5- by 11-inch sheets of paper — the largest sign allowed in the building. It was a powerful statement from lawmakers' future constituents.
Yes, they were loud. Yes, a few young men linked arms to block a bathroom, and state troopers shoved them out of the way, grabbing one by the neck, in order to escort Rep. Paul Sherrell, R-Sparta, through the crowd and back to his seat in House Chambers.
And three Democratic lawmakers — Reps. Gloria Johnson of Knoxville, Justin Jones of Nashville, and Justin Pearson of Memphis — took to the House floor mid-session, acknowledging protesters.
There was no insurrection, as House Speaker Cameron Sexton implied on right-wing airwaves, including on Fox News.
Sexton is a liar.
And he's lobbing diversionary media tactics instead of facing the reality of what hundreds of schoolchildren are asking him to do.
Sexton has dialed back his original comments, clarifying he didn't mean the teen protesters caused an insurrection, but rather, his three Democratic colleagues. And he's mentioned that expulsion from the House is a possible punishment for them.
As the Lookout's Adam Friedman reported, Sexton told a Knoxville talk radio host of the Democratic lawmakers, "Two of the members, Reps. (Justin) Jones and (Gloria) Johnson, have been very vocal about Jan. 6 in Washington, D.C., about what that was. What they did today was at least equivalent, maybe worse, depending on how you look at it, of doing an insurrection in the capitol."
That is also false.
There are literally thousands of still photos and videos from members of the media, other lawmakers and protesters that depict nothing like Sexton conveys. The Lookout's John Partipilo photographed Jones with a bullhorn, while Pearson and Johnson stand feet away.
It would be ludicrous, were it not so dangerous, for Sexton to publicly accuse his colleagues of insurrection.
The actual insurrection included the construction of a noose in front of the U.S. Capitol, armed protesters chanting to "Hang Mike Pence" and overrunning Capitol Hill police, property destruction and the defiling of congressional offices. And pro-Donald Trump members of Congress still persisted in voting to deny the results of the 2020 presidential election.
Sexton has had a particular burr under his saddle for Johnson, the lone House member who did not vote to reelect him House Speaker in 2021. That year, Sexton assigned Johnson, a 60-year-old woman who uses a scooter to navigate the Capitol and legislative halls, a closet to use as an office.
Jones is no more liked than Johnson by legislative Republicans, after he led protests in Nashville following the 2020 police killing of George Floyd in Minneapolis. Pearson incurred the wrath of his colleagues for wearing a dashiki into the House chambers, which apparently violated Republican lawmakers' senses of decorum, although it violated no House rules.
Tennessee Republicans are all about decorum when it benefits them. Their decorum wasn't violated when former Rep. David Byrd was credibly accused of sexual assault by girls he coached in high school basketball, standing by him until he declined to run for reelection in 2022.
They didn't worry about decorum when three Republican legislators — former Speaker of the House Glen Casada, former Rep. Robin Smith and sitting Rep. Todd Warner — had their homes and offices raided by the FBI in Jan. 2021, and continued to support Smith and Casada until they were indicted of federal charges of fraud and money laundering.
They didn't seem to care when former Sen. Brian Kelsey was indicted on five counts of federal campaign finance violations in Oct. 2021. Kelsey resigned from his seat as Senate Judiciary Chair, but there was no mention of expulsion.
But walk into the well of the House after, as Jones said, your microphone has been repeatedly cut by House staff? And pull out a bullhorn after Sexton gavels the body into recess? Expel them!
Sexton and other Republican lawmakers are guilty of what they have accused others of: politicizing the death of six people in Nashville's third mass shooting within the last seven years.
They've succeeded in turning the discourse away from the righteous anger of many Tennesseans, including the thousands of students who again flocked to the Capitol on Monday to press lawmakers for to do something, any damn thing to fund mental health or restrict access to powerful weapons. They've made the conversation about their fear of two young Black lawmakers and one white one with a bullhorn.
The use of coded language like "decorum" and "civility" has been used at other times of massive social unrest to control the changemakers. Women working to secure the right to vote were criticized similarly, as were Black civil rights leaders in the 1960s.
Now, Tennessee's Republicans are using the language in an attempt to discredit anyone who disagrees with their policies — or, in the case of firearms, their lack of policies.
Kids who are hoping to be able to graduate from high school without surviving a school shooting and a handful of lawmakers acknowledging them, are being criticized for decorum and accused of insurrection. These are lies, and Sexton, as the leader of the Tennessee House of Representatives, knows it.
Tennessee Lookout is part of States Newsroom, a network of news bureaus supported by grants and a coalition of donors as a 501c(3) public charity. Tennessee Lookout maintains editorial independence. Contact Editor Holly McCall for questions: info@tennesseelookout.com. Follow Tennessee Lookout on Facebook and Twitter.
Support The 74's year-end campaign. Make a tax-exempt donation now.