Time Magazine Honors Sandra Day O'Connor as Pioneer on Supreme Court — and in Civics Education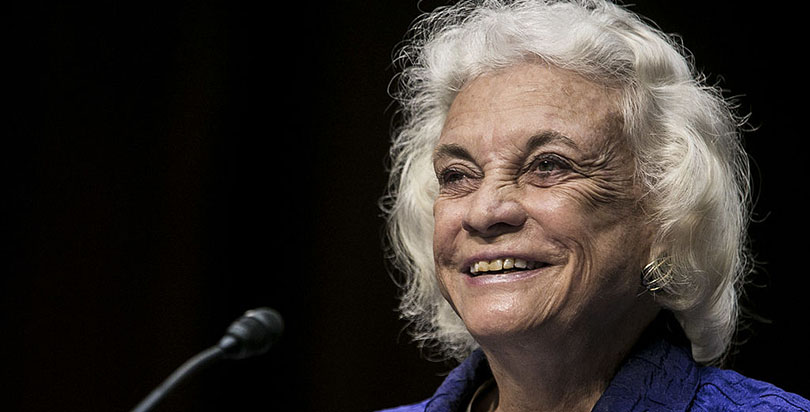 Sandra Day O'Connor may have been the first female Supreme Court justice, but she says her most important work began when she stepped down — an effort to teach civics to young people that recently ranked her as one of Time magazine's
100 most influential people
.
O'Connor retired from the bench in 2006, and in 2009 she created iCivics, a series of free online role-playing games that teach students about government from the point of view of the president, a Supreme Court justice, even the local county government leader.
"Sandra wanted to make civic education relevant to young people, and she knew that in order to engage them, she had to make it fun," Supreme Court Justice Sonia Sotomayor, an iCivics board member, wrote in her Time essay about O'Connor. "Once again, Sandra became a pioneer."
This academic year, nearly 5 million students have played the games, with nearly 3 million using the program in November alone. "Every election cycle is a big deal for us," said iCivics Executive Director Louise Dubé. "This one is unprecedented in terms of the traffic we received."
Dubé said iCivics helped teachers and students make sense of a very politically charged election in a nonpartisan way by teaching how government works.
"I think we have to understand that our government is not a black box, it's actual problems being solved every day by actual people," she said. "I think that gaming and iCivics is really good at presenting those forces at play."
The program was originally designed for middle-schoolers, but after the iCivics team found that hundreds of thousands of high school teachers were using it in their history and government classes, they began to develop more in-depth government content for older students.
As both sides of the political divide are emphasizing local control this year, iCivics has revamped its county government game to keep pace. Students play the role of county executive and must address constituents' problems while keeping in mind their tax base, a constantly ticking approval rating, and an upcoming election they're trying to win.
In addition to the games, iCivics offers curricula that teachers can use. Its lesson plans are downloaded 2 million times every year, iCivics reported.
O'Connor was inspired to create the game in part because of complaints about the state of civics education in the U.S. A national survey from the
Annenberg Public Policy Center
in 2014 showed that only one-third of Americans could name all three branches of government — and one-third could not name any. Only a quarter could say that a presidential veto requires a two-thirds vote in Congress to override, and 20 percent erroneously thought that a 5-4 Supreme Court decision is sent back to Congress for reconsideration.
"I wanted to teach young people in America how they can be part of the government structure and help decide what problems to tackle and how to solve them," O'Connor said in an iCivics tribute
video
.
Support The 74's year-end campaign. Make a tax-exempt donation now.