Three Incredibly Obvious Reasons Fewer People Want to Be Teachers: Study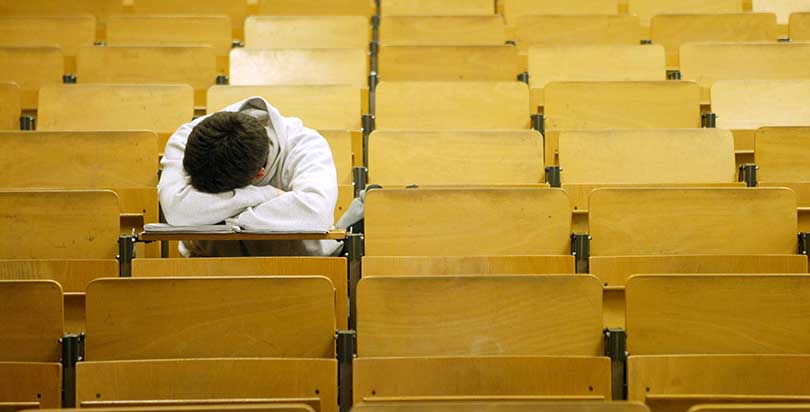 Enrollment in teacher training programs has fallen precipitously in recent years, leading
some
to the (
much
disputed
) conclusion that a national teacher shortage is imminent.
This drop is real, but both its cause and a solution may be straightforward, according to a
report
from the Center for American Progress (CAP), a left-leaning think tank that has generally backed the Obama administration's education policies.
CAP found that fewer people enrolled in teaching programs in states that had lower teacher salaries, had more layoffs and based layoff decisions largely on seniority.
Although the results can't definitively show cause and effect, they make sense; teachers, like all workers, want to be paid well and be able to get and keep a job.
"When there are changes in pay, decreasing job opportunities or a great likelihood of layoffs in teachers' first years, prospective teachers respond to these incentives," the study concluded.
But these explanations aren't always front and center in public debates about education; instead, hot-button political issues like Common Core, testing and teacher evaluation are often blamed for driving off potential newcomers.
The authors of the report, Lisette Partelow and Christina Baumgardner, examined trends in enrollment in teacher preparation programs. Between 2008–2009 and 2013–2014, virtually every state had significant declines.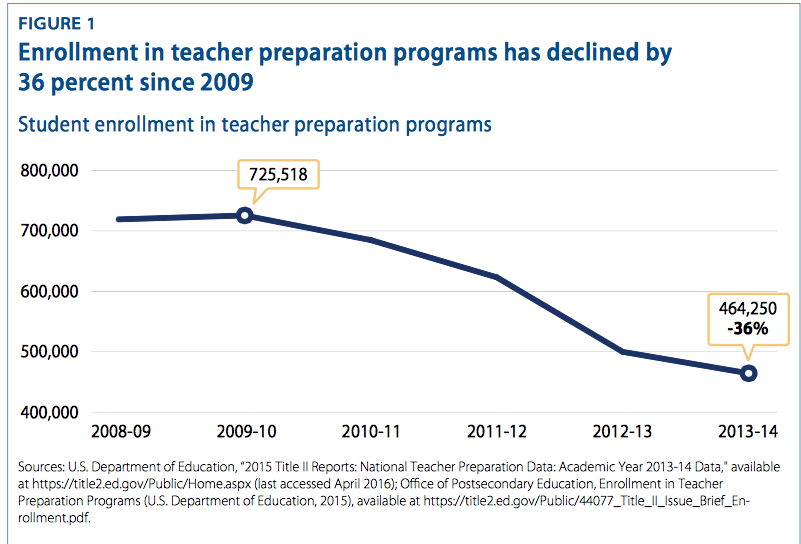 Using statistical models to identify policies and practices associated with differing state enrollment trends, the authors found that higher salaries, fewer layoffs following the Great Recession, and laws prohibiting the use of so-called
last-in, first-out
dismissals were related to smaller drops in enrollment in teacher training programs.
The impact of layoffs was especially stark. "Reducing education positions 10 percent was associated with subsequent teacher preparation program enrollment declines of 45 percent," the paper concluded. Clearly, layoffs sent a signal to prospective teachers that earning a credential was no job guarantee.
Similarly, a 10 percent difference in teacher salary — say, between $50,000 and $45,000 — correlated with a 16 percent decrease in teacher training enrollment. This accords with a
significant body of literature
showing that teachers consider salary when deciding whether to enter and remain in the profession.
"We hear a lot of things along the lines of, 'Well, teacher pay doesn't matter because teachers don't really do it for the money,'" Partelow said in an interview. "We really think teacher pay matters a lot."
Finally, states with laws prohibiting layoffs based on seniority saw smaller drops in enrollment by about 13 percent. LIFO policies may have discouraged potential teachers who realized that they would be the first fired in the case of layoffs, regardless of their performance.
Other research
has shown that seniority-based layoffs have a negative effect on student achievement.
Much of the
rhetoric
surrounding teacher shortages has suggested they are caused by increased testing or more stringent evaluation. The CAP study finds only limited support for this common claim. Partelow and Baumgardner look at whether states that
connected test scores to teacher evaluation
had greater drops in teacher prep enrollments. The effects were quite small (just 3 percent) and not statistically significant.
They also looked at the length of time until a teacher could receive tenure. Longer pre-tenure periods were related to a marginal (4 percent) decrease in teacher training enrollment.
This suggests that although changes to teacher evaluation and tenure policy may have some small effect on potential interest in teaching as a career, such policies are unlikely to be the main drivers of the decline in teacher prep enrollment.
The study also highlights the fact that prospective teachers seem to be keenly aware of the teacher labor market; efforts to increase dismissal rates of ineffective teachers should take this into account, perhaps
raising salaries
to compensate for a greater risk of be fired.
Other research
has found that more-effective teachers enter the classroom during economic downturns, likely because they have worse alternative job prospects.
Dan Goldhaber, a researcher at the University of Washington Bothell, said the CAP analysis should be interpreted cautiously because it's difficult to account for the many different factors that might affect enrollment in teacher training programs. He added, however, that on theoretical grounds he found the three main explanations compelling. Goldhaber also noted that few if any more-rigorous studies have been done on this issue.
Overall, the findings imply that clear and unsurprising policy solutions will help avoid drops in teacher training enrollment and potential shortages: Pay teachers competitive salaries, and avoid large-scale, quality-blind layoffs targeted at new teachers.
It's probably that simple.
Get stories like these delivered straight to your inbox. Sign up for The 74 Newsletter