Thousands Of Hawaii Classrooms Lack AC. The DOE Won't Say Which Ones
Teachers say they are frustrated by a lack of transparency about how many units need to be installed and where.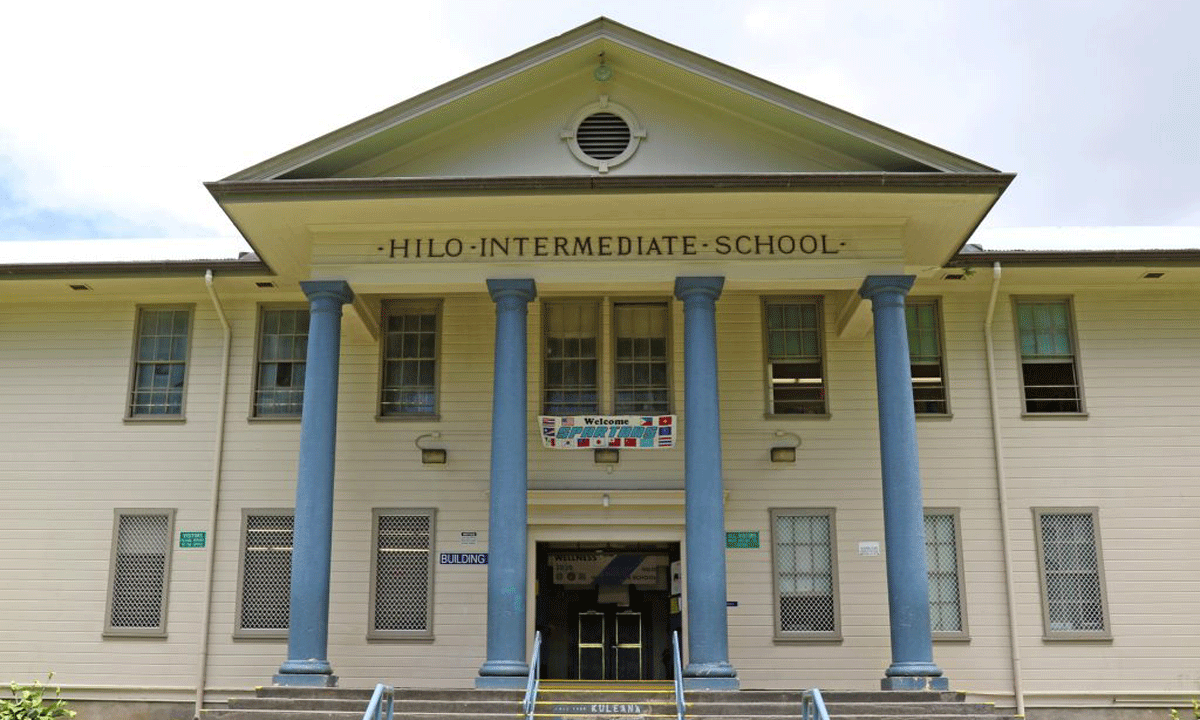 No paywall. No pop-up ads.
School is starting in Hawaii as rising global temperatures and decreasing trade winds have led to hotter days. Record high temperatures in the state were set or tied on eight days in July, according to the National Weather Service.
For the thousands of teachers that still lack air conditioning in their classrooms, this means they'll need to get creative.
"I currently have 20-plus fans in my room," said Aaron Kubo, a social studies teacher at Hilo Intermediate School.
Around 3,400 classrooms in the state lack air conditioning, and it could take another four or five years to get cooling systems installed — if the department gets an additional $10 million a year from the Legislature to make the improvements, said Randall Tanaka, Department of Education assistant superintendent in charge of facilities and operations.
The $10 million dollars appropriated by the Legislature last year for cooling classrooms has already been committed, Tanaka said. It will cover air conditioning units in 860 classrooms. Installing a window unit costs about $5,000 per classroom, but electrical upgrades cost more and vary depending on what work is needed, he said.
Teachers and advocates say they are frustrated with the pace of the department's progress and the lack of transparency around exactly how many units still need to be installed and where.
Corey Rosenlee, former president of the Hawaii State Teachers Association and a teacher at James Campbell High School, said the department should be transparent about which classrooms in the state already have AC, which do not, and which still need electrical upgrades.
The most important thing is taking care of children's basic needs, he said. "Do they have something to eat, something to drink? Do they have a classroom environment that's conducive to learning?"
Tanaka said the department has a list of the schools that still need air conditioning but has not provided it despite numerous requests. He said he did not want to "create any more anxiety" among teachers in classrooms that are lower on the list because they are not at high-priority schools.
But Rosenlee said the push for ACs in schools has gone on too long, and the department needs to be held accountable.
"It's frustrating that we're still fighting after all these years," he said. "I've been fighting for this since I got to Campbell in 2006."
Campbell High School now has air conditioning.
Slow Progress
Former Gov. David Ige signed legislation in 2016 dedicating $100 million to heat abatement projects in schools and pledged to air condition 1,000 classrooms by the end of the year. About 7,000 of the state's roughly 11,000 classrooms didn't have air conditioning at the time.
But the pace of the progress was slow, and Ige called for another $61.7 million to continue the work in 2017.
Around 880 solar-powered air conditioning units were installed at a total cost of about $125 million, Tanaka said. That cost also included some infrastructure upgrades.
"Back in 2016, I think it was a relatively new idea, and it was a pretty tough lift," he said. "I don't think we fully understood what that effort would take."
But the units quickly began to fail.
They were only designed to carry three or four hours of charge and would automatically shut down, Tanaka said. Some malfunctioned when contractors ran software updates.
Now, many are outside of their warranty period, and eventually, they'll all need to be replaced, he said.
For Rosenlee, the time and money spent on the faulty solar ACs could have been used more efficiently to cool more classrooms.
Osa Tui Jr., president of the Hawaii State Teachers Association, called the solar-powered ACs a "disaster" and said he feared it could make legislators more reluctant to fund other education initiatives.
"This only perpetuates the idea that the department is given too much money and that government is wasteful," he said. "It's fiascos like this that cause problems elsewhere in the system."
'They're Dripping Onto The Floor'
Kubo said last year, despite the 20 fans whirring in his Hilo classroom, his students had difficulty focusing many days.
"The kids come in, they sit down and they start sweating, and the sweating doesn't stop," he said. "They're dripping onto the table. They're dripping onto the floor."
Kubo has been tracking the temperature of his classroom in a spreadsheet since 2018, and the temperature is consistently above 80 degrees. With the humidity factored in, it often feels like it's above 90.
Sometimes, as he tries to teach students a concept, he can tell it's not sinking in.
"It's not the lesson, it's just the situation," he said. "It is heartbreaking. There's nothing I can do."
In a survey conducted by the HSTA in June, many teachers reported not having AC in their classrooms, and some who did said the machines often malfunctioned. Some said having multiple ACs running in their schools trip the electrical circuits and cause power outages. Others said they had to buy fans, Gatorade or popsicles for their classrooms with their own money or ask parents for donations.
"It's a shame that kids in Hawaii are still having to go to classrooms that are just too hot to learn in," Rosenlee said. "And we know it's only going to get hotter."
As Kubo was setting up his classroom for the first day of school, it was 87.4 degrees inside, and that was without 25 to 30 students in the room.
He'll continue to do what he can to keep his students cool, but he said the state needs do its part to make sure everyone has a productive environment to learn in.
When asked what his message was for teachers who would have to continue waiting, Tanaka said, "We're going to get to you. It may be later than sooner … just hang in there with us."
Civil Beat's education reporting is supported by a grant from Chamberlin Family Philanthropy.
Get stories like these delivered straight to your inbox. Sign up for The 74 Newsletter