Thousands Call for More Charter Schools at Brooklyn Rally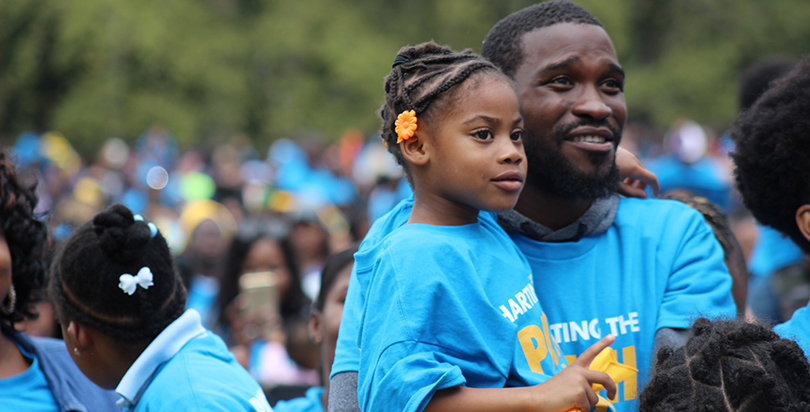 Updated Sept. 29
Brooklyn, New York
Being smart is finally cool.
That's how ninth-grader Joel Torres described what it's like at Achievement First University Prep, his Brooklyn high school. When he was in elementary school, he remembered, he risked being called a nerd whenever he raised his hand. But that's not the culture at Achievement First, he said.
His classmate Alex Aybar said students put in long hours but added that it's worth it to have a real chance at studying science at Dartmouth College — like his current science teacher did.
Joel's and Alex's stories were two of thousands celebrated Wednesday by parents, students, educators, politicians and advocates at a charter school rally in Prospect Park. The event, which included rapper and civil rights activist Common, drew 25,000 people, according to Families for Excellent Schools, the pro-charter advocacy group that organized the event.
Rallygoers joined in a call to expand the city's charter schools to serve 200,000 students — about one fifth of all students — which is about twice as many as the current charter population. Doubling the sector's reach by 2020, organizers said, would close the racial and ethnic achievement gap.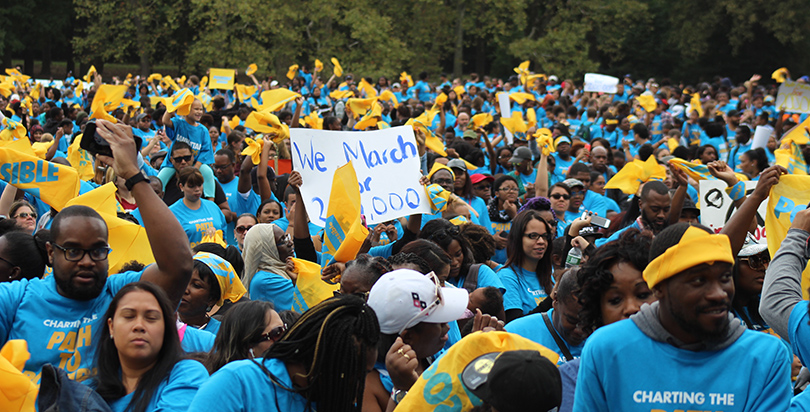 "Not too long ago, people called our schools an experiment," Achievement First East New York Middle School Principal Fatimah Barker said before a sea of neon blue shirts packing the park. "There are still too many of our kids stuck in failing schools."
The
NYC Charter School Center estimates
that 44,400 students are currently on waiting lists to enter one or more of New York City's 212 charter schools. Many who attended the rally said they saw charters as offering an escape from their poor neighborhood schools. Math and reading test scores improved citywide in 2016, following changes to the tests, but charter school students scored 5 to 8 percentage points higher than their traditional public school peers in both subjects.
Mayor Bill de Blasio, who has battled politically with charter operators and supporters, credited their stronger performance to an emphasis on test prep, but he cited no evidence for the claim. In an interview before the rally, he told WNYC radio host Brian Lehrer that he was focused on systemwide fixes.
"I think the focus has to be on the 90 percent of our kids in the traditional public schools who deserve better, and that's where our energies have to go, and it's about fixing the entire school system," de Blasio said.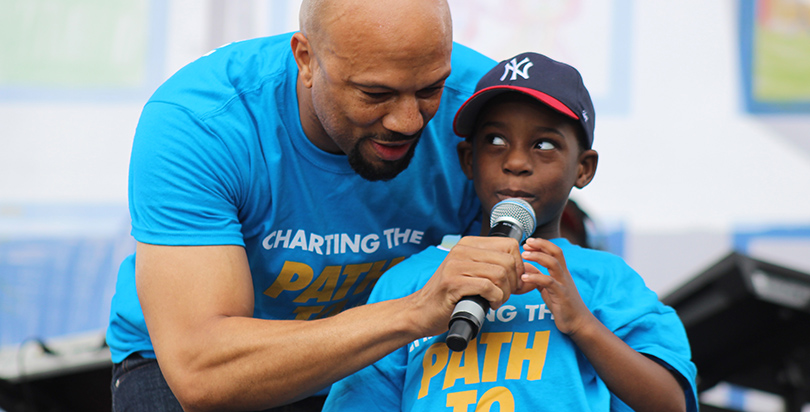 Democratic Congressman Hakeem Jeffries, who's been eyed as a potential de Blasio opponent, told the crowds Wednesday that charters are part of the solution to fixing failing schools.
"Everyone in this city, every parent, every child, deserves to have an option, regardless of race, regardless of color, regardless of ethnicity, regardless of immigration status, regardless of ZIP code," he said.
Parents pointed to the close attention charters give their students. When Diane Austin's daughter started having behavioral problems at Achievement First Endeavor Charter School, Austin requested an in-person meeting with her teachers and the principal, she said. During that sit-down, they discovered that Austin's daughter was struggling with writing. As teachers gave her daughter more attention in this subject, her behavior improved.
A sampling of the thousands of students running around the park didn't agree on everything: Some found their classes rigorous; some found them relaxed. Some loved their former traditional public schools; some were thankful to leave them. Some said teachers were strict and some said they were nice.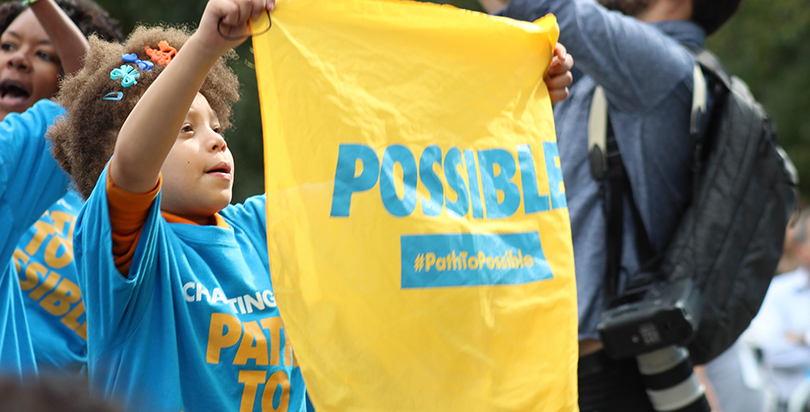 "[The rally] is important so people around here can see what charter schools are doing and how much positive energy they're reflecting on students," said Achievement First University Prep ninth-grader Sarah Baptiste. "They should see what's going on in charter schools and see that we're really doing something."
One thing the students did agree on: Common was the highlight of the day.
"I'm here to tell you that you participating and being a part of charter school success stories is your path to possibility," Common said. "The seed that you have right now, young men and women, you have a chance to go out there and influence and change the world."
The hip-hop singer and actor grew up in Chicago. After teachers there went on strike, he said, his mother put him in a private school, which is where he received the attention he needed. The singer is also the creator of the Common Ground Foundation, which supports inner-city youth.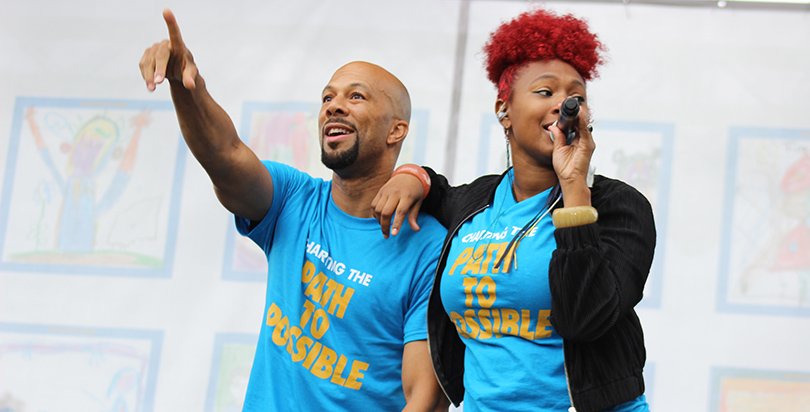 Common sang several songs for the crowd and invited students onstage to breakdance with him. He also recited lyrics from Black America Again:
"The new plantation, mass incarceration / Instead of educate, they'd rather convict the kids / As dirty as the water in Flint…"
Bronx Borough President Ruben Diaz cited his own experience as a parent who was able to exercise choice in selecting schools for his children.
"As borough president, shame on me, as elected officials, shame on us, if we don't provide the opportunities like we had for our own kids to be able to identify a school that is best for the character and personality of our children," he said.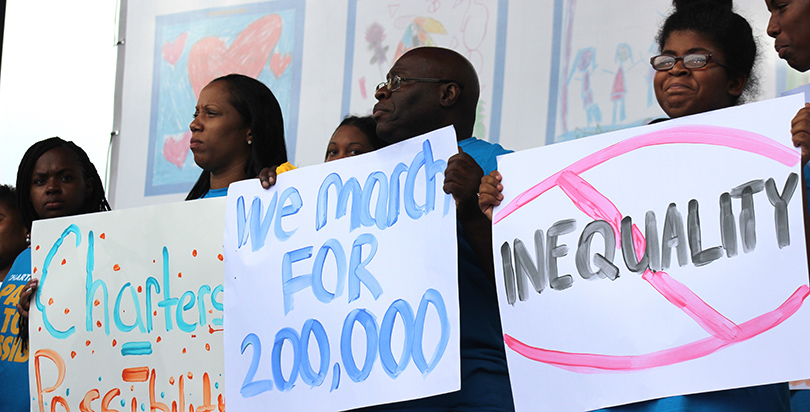 Watch: charter supporters rally in Brooklyn's Prospect Park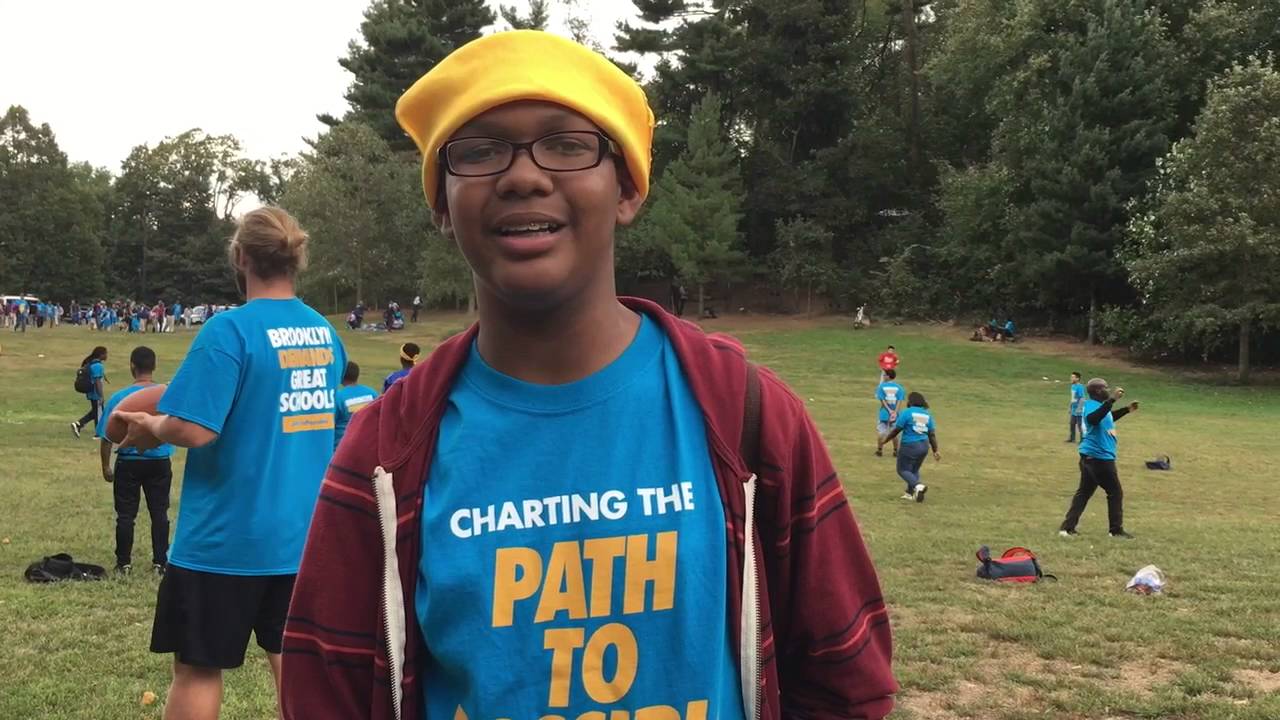 Get stories like these delivered straight to your inbox. Sign up for The 74 Newsletter