This Week's ESSA News: Independent Peer Review Results Show States Largely Squandered ESSA Opportunities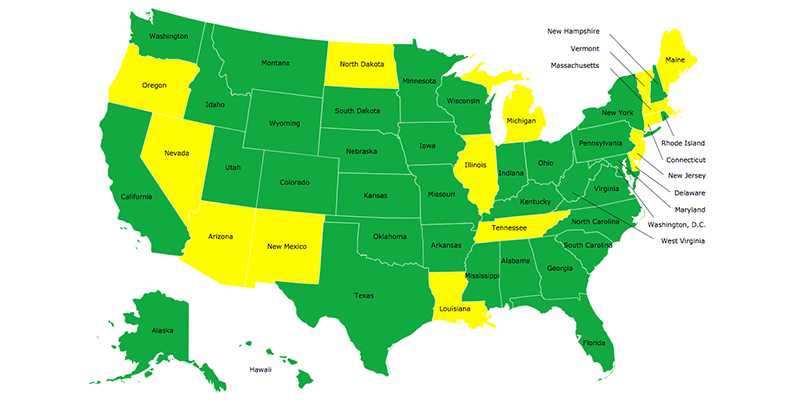 This update on the Every Student Succeeds Act and the education plans now being refined by state legislatures is produced in partnership with ESSA Essentials, a new series from the Collaborative for Student Success. It's an offshoot of their ESSA Advance newsletter, which you can sign up for here! (See our recent ESSA updates from previous weeks right here.)
On December 12, the Collaborative for Student Success and Bellwether Education Partners released the results of an independent peer review of the 34 state ESSA plans submitted to the U.S. Department of Education in September. The findings — coupled with the results of the first independent peer review of the 17 states that submitted in April — show that states largely squandered the opportunity provided by ESSA.
"State plans have now been reviewed for all 50 states and the District of Columbia — and on the whole, states failed to lay out bold plans for improving education," said Collaborative Executive Director Jim Cowen. "While some plans did offer innovative ideas for other states to learn from, the lack of focus on ensuring success for all students is not only concerning, but potentially a step backward. We look forward to supporting state advocates in efforts to improve upon these plans and leverage the exemplary practices identified at CheckStatePlans.org to dramatically improve outcomes for all students."
The review included more than 45 peer reviewers, representing bipartisan viewpoints, and including eight former state chiefs, 14 former teachers, state education leaders, members of the civil rights and disability communities, and education experts from around the country. See reviews for all 50 states and the District of Columbia here. You should also check out Jim Cowen's piece —"State Education Plans Should Be More Than Technical Exercises"—as well as "State ESSA Plans Are Weak Tea, But Here Are 3 Things We Can Do Right Now" by Bellwether Senior Analysts Kaitlin Pennington and Max Marchitello.
#CheckStatePlans is back!!! We and @bellwethered are excited to announce that reviews of the remaining 34 states' plans are now available. Go take a look: https://t.co/pUYpbLv2s3 pic.twitter.com/9kEfNw5fOf

— for Student Success (@StudentSuccess) December 12, 2017
Much more ESSA news below:
Media reflects lackluster peer review responses
California's LA School Report noted the state isn't giving parents the tools needed to effectively evaluate schools. Pennsylvania's PennLive.com noted that the state's plan was "panned" by peer reviewers. In Iowa, the Des Moines Register examined the release in the context of the state's ongoing assessment issues. In Alabama, AL.com noted how the state's plan got "low marks," while in Mississippi the Clarion Ledger focused on how the state's A-F scale affected the achievement gap. Idaho Ed News said peer reviewers gave the state's plan "mixed reviews," and in Georgia, the Atlanta Journal-Constitution noted that peer reviewers felt the state's plan lacked urgency. Meanwhile, WTOP Radio in Washington, D.C., provided an overview of Maryland and Virginia results. In Washington State, the Seattle Times noted how the state plan received "positive marks."
California isn't giving parents what they need to evaluate schools, say experts who reviewed state's #ESSA plan. https://t.co/3phTRItiJe @bellwethered @studentsuccess #CAedchat pic.twitter.com/BvyC8KnGHt

— LA School Report (@LASchoolReport) December 12, 2017
Federal feedback begins
Education Week's Alyson Klein reports that Maryland received feedback from the U.S. Department of Education – and it was extensive. Klein notes that:
Maryland "needs to rethink its goals for student achievement." The state has only proposed elementary and middle school goals – but it's required to have goals for high school too.
Maryland also "needs to do a better job of spelling out how it will figure academic growth into its accountability system."
The state needs to better explain its two measures of school quality and student success — school climate and access to a well-rounded curriculum.
Maryland also needs to explain "whether academic indicators count for more than non-academic indicators," "how it will identify low-performing schools and schools where particular groups of students are falling behind," and "how it will ensure that poor kids get access to their fair share of effective teachers."
And don't forget that Maryland Governor Larry Hogan didn't sign off on the state's plan because, as he noted in a letter to U.S. Department of Education Secretary Betsy DeVos, "the state board could not craft a sufficient plan under the 'impossible circumstances' imposed by the state law."
Georgia also received feedback — and the state's plan "has hit a bump in the road, with the U.S. Department of Education saying at least one of the state's proposals doesn't comply with federal law," reports the Atlanta Journal-Constitution's Ty Tagami. He noted that there were three major concerns in the U.S. Department of Education's letter:
"how to modify a school's test results when students are absent on the days tests are given or outright refuse to take them."
"how to credit schools for testing gains with traditional at-risk groups," like English Learners, low-income students, and students with disabilities.
"how schools are scored for the performances of their low- versus high-achieving students." The Department was concerned that Georgia's plan could "mask the performance of weaker students."
And Montana Public Radio reports that the U.S. Department of Education held a 90-minute call with officials at the Montana Office of Public Instruction to discuss the state's ESSA plan. Following the call, Montana state superintendent Elsie Arntzen noted, "The federal government is not augmenting our plan. We are in charge. And I think that is a huge message because that validates all the work that you all have put in over this year, and the year prior."
CEP: States lack "funding, staffing, expertise" to implement ESSA
George Washington University's Center on Education Policy conducted a survey of state education officials and have released a report outlining their findings, which examines first-year state ESSA efforts. CEP reports that although "many state education leaders like having greater control over key education decisions as a result" of ESSA, "all but one of the state leaders responding to a new survey said their state lacks sufficient funding, staffing, or expertise to carry out one or more key requirements of this 2015 federal law." They also noted that "the Trump Administration's withdrawal of many federal regulations and written guidance for ESSA has some state officials looking for clearer directions from the U.S. Department of Education."
Planning for Progress: States Reflect on Year One Implementation of ESSA – A new report shares the views of state leaders on key aspects of ESSA. Read the full report at https://t.co/ISoZDGohkI #FamEngage pic.twitter.com/C6nnqTKbMr

— FCE Network (@FCEnetwork) December 12, 2017
Reyna talks state plans, college and career readiness
Education Strategy Group Senior Associate Ryan Reyna offers his thoughts on state ESSA plans and where he believes "work remains to deliver on the promise of college and career readiness for all students," while also highlighting "some promising examples from state ESSA plans that can be useful reference points for policymakers and practitioners as states turn from planning to implementation." Reyna discusses deepening the alignment between aspirations, goals, and accountability measures; finding the right balance between relative and absolute performance; and strengthening support for low-performing schools. Reyna concludes by stating: "Let's trust state leadership, verify state actions, and learn from this exercise to ultimately help realize dramatic improvements in students' preparation for success in college, careers, and life. Hopefully, we can all agree on that."
My thoughts on where we go from here on K-12 accountability https://t.co/LJAj1TGEhf

— Ryan Reyna (@RyanEReyna) December 11, 2017
Want to stay up to date? Click here to sign up for the ESSA Advance newsletter to receive all the information in your inbox every Wednesday.
Get stories like these delivered straight to your inbox. Sign up for The 74 Newsletter