This Week's ESSA News: Former Education Secretaries Dig Into ESSA Plans; Democratic Legislators Accuse DeVos of Avoiding Congress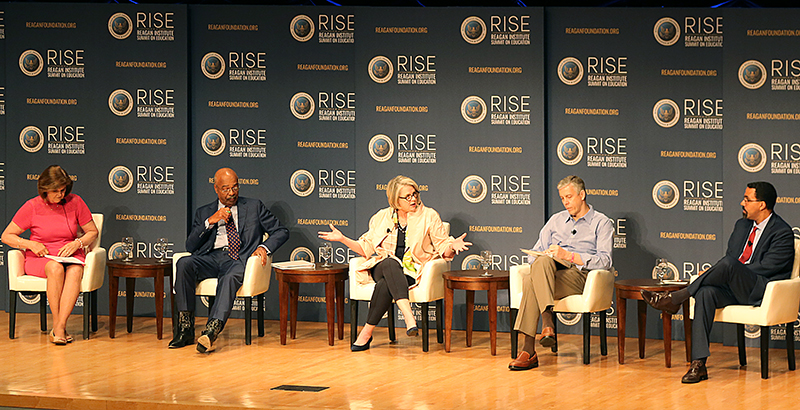 This update on the Every Student Succeeds Act and the education plans now being refined by state legislatures is produced in partnership with ESSA Essentials, a new series from the Collaborative for Student Success. It's an offshoot of their ESSA Advance newsletter, which you can sign up for here! (See our recent ESSA updates from previous weeks right here.)
Seven former U.S. Department of Education secretaries came together recently to mark the 35th anniversary of the landmark "A Nation at Risk" report. Former ABC News White House correspondent Ann Compton served as moderator for the final panel, asking former Obama administration education secretary Arne Duncan if states "squandered" the opportunity of ESSA by submitting plans that weren't strong on accountability, as was found in a recent independent peer review: "I don't think they squandered it; I think they did exactly what they wanted to do," Duncan responded. "They knew what they were doing. It wasn't an accident." Click here to see the entire discussion (the exchange quoted above starts around 1:54).
Speaking of secretaries of education, Alyson Klein reports for Education Week that "U.S. Secretary of Education Betsy DeVos hasn't testified before the House or Senate education committees since becoming secretary more than a year ago — and Democrats aren't happy about that." Democrats "say they want to question DeVos's choice to approve ESSA plans that they and some civil rights groups think flout the law," though "DeVos has a different take."
See below for more ESSA news.
1 California finalizes accountability plan (finally…)
"Two years, a presidential election and many meetings after the California State Board of Education first started talking about how to satisfy a major federal education law, members finally agreed Thursday [April 12] to submit a final plan," writes Joy Resmovits in the Los Angeles Times. The vote to submit a final ESSA plan came "in a special meeting, a month after they opted to delay," and "came together after months of back-and-forth with Betsy DeVos's U.S. Department of Education." Prior to the vote, board president Mike Kirst said, "Time now is really getting urgent for us to take some action," ading that "delaying any vote will jeopardize the flow of the money." For the 2017–18 school year, California received $8.1 billion in funding for K-12 education from federal allocations, with $2.4 billion coming via ESSA.
2 ESSA part of progress for military students.
"As we celebrate the Month of the Military Child, I am reminded of the numerous stories I have heard about the challenges the sons and daughters of our armed forces face because of one (or both) of their parent's service," writes Christi Ham, chairwoman of Military Families for High Standards. Ham concludes that, during this month, there will be a lot of discussion about how much more there needs to be done. And while that's true, "it is also important to recognize the progress we've made." Part of this progress, Ham notes, is the Military Student Identifier created by ESSA, which "is designed to help states and districts understand how military-connected students are performing academically."
3 Achieve shares science assessment guidance
Dian Schaffhauser reports that, as states sort out their science standards, "all of them are expected to adhere to 'high-quality' summative science assessments that meet federal requirements" as defined under Title I Part A of ESSA. Achieve "recently released criteria that can be used by states to develop those grade-level tests and [help them] know that they meet federal expectations." The report says finding success requires detailed focus on three primary areas: using "intentional design," supporting design decisions and rationales through evidence, and reflecting more comprehensive learning goals. Additionally, the research is "grounded in three elements": an "evolving understanding of how best to assess multi-dimensional standards," the "research that lays out what all students should know and be able to do in science," and "the lessons learned through the processes undertaken by pioneering states as they developed their 'three-dimensional assessments.' "
Want to stay up to date? Click here to sign up for the ESSA Advance newsletter to receive all the information in your inbox every Wednesday.
Get stories like these delivered straight to your inbox. Sign up for The 74 Newsletter