This Week's ESSA News: 'Dramatic Consequences' Seen in Midterm Elections, Coaching for Principals, Grants for Guns Lawsuit & More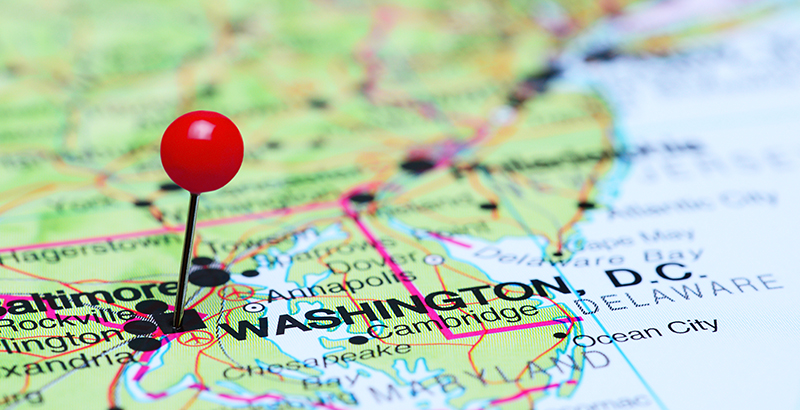 This update on the Every Student Succeeds Act and the education plans now being implemented by states and school districts is produced in partnership with ESSA Essentials, an ongoing series from the Collaborative for Student Success. It's an offshoot of their ESSA Advance newsletter, which you can sign up for here! (See our recent ESSA updates from previous weeks right here.)
The midterm elections are tomorrow, with potentially significant impacts for ESSA. As Alyson Klein writes in Education Week, "U.S. Secretary of Education Betsy DeVos may have approved every state's vision for implementing the Every Student Succeeds Act — but that doesn't mean the plans are all done and dusted." States can still update their plans, and after the midterms, "many of them may want to." And although federal officials will need to approve any significant changes, details of how this will actually look are still very much pending.
Three dozen states will be holding gubernatorial elections tomorrow, and the winners of these contests will have the authority to give ESSA plan changes the nod. Eight or more will have the power to appoint state schools chiefs, and others will gain the authority to appoint state board members. An additional seven states are also electing chiefs. Because some of these elections could have "dramatic consequences" for ESSA, Klein provides a rundown of which elections ESSA watchers should pay attention to on Election Day.
Great analysis from @PoliticsK12 @educationweek on how midterms may effect ESSA plans featuring @bellwethered research and ratings on state plans >> https://t.co/gD8hrrSpBG

— Bellwether Education (@bellwethered) October 25, 2018
Also in Education Week, Daarel Burnette II reports that state education departments are "rolling out their newest rankings of schools under the federally mandated ESSA plans and, with all the new indicators, there are inevitably lots of changes to districts' academic performance" — all just in time for the midterm elections. Already in Maryland, Ohio, Tennessee, and Texas, "gubernatorial and legislative candidates … are attempting to exploit the newest results."
Check out below for more ESSA news.
1 Eight policy changes that can help principals
Amelia Harper reports about new research from the NYC Leadership Academy examining the importance of coaching for principals. In a related policy brief titled "Still in the Game: How Coaching Keeps Leaders in Schools and Making Progress," the academy "suggests eight policy changes that school districts should make to better support principals," including taking advantage of the flexibility offered under ESSA. The authors write that "principals need coaches" because their "role has become increasingly complex in recent years as school leaders are expected to do more with less." They also serve as "building managers, instructional leaders, visionaries and problem solvers" and are "tasked with improving learning for each student while the demographics and needs of their students are shifting" — all while the "workplace demands for which schools must prepare young people are evolving."
Principals have a unique opportunity to "take advantage of the flexibility offered under ESSA." New article from @EdDiveK12 explores 8 policy changes that can help principals. https://t.co/H2xh09opZ7

— ESSA Updates (@ESSA_Update) November 1, 2018
2 Tracking college and career readiness
Alison Klein also answers more questions as part of Education Week's "Answering Your ESSA Questions" series. Harvard University graduate student Alex Sabin asks: "An ESSA accountability system can include a school success 'measure' outside of test scores such as college and career readiness. However, what exactly does college and career readiness look like?" Klein responds that "nearly every state is measuring college and career readiness in some way," and even though "there are some common elements (like Advanced Placement test scores, industry certification, workplace experience)," the "details look different everywhere." However, "only a small handful are looking at postsecondary enrollment," and "most don't consider whether students need to take remedial coursework once they get to college."
How Are States Tracking College-and-Career Readiness Under ESSA? https://t.co/gwkrhdVjp9 In the age of analytics it is important to track specific trends in order to develop workable solutions! @CollegeSystemTN @CompleteTN @AchieveTheDream #literacymatters #RoomToGrow

— Don Polley (@dpolley11) October 29, 2018
3 Advocates, educators speak out against arming educators
Rebecca Klein reports for HuffPost that a "coalition of advocacy and teacher groups" has sued the U.S. Department of Education in an attempt to get "information related to its decision to allow schools to purchase firearms using federal funds." Controversy over this issue "started in August, when The New York Times first reported that Education Secretary Betsy DeVos was weighing whether to allow states and districts to use federal grant money under the Every Student Succeeds Act to arm school staffers, after representatives from Texas asked if it was permissible." The American Federation of Teachers, the Southern Poverty Law Center, and the Giffords Law Center to Prevent Gun Violence "say the Education Department is violating federal law by not releasing records related to the decision in a timely manner."
U.S. Department Of Education Is Sued For Withholding Information On Arming Teachers: "Advocacy groups want to know if the NRA had a hand in the decision to allow schools to use federal funds to buy guns." #DeVos #education #gunsafety https://t.co/YTgYoUXCtb

— INSIGHT Magazine (@INSIGHT_News) October 17, 2018
Want to stay up to date? Click here to sign up for the ESSA Advance newsletter to receive all the information in your inbox every Tuesday.
Get stories like these delivered straight to your inbox. Sign up for The 74 Newsletter