This Week's ESSA News: Dozen Plans Now OKed, NY and MA Want Waivers, ESSA Author Has Warning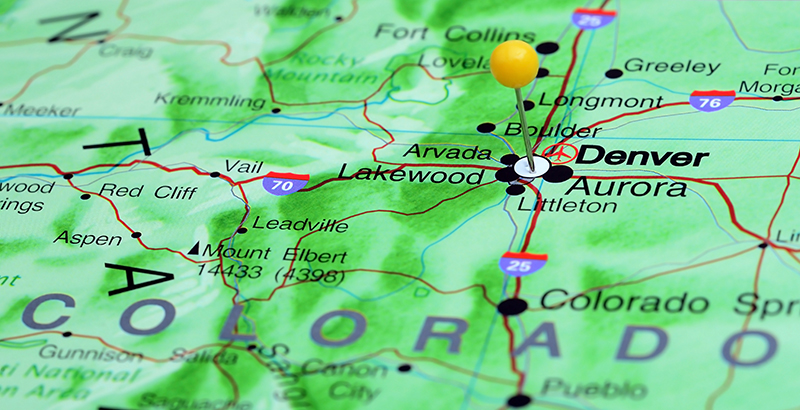 This update on the Every Student Succeeds Act and the education plans now being refined by state legislatures is produced in partnership with ESSA Essentials, a new series from the Collaborative for Student Success. It's an offshoot of their ESSA Advance newsletter, which you can sign up for here! (See our recent ESSA updates from previous weeks right here.)
Former U.S. Rep. John Kline, who previously chaired the House Committee on Education and the Workforce and is a co-author of the Every Student Succeeds Act, discusses the role of annual testing in the law he helped craft.
Like its predecessor, ESSA requires each state to administer a single achievement exam system for all students beginning in the 3rd grade. However, the law leaves it up to the states to "decide how to use the testing results to measure and improve school performance." But now, Arizona and New Hampshire are trying to buck this system. Both states, Kline writes in Education Week, have passed laws that "violate ESSA by permitting individual school districts to choose which assessments to administer," which could undermine ESSA "in its entirety."
Ultimately, Kline says "states are required to follow this law and, simply put, the U.S. Department of Education must "enforce the fundamental requirement that the same annual tests be given to all students."
Because, after all, the Minnesota Republican points out"359 members of the U.S. House, 85 U.S. senators, and President Barack Obama all supported ESSA, ushering in a new era of innovation combined with state-based accountability."
Another busy week in ESSA news! Check out the other top developments below:
6 new state plans approved
Six ESSA plans from the District of Columbia, Illinois, Oregon, and Tennessee, as well as Maine and Vermont were approved by Education Secretary Betsy DeVos. To date, the education department has approved 12 of the 17 plans submitted in the first round; all 17 plans have received feedback from the federal agency.
The department noted "unique" aspects of each plan, including D.C.'s plan to incorporate "ratings and measurements about the quality of districts' pre-K programs into its accountability system," Illinois' proposal to judge school climate "partly on the basis of student surveys," Oregon's tracking of "how many credits high school freshmen have attained at the end of the year to make sure they're on track to graduation," and Tennessee's new grants "aimed at boosting teacher diversity and innovation, as well as teacher and principal residencies to promote career advancement."
Maine "plans to reduce the number of non-proficient students in half by 2030," while Vermont "creates an innovative measure of postsecondary outcomes."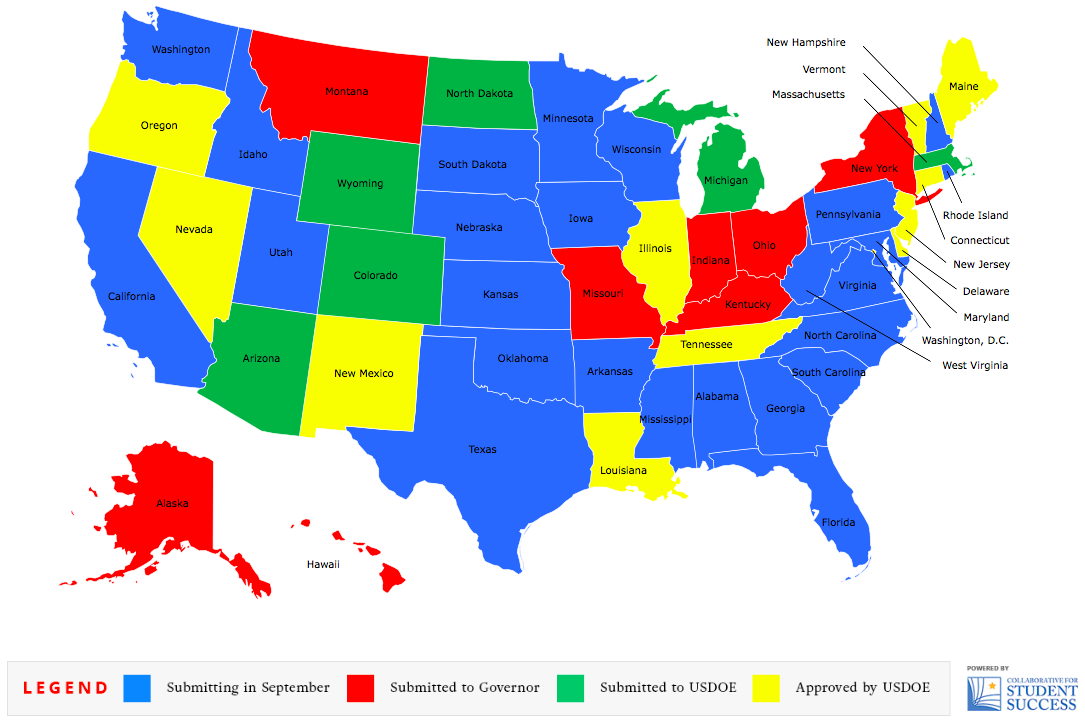 Colorado asks for more time
Colorado education officials are "asking for more time to figure out how to meet federal requirements for giving students standardized tests while respecting the rights of parents who don't want their children to take them." Earlier in August, the education department sent Colorado education officials a letter saying the state's proposal to forgo disciplinary action against schools that don't meet the federal 95 percent test participation requirement is unacceptable. The state had 15 days to update and resubmit their plan, but has asked for an extension.
Colorado Education Commissioner Katy Anthes wrote federal officials, saying "our board has a strong commitment to Colorado's parental opt-out rights, it will need to carefully consider how best to address your concerns without designing a system that will be perceived by parents and educators as punitive." Anthes said the state needs until October to reconsider the state's approach.
Massachusetts and New York submit waiver requests
ESSA permits only 1 percent of public school students to take an assessment that is different from a state's general standardized test. However, in Massachusetts, more than 1.6 percent of students currently take an alternative assessment (MCAS-Alt), "primarily due to severe cognitive disabilities."
As a result, the state is seeking a one-year waiver for this provision of the law — state education officials expect to receive a response from the federal agency within a few months. Massachusetts "issued a memo stating that it is also seeking ways to decrease the number of students taking the alternative assessment."
The New York state Education Department has released three ESSA waiver requests, which are now open for public comment through Sept. 8. Here's what the state is asking for:
Permission to continue using middle school math and science Regents exam results instead of grade-level exams when determining "accountability and participation."
To continue exempting new English learners from taking the English language arts (ELA) exam for one year, as well as other requests for years two and three.
To assess students "with the most significant cognitive disabilities, but who are not eligible for the New York State Alternative Assessment," with tests matched to their instructional level instead of their chronological age.
West Virginia ESSA plan changes in the face of praise, criticism
West Virginia's proposed ESSA plan "is seeing significant changes and public praise and criticism ahead of its scheduled submission to the U.S. Education Department next month." Changes to date include a plan to "take into account schools' five-year high school graduation rates, atop their four-year rates," as well as the department abandoning its proposal to initially divide all the elementary, middle and high schools into four quarters and assign them four different performance labels — from best to worst. The state Board of Education will vote on the plan in early September, based on feedback it received from the public in August.
Michelle Blatt, the state's assistant superintendent of support and accountability said "the department heard from parents, teachers and principals about the importance of including five-year graduation rates in order to incentivize students to complete their degrees through school, rather than just getting a high school equivalency degree."
Additionally, the state education department revealed proposed "cut scores" for schools to earn labels for "graduation, behavior and attendance rate measures." The department has not yet released cut score and labeling information regarding standardized tests and other metrics.
New issue of Governing Magazine great resource for ESSA plan development
Governing, a magazine that provide information and analysis to mostly elected, appointed and career state and local government officials, focuses in on ESSA in its new edition, including a peer review of the first round of state plans by the Collaborative for Student Success and Bellwether Education Partners and the Collaborative's ongoing state-by-state ESSA reporting and research.
The magazine's coverage underscores how both reports can serve as useful resources for state education officials as they develop their ESSA plans for submission to the education department. Governing also provides an overview of discussions with state leaders in five second-round states — California, Kentucky, Missouri, New York, and Wisconsin — and talks about "challenges and areas of opportunity under ESSA."
In a related blog post, Collaborative Executive Director Jim Cowen notes that, as "states work to finalize plans and update those that have already been submitted, we hope that leaders look to the independent peer review provided through Check State Plans and the Governing brief as resources that can contribute to the most effective plans for the students in their state."
Want to stay up to date? Click here to sign up for the ESSA Advance newsletter to receive all the information in your inbox every Wednesday.
Andy Rotherham co-founded Bellwether Education Partners. He sits on The 74's board of directors and serves as one of the site's senior editors.
Support The 74's year-end campaign. Make a tax-exempt donation now.