This Week in COVID & Education Policy: With Half of Teachers Saying They Had a Student Who Never Showed Last School Year, a Race to Reconnect With Kids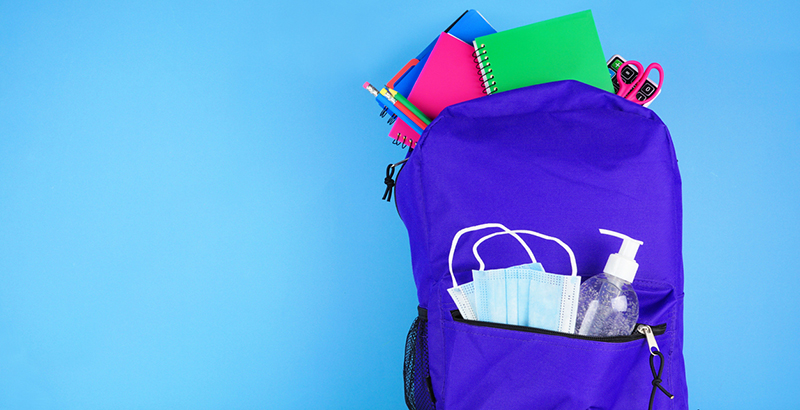 This is our weekly briefing on how the pandemic is shaping schools and education policy, vetted, as always, by AEI Visiting Fellow John Bailey. Click here to see the full archive. Get this weekly roundup, as well as rolling daily updates, delivered straight to your inbox — sign up for The 74 Newsletter.
An Estimated 1.1 Million Teachers Nationwide Had at Least One Student Who Never Showed Up for Class in the 2020-21 School Year: New Government Accountability Office report
Nearly half of public school teachers had students who were registered but never showed up
Students who never showed up came mostly from majority non-white and urban schools
Obstacles such as limited support or no adult assistance at home kept students from showing up
For older students, caring for a family member or working were major obstacles to showing up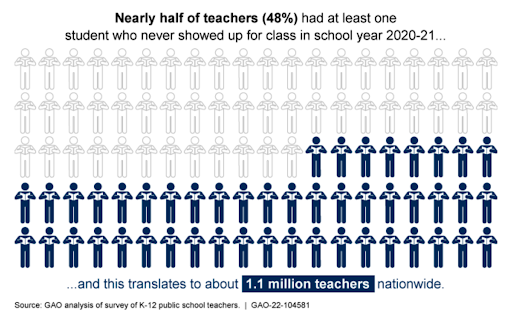 ---
The Big Three — April 1, 2022
Omicron Severity with Children: New study finds the "intrinsic severity of Omicron BA.2 in children who had no past COVID-19 or vaccination is not mild, and in fact, they had higher odds of [intensive care] admissions, mechanical ventilation and oxygen use."
"Four deaths occurred during the Omicron wave, resulting in a higher in-hospital case fatality rate than other SARS-CoV-2 variants (0%), influenza (0.05%) and parainfluenza (0.04%)."
"PICU admission was higher for Omicron than other SARS-CoV-2 variants and influenza."
"The proportion with neurological complications was 14.91% for Omicron, which was higher than influenza and parainfluenza."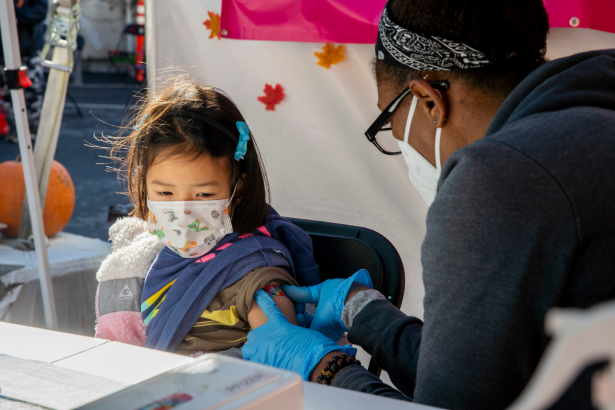 Why Kids' COVID-Vaccine Results Don't Look Like Adults': Katherine Wu in The Atlantic.
"An infant-and-toddler COVID vaccine, perhaps even two, could debut by summer's start, if the FDA and the CDC give their official nods. But those long-awaited shots may not be met with much fanfare. 'If this were January, I'd be like, Oh my God, get me whatever,' says Stephanie Langel, an immunologist at Duke University, whose son will turn 2 in July. Now that cases have come down, and Omicron has all but guaranteed that our original-recipe shots won't deliver the same perks they once did, the decisions are tougher for everyone involved."
"Each company then ran much larger trials, to see if the antibody data — the information they'd need to present to the FDA — would hold, and to keep monitoring for bad side effects. At this juncture, both companies say they're meeting safety criteria."
"Forty-ish percent efficacy against symptomatic illness may be about as good as we can get with two doses of mRNA vaccines without sacrificing safety."
"Some experts said they were already thinking about 40-ish percent as a sort of interim efficacy; third shots for kids now feel more or less inevitable. Ahead of its request for emergency use authorization for its under-6 shot, Moderna is already considering asking the FDA to okay a pediatric booster somewhere down the line, Kate Cronin, the company's chief brand officer, told me in an email."
"Vaccination is a series of judgment calls by institutions and individuals alike: authorizing a new shot, recommending a booster, deciding to sign up for any dose at all. Data can help inform these decisions, but these choices ultimately depend, in part, on the goal they're meant to further, which might be shielding against severe disease alone — or blocking as many infections as possible. Policies in the U.S. still aren't clear about what the ultimate aim of COVID vaccination is."
CDC Introduced Quarantine and Isolation Calculator: To help people exposed to or diagnosed with COVID-19 determine how long to quarantine or isolate.
---
Federal Updates
COVID.GOV: New website providing a one-stop access to community risk levels, treatments, testing and vaccines.
Biden Administration Operated With Missing Data as CDC Issued Pandemic Guidance, Emails Show: Via Fox News, based on emails acquired by Americans for Public Trust through the Freedom of Information Act
" 'We don't have federally collected data on what is happening inside schools,' Donna Harris-Aikens, deputy chief of staff at the Department of Education, said during a Feb. 11, 2021, briefing between CDC and department officials and Rep. Bobby Scott, a Virginia Democrat."
"There are private vendors examining issue but believe there is an important role for the federal govt. to robustly collect this data for the entire country," she added, according to a transcript of the meeting contained within the emails provided to Fox News."
White House: Office of Science and Technology Policy post on ventilation and air purification: "Let's Clear the Air on COVID"
The University of Minnesota's Center for Infectious Disease Research and Policy had this interesting observation: "Though some experts around the world have been arguing that point for years, and subsequently advocating for respirator use and enhanced ventilation systems, this is the first time the White House has formally acknowledged that aerosol transmission has been the primary driver of the COVID-19 pandemic. In doing so, it has turned away from the language used by the CDC."
---
City & State News
Arizona: Elementary school in Tempe tears down classroom walls, reimagines how learning happens.
California: Only 30% of L.A. County kids are vaccinated, reports the Los Angeles Times.
Florida: "Florida has overstated how many residents are vaccinated against COVID-19 by more than half a million people," a Palm Beach Post analysis shows.
Georgia: Gov. Brian Kemp signed legislation that allows parents who don't want their children wearing masks to opt out of any school district mandates.
Maryland: Nearly 50% of Baltimore City students were chronically absent last year
New Jersey: Sobering test scores show Newark students struggling to recover from learning loss, Chalkbeat reports.
Ohio: Columbus City Schools to build new health care centers with partnership.
Texas: Gov. Greg Abbott may "create a 'hold harmless' in Texas school finance to cover the cost of widespread student absences during COVID pandemic for the '21-22 school year"
Virginia: "Judge rules that a dozen Virginia students can ask for mask mandates — but no more."
---
COVID-19 Research
Updated Booster Recommendations:
"The FDA said the new boosters — a fourth round of shots for most vaccine recipients — of the Pfizer Inc/BioNTech SE and Moderna Inc. vaccines are to be administered at least four months after the previous dose. They are intended to offer more protection against severe disease and hospitalization." (FDA Statement / Pfizer Statement)

"The agency also authorized a second booster for individuals 12 and older with certain immune deficiencies after the same interval."

"The CDC updated its recommendation to allow certain immunocompromised individuals and people over the age of 50 to receive an additional booster dose of COVID-19 vaccines." (CDC statement)
" 'There may be a need for people to get an additional booster in the fall along with a more general booster campaign, if that takes place, because we may need to shift over to a different variant coverage,' said top FDA official Dr. Peter Marks."
"The choose-your-own-adventure vibe of the pandemic response is spreading to booster shots, with Americans 50 and older now having the option to get a fourth dose — without explicitly being encouraged to do so," Axios reports. "Many experts say yesterday's FDA authorization makes sense as a precautionary measure, but the policy could create more confusion around the long-term vaccination strategy."
Johnson & Johnson and Boosters: The CDC weighed in on vaccine effectiveness of different matchups following a primary J&J vaccine. Their report suggests all booster strategies — whether a second J&J shot or mix and match — worked better than a single dose when measured by protection against needing emergency or urgent care visits and hospitalizations during Omicron's predominance. More via the Washington Post.
Second COVID Vaccine Booster Significantly Lowers Death Rate: Israeli study shows.
Reuters reports: "Senior citizens who received a second booster of the Pfizer-BioNTech COVID-19 vaccination had a 78% lower mortality rate from the disease than those who got one only."
"'The main conclusion is that the second booster is lifesaving,' said Ronen Arbel, health outcomes researcher at Clalit and Sapir College."
Co-infection with COVID and Flu Led to More Severe Illness: Adult COVID-19 patients also infected with the flu are four times more likely to require mechanical ventilation and 2.4 times more likely to die than if they had COVID-19 alone, finds a U.K. study published late last week in The Lancet.
Black Coalition Against COVID: Released a new report detailing massive disparities, including:
Black Americans between 65 and 74 were five times more likely to die than white Americans.
Between April 2020 and June 2021, 1 in 310 Black children lost a parent or caregiver, compared with 1 in 738 white children.
Learning time lost by students who were Black or in other racial or ethnic groups was estimated to be one year, compared with four to eight months for white students.
Use of at-Home COVID-19 Tests: Via CDC weekly report. Test use peaked in January. Use was less common among minority and low-income respondents.
The Path Forward: A Post-Omicron Strategy for the Global COVID-19 Response, via the COVID Collaborative.
Understanding Long COVID: Good piece from The New York Times.
COVID Vaccinations, Including Boosters, Fall to Lowest Levels Since 2020: Via the Washington Post
We Study Virus Evolution. Here's Where We Think the Coronavirus Is Going: Sarah Cobey, Jesse Bloom, Tyler Starr and Nathaniel Lash in the NYT, with some interactive visualizations.
"Recent variants like Omicron and Delta are several times more transmissible than the strain that first spread around the globe in early 2020. That's a huge increase, and makes SARS-CoV-2 more contagious than many other human respiratory viruses. These big jumps in contagiousness have played a major role in driving the pandemic so far."
"How much more transmissible SARS-CoV-2 can become is an open question, but there are limits. Even evolution is constrained: A cheetah can't evolve to be infinitely fast, and SARS-CoV-2 won't become infinitely transmissible."
"Taking all this together, we expect SARS-CoV-2 will continue to cause new epidemics, but they will increasingly be driven by the ability to skirt around the immune system. In this sense, the future may look something like the seasonal flu, where new variants cause waves of cases each year. If this happens, which we expect it will, vaccines may need to be updated regularly similar to the flu vaccines unless we develop broader variant-proof vaccines."
---
Viewpoints
COVID-19 School Data Hub: Via Emily Oster
"In short, this hub (which you can see here) is a public data resource documenting schooling modes over the 2020-21 school year in most of the U.S."
"One purpose is simply to map out the experience of the past year. The main Data Hub page lets people scroll through the opening experience through the year. Below, I've extracted graphs for October, January and April. You can see here both the increased opening over time and the considerable geographic variation. More districts offered in-person instruction by the spring, but we see huge variation across the country throughout the year."
"We can also use this data to look at where schools opened, and for whom. A very strong pattern is that schools and districts with more students of color were less likely to open for in-person learning. This is especially true for Black students. Districts with more students eligible for free and reduced-price lunch were also less likely to open. On the flip side, districts in more Republican-leaning areas (as proxied by Trump vote share in 2020) were more likely to open. This is true across and within states. COVID case rates are weakly positively correlated with opening."
How States Can Streamline Broadband Grant Administration: The Broadband Infrastructure Playbook, developed by the Fiber Broadband Association, NTCA –The Rural Broadband Association and telecom consulting firm Cartesian, aims to serve as a comprehensive resource to help states ensure their grant programs are compliant with key Infrastructure Investment and Jobs Act objectives.
Toward a Better Measure: It's Time to Rethink Free and Reduced-Price Lunch as a Measure of Student Need: Via Data Quality Campaign
Governors' Top Priorities for Supporting Children and Families in 2022 State of the State Addresses: Excellent list and summaries of initiatives compiled by National Governors Association from state of the state addresses.
High-Quality Instructional Materials and Professional Development Network Case Study:Resource and case study from the Council of Chief State School Officers addresses the importance of engagement around adopting high-quality instructional materials and the role states can play in signaling quality to the field and incentivizing their adoption.
AFT's Randi Weingarten Weighs in on Shifting Role of Teacher Unions During COVID-19:  Via K12 Dive.
Hong Kong: 
Remote Learning in Ukraine: Thousands of Ukrainian children join virtual classes as Kyiv launches online learning amid Russian bombardment.
Data From 100 Large Urban Districts Show Half Facing Shortages in Key Positions. Fixing That Will Mean Rethinking Teaching & Working in Schools: Center on Reinventing Public Education's Lisa Chu and Bree Dusseault in The 74.
"Our analysis of district information and local media reports finds 93 of 100 large and urban districts have mentioned staffing shortages in the 2021-22 school year."
"About half of these districts — 48 — are experiencing shortages across multiple departments and positions. The most common shortfall reported is instructional roles, with nearly two-thirds of districts (61) struggling to fill teaching or instructional aide positions."
Recommendations:

"Expand grow-your-own pipelines that attract a broader, more diverse pool of talent."
"Demand that state leaders and labor agreements reduce barriers to entering the profession."
"Create more diverse working environments that create more diverse learning options for students."
---
…And on a Lighter Note
How to Throw a Racket: How to throw a racket/hit a ball in anger without getting in trouble, via Andy Roddick
Nothing But Net: Jules Hoogland, 17, who is blind, can be seen in this video preparing to shoot as the 2,500 people inside the gym watch in silence.
Classroom aide Cheryl Beute then taps the bottom of the backboard with a yellow pole to signal the location of the hoop, before Hoogland takes her shot.
---
ICYMI @The74
Weekend Reads: In case you missed them, our top five stories of the week:
For even more COVID policy and education news, subscribe to John Bailey's daily briefing via Substack.
Disclosure: John Bailey is an adviser to the Walton Family Foundation, which provides financial support to The 74.
Get stories like these delivered straight to your inbox. Sign up for The 74 Newsletter