This Week in COVID & Education Policy: Surge in School Closures Hits Over 700 Districts, Doubts About Safety Fuel Parent Vaccine Hesitancy and More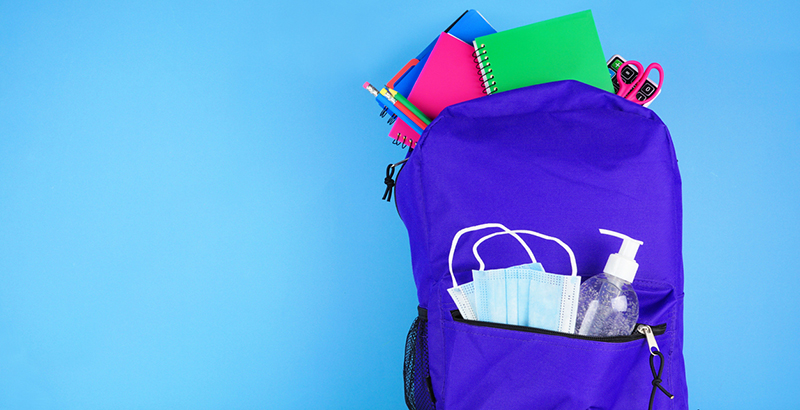 This is our weekly briefing on how the pandemic is shaping schools and education policy, vetted, as always, by AEI Visiting Fellow John Bailey. Click here to see the full archive. Get this weekly roundup, as well as rolling daily updates, delivered straight to your inbox — sign up for The 74 Newsletter.
Big Surge of School Closures and Interruptions Hits More Than 700 Districts: Burbio reports
Closures affecting 769 districts (up from 675 last week), the largest week-over-week increase in districts since September.
The number of schools affected cumulatively now totals 7,001, up from 3,224 last week, meaning Burbio identified 3,777 schools affected since its last report — more than all previous reports combined.
To date, Burbio has identified 65 mental health closures affecting 2,535 schools

These are concentrated in certain states: North Carolina (30 districts, 1,402 schools), Virginia (9 districts, 262 schools), Missouri (6 districts, 75 schools), Colorado (2 districts, 263 schools), Ohio (4 districts, 189 schools) and Oregon (4 districts, 106 schools) make up 55 of the 65 identified districts and 2,297 of the 2,535 schools.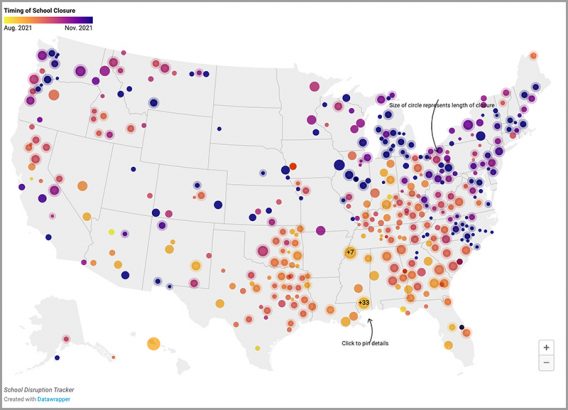 November 19, 2021 — The Big Three
How U.S. Schools Are Spending $122 Billion in Stimulus Funds: Via Bloomberg:
"An analysis of spending plans from about 1,040 school districts in 35 states shows how education officials across the country are preparing to tackle learning loss, mental health, staffing crises and equity concerns exacerbated by multiple years of remote learning and classroom disruption, according to data compiled by Burbio, which has tracked shutdowns during the pandemic."
"The districts, ranging in enrollment from 350,000 students to a few hundred, received over $29 billion combined, or a quarter of the national allocation."
"More than half have earmarked funds for summer learning, with an average spend of over $2 million where disclosed. About a third are using it to pay for transportation, and nearly a quarter plan to invest in online platforms."
"Schools also earmarked more than $260 million for student mobile devices, $218 million for assessments and $207 million for supplies like masks, wipes and gloves."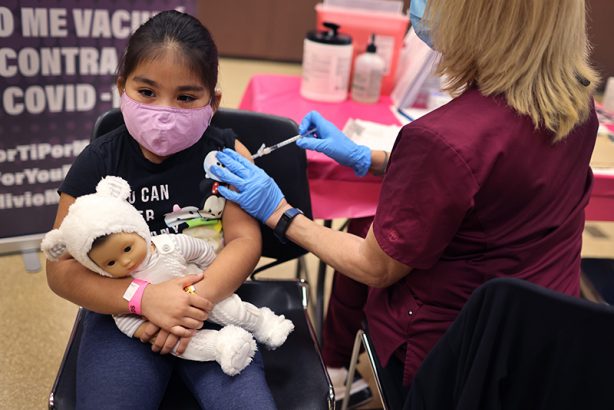 Doubts about Safety, Efficacy in Children Underlie Parents' Vaccine Hesitancy: A new ABC News-Washington Post poll finds just 46% of adults with a child younger than 18 at home said they're confident the vaccine is safe for 5- to 17-year-olds
"Twice as many parents are not at all confident that the vaccines are safe for children age 5 to 17 than are very confident of this, 41% versus 21%. The gap is smaller on effectiveness, but still 12 percentage points, 38% versus 26%," according to ABC News.
"Confidence in safety, for its part, is much higher among parents who are members of racial or ethnic minority groups, compared with white parents. (On effectiveness, the racial/ethnic gap shrinks, and is not significant.)"
More from The 74: With nearly half of parents expected to forgo child COVID shots, schools brace for new wave of vaccine hesitancy.
We Polled Kids About the Pandemic. They're Doing Surprisingly OK: Via FiveThirtyEight (Poll results here)
"Between Oct. 25 and Nov. 2, FiveThirtyEight and Ipsos used Ipsos' KnowledgePanel to survey 689 kids ages 5 to 11, 572 kids ages 12 to 17 (let's call them 'teens' for our purposes), and more than 1,500 of their parents."
Large majorities of teens describe their home life (95%), their relationship with their parents (94%), their mental health (90%), their social life (89%) and their sense of connection to others (86%) as good. Similarly, nearly all (96%) kids 5-11 say they feel good right now.
25% of teens 12 to 17 are concerned about their ability to do well in school, up from 17% pre-COVID.
57% say they have received the COVID-19 vaccine, with another 5% indicating they would if it were up to them.
Among unvaccinated teens who are not very likely to get one, concern over a lack of testing (45%) is the top reason driving hesitancy, followed by their parents (27%) and safety concerns (25%).
Federal Updates
Infrastructure: President Joe Biden signs bipartisan infrastructure deal. More via Politico and CNBC
U.S. Department of Health and Human Services/Department of Education: Department of Education posted the letter that went to principals encouraging schools to host a vaccine clinic and provide families with information about vaccines. American Academy of Pediatrics is offering this helpful service:
"To invite a pediatrician to speak to your community about the COVID-19 vaccine, reach out to kids1st@aap.org to make a request and share the details of your event."
U.S. Department of Education: Government Accountability Office found Education Department needs to update its plans for responding to cyberattacks against grade schools, as they face growing online threats, including ransomware, denial-of-service attacks, email scams and pandemic-era concerns like disruptions to virtual learning environments.
"The GAO concluded that as the lead agency for the education sector, the Education Department is responsible for setting IT and cybersecurity guidelines for K-12 schools, but has not updated its planning documents since 2010."
"Without federal support that is guided by an up-to date plan and supplemented with appropriate guidance, K-12 schools are less likely to have the federal products, services and support that can best help protect them from cyberattacks."
"The GAO's investigation into K-12 cybersecurity was requested last year by Sens. Maggie Hassan (D-N.H.), Kyrsten Sinema (D-Ariz.) and Jacky Rosen (D-Nev.) after a hearing where they pressed [the Department of Homeland Security Cybersecurity and Infrastructure Security Agency's] then-acting director, Brandon Wales, to extend the agency's efforts to counter ransomware targeting schools. Districts in all three senators' home states have suffered attacks."
Department of Education: Released a new resource describing how American Rescue Plan funds can be used for student transportation.
City & State News
Arizona: Arizona is modernizing school transportation, writes Mike McShane in Forbes.
California:
Colorado: Denver canceled classes or moved some schools to remote learning amid staffing shortages.
Indiana: New program seeks to alleviate shortage of special education teachers.
Missouri: State launches online recruitment and training platform — "The state is investing $50 million over the next three years in TeachMO.org and other recruitment projects, such as the Teacher Education Recruitment and Retention Grants and the Pathways to Teaching Careers Program."
New York:
Ohio: According to a Cincinnati Public Schools survey, 66% of parents who responded do not support a vaccine mandate for students.
Rhode Island: A judge upheld the state's school mask mandate.
Tennessee: The governor last week signed into law new restrictions on mandates.
Texas: Texas schools can again set their own face mask rules after a federal judge overruled Gov. Greg Abbott's ban.
COVID-19 Research
Were Federal COVID Relief Funds for Schools Enough?: NBER paper
"The analysis suggests that many low-poverty districts and some moderate-poverty districts could face funding shortfalls, though most would be modest and state and local governments are mostly in a good fiscal position to help address these."
"We estimate that many high-poverty and some moderate-poverty districts will have moderate to substantial windfalls."
"This implies that ESSER funding is more than enough to address the 'COVID costs' assumed in our scenarios, but that does not necessarily mean it is too much, or even enough, to fully address the needs of students, many of whom were struggling before the pandemic."
Schools Embrace More COVID-19 Testing Over Quarantine to Keep Kids in Class: Via The Wall Street Journal
"'Test-to-stay has been a collective sigh of relief,' Dr. [Grant] Rivera, superintendent of Georgia's Marietta City Schools, said. 'It is an option, whereas otherwise families had no option and staff had no option.'"
"In Massachusetts, test-to-stay has saved 85,000 school days this year for students who would have otherwise been in quarantine, according to a report from the state's department of education. More than 2,200 schools in the state have signed up for testing programs, including test-to-stay."
Related: Education and Labor Committee Republican Leader Virginia Foxx (R-N.C.) and Rep. Chris Jacobs (R-N.Y.) called for the Centers for Disease Control and Prevention to provide guidance on a test-to-stay option for unvaccinated students exposed to COVID-19.
If Republicans Bet Against Vaccines for Children, Their Schools Will Lose: Via Nat Malkus in Real Clear Policy
"Last school year, Republicans' collective bets about keeping schools open during the pandemic paid off, allowing far more students in red states and school districts the in-person options that today are common across the nation."
"The current bet is whether vaccinations will provide meaningful protections for students and limit COVID spread in schools, and this time the stakes are not how to best endure the pandemic, but how quickly localities will get past it."
"This school year, if Republicans disproportionately bet against vaccinations for school-aged children as much as polls predict, their students and schools are the ones likely to lose."
Children Are More Tolerant of a Parent Performing the Nose Swabbing Technique: According to a new study by researchers at the University of Bristol.
"Nose swab samples collected by parents are as good as those collected by nurses at detecting respiratory infections in children, according to a study.
STAT Asked 28 Public Health Experts About Their Holiday Plans Amid COVID-19: The responses were mixed.
This COVID-19 Detector Spots the Delta Variant in the Air: Via Fast Company
"Poppy is designed more like an everyday smoke detector, but built to spot COVID-19 instead of smoke."
"Poppy provides results via a simple online dashboard — which arrive either the same day or the next morning. The system is also capable of spotting 1,000 other pathogens in the air, like the seasonal flu, for an added cost and added turnaround time of three days."
A COVID Strategy Backfires at Schools: "School districts and universities have spent as much as $100 million on [HVAC and air filtration systems] — often for electronic air cleaning systems that have misleading, company-funded studies that boast 99.99% efficacy, said Marwa Zaatari, mechanical engineer and a board member of the U.S. Green Building Council," Axios reports.
More Than Half of Unvaccinated Won't Change Their Minds: New paper in Nature.
"19% of Dallas residents say they have no intention of getting the COVID-19 vaccine, with more than half of that group saying nothing can change their mind."
"More than one-fifth (21.4%) of the national respondents indicated an unwillingness to vaccinate."
As the U.S. Races to Vaccinate Kids Against COVID-19, Some Countries Hold Back: Via WSJ
How COVID Vaccines Work: The Vaccine Makers Project has an interesting video illustrating how the vaccines work.
FDA to Sidestep Advisers on Boosters-for-All Approval: Roll Call reports the agency confirms that a decision on booster eligibility is expected to be made without its panel of outside experts.
It's Safe to Get a Flu Shot and COVID Vaccine: According to a new study.
8 Lingering Questions About the New COVID Pills from Merck and Pfizer: Via Stat
Schools Change Mask Policies as Children Get COVID-19 Shots: Via WSJ
Viewpoints
COVID Drove a Wedge Between Parents and Schools, and Texas Must Pull Them Back Together: Op-ed by former Education Secretary Margaret Spellings.
"In August, Texas 2036 polled Texas voters on numerous issues and found they shared an overwhelming concern about the state's future. Such concern was particularly pronounced among parents: 54% of mothers with school-age children thought schools didn't handle the pandemic well, and nearly twice as many parents described online learning as a 'disappointment' or 'failure' (50%) than a success (26%)."
"If left unaddressed, growing frustrations will continue to drive headlines, elections and school board meetings. And perhaps more important, these forces threaten to distract us from what should be our single-minded purpose: student achievement."
"In a post-pandemic Texas, parents need a transparent accountability system with an honest depiction of how their child's school is performing. At the same time, they also support systems that quickly force improvements or find more appropriate options to meet their child's needs."
The COVID Crisis Cracked Our Education System. A New Reform Coalition Must Come Together to Fix It in the Interest of Children: Via Robin Lake in The 74
"A rigid system designed for sameness cracked under the pressure of a crisis. Despite the exhaustive work of many well-meaning people, schools and school systems were largely unable to meet individual student needs. Children who had already been struggling were subjected to even more hardship."
"Millions of suburban families were shocked to see union politics and outdated management systems impede even a basic functioning of services and individualized support. But low-income families, complex learners and those with a child with a disability thought, 'Welcome to the party.'"
"It is time for a new, broader reform coalition made up of all those who saw things in the American education system during the pandemic that they cannot unsee — doctors, mental health providers, church leaders, afterschool providers, community activists, suburban parents, parents of students with disabilities and business leaders. Advocates for children must lead the way by uniting despite our differences."
Use of Educational Technology for Instruction in Public Schools, 2019-20: New report from the Institute of Education Sciences. This is all pre-pandemic, so current numbers will be much higher, but this will serve as some good baseline data:
45% of schools reported having a computer for each student.
15% of schools let all students take computers home; another 15% let students take computers home on a short-term basis.
64% of schools said internet connections in teaching and learning areas of the school were very reliable.
52% reported having problems to a small extent with internet connections or speed when large numbers of students were online.
35% of schools said technology helped students learn at their own pace.
How Does This End?: David Leonhardt in the NYT
"The bottom line is that COVID now presents the sort of risk to most vaccinated people that we unthinkingly accept in other parts of life. And there is not going to be a day when we wake up to headlines proclaiming that COVID is defeated. In many ways, the future of the virus has arrived."
Dr. Robert Wachter, chair of the medicine department at the University of California, San Francisco, "told me that he might always wear a mask while grocery shopping or flying on a plane because the costs of having a covered face and a muzzled voice in those settings are virtually zero. He isn't usually trying to have a conversation with somebody. And a mask can help protect him from all sorts of respiratory viruses."
"Unfortunately, the costs of most COVID interventions are higher. Masks inhibit communication, especially for young children and the hard of hearing. … Remote school has been a failure. Remote office work hampers collaboration. Social isolation causes mental health problems."
Forced COVID Vaccination for Kids Is Unlawful: Argues Jenin Younes in the WSJ.
With COVID Relief Money, Schools Take on a Bigger Role in Student Mental Health: Via Chalkbeat
Learning Pod Teachers Say They Don't Want to Return to Traditional Classrooms: Center on Reinventing Public Education over at The 74
Wave of Teacher Time Off Forces Districts Short on Subs to Cancel School: Via The 74
Substitute Teachers Never Got Much Respect, but Now They Are in Demand: Via NYT
Measuring Forward: Emerging Trends in K-12 Assessment Innovation: Via Knowledge Works with an amazing analysis and state-by-state information.
Communicating the "Learning" in Social-Emotional Learning: Sheldon Berman and Linda Darling-Hammond via Fordham Institute.
Ensuring Equitable and Trustworthy Ed Tech for the Future: New set of resources from the Center for Democracy and Technology.
Families Are Using New Child Tax Credit for K-12 School Costs, Census Shows: "40% of low-income recipients say they spent the money on tuition, books, tutoring or other education-related expenses," reports Bruno Manno at EdNext.
The Walton Family Foundation: Names Romy Drucker director of K-12 education program.
…And on a Lighter Note
New PR Campaign for Possums Just Dropped: This was much more interesting than I expected. And I love how much he knows about these critters.
New PR campaign for Possums just dropped
pic.twitter.com/O0tQi1kpjd

— Dudes Posting Their W's (@DudespostingWs) November 3, 2021
ICYMI @The74
Weekend Reads: In case you missed them, our top five stories of the week:
Disclosure: John Bailey is an adviser to the Walton Family Foundation, which provides financial support to The 74. Romy Drucker co-founded The 74 and sits on our board of directors.
Support The 74's year-end campaign. Make a tax-exempt donation now.