This NYC High School Student Teaches Math and Science to 700,000 Followers With Quickie Videos That Are a Worldwide Sensation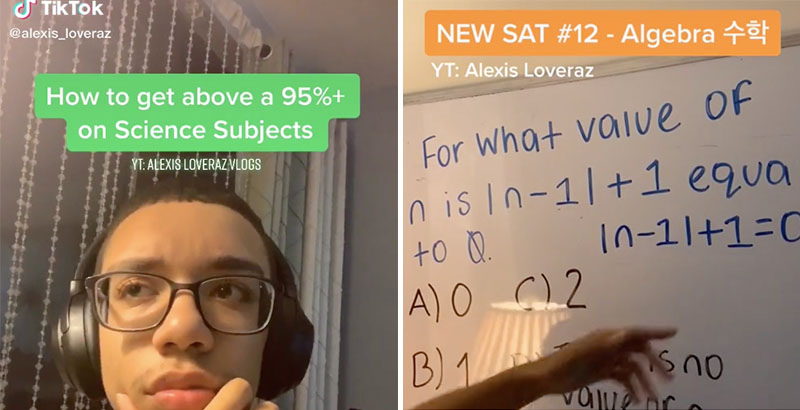 This article is one in a series at The 74 that profiles the heroes, victories, success stories and random acts of kindness found at schools all across America. Read more of our recent inspiring profiles at The74Million.org/series/inspiring.
In his entire lifetime, Pythagoras himself probably didn't teach as many students as Alexis Loveraz reaches in one quick TikTok video.
Alexis, who has a knack for simplifying everything from the Pythagorean theorem to algebraic equations, has nearly 700,000 followers on TikTok and 5.5 million likes. Who knew math was so popular? Or that it could be taught in 15-to-60-second snippets?
"I think people have to depend on YouTube videos and TikToks to learn even more," Alexis told Business Insider.
A student at New York City's Harlem Prep High School, 16-year-old Alexis has seen his following on TikTok increase since schools closed due to coronavirus and students are learning online from home. His videos focus on algebra, geometry and chemistry.
"I was really shocked," Alexis told CBS2. "Things that they probably forgot before COVID-19, this is a refresher of what I'm giving them out. It's really cool because they understand it even better the way I'm explaining it to them."
Though TikTok is best known as a platform for viral dances and funny gags, Alexis's videos play it straight. He just stands in front of a whiteboard scrawled with equations in his family's Bronx apartment and talks — very, very fast.
"I'm excited about this. I know he can do this and more. I'm so proud that he helped a lot of people," said Alexis's mother, Likmilian Hiciano.
Alexis, who has a 4.0 grade point average at Harlem Prep, garnered some of his tech skills at America on Tech, a nonprofit that seeks to give urban students a career pathway in technology.
He graduated from the group's afterschool Tech Flex Leaders program for high school juniors and seniors.
In addition to TikTok, Alexis has a YouTube channel and teaches students from around the world through Google Classrooms.

"It reached places like the United States, Canada, Australia, the Philippines, Singapore," Alexis said.
To judge from the comments on TikTok, students aren't the only ones who can learn from Alexis. Maybe educators should check out his teaching style, too. "You explain 1000x better than my math teacher!!!" CBS2 quoted one student as saying.
Get stories like these delivered straight to your inbox. Sign up for The 74 Newsletter