This 83-Year-Old Navy Veteran in Florida Will Get His HS Diploma Friday — and You Can Watch Live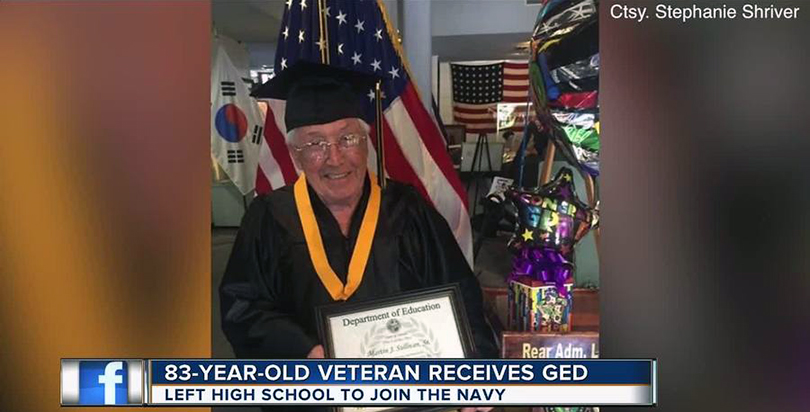 This article is one in a series at The 74 that profiles the heroes, victories, success stories, and random acts of kindness to be found at schools all across America. Read more of our recent inspiring profiles at The74million.org/series/inspiring.
Marty Sullivan may have served in the Forgotten War, but over the course of 65 years, he never forgot about his desire to finish high school.
Now, as an 83-year-old Navy veteran, Sullivan is prepping his cap and gown for Friday morning, when he'll receive his diploma with about 600 seniors from Newsome High School in Lithia, Florida, part of Hillsborough County Public Schools. The graduation ceremony will be webcast live.
Sullivan never finished high school, quitting to join the Navy at age 18 and serving in the Korean War. He fully embraced his service, telling ABC Action News that coming out of boot camp, he felt "invincible."
He served as a fire control technician aboard the U.S.S. Strong, giving the order to fire the ship's guns, and after completing his tour of duty he settled down in Boston, raising a family and working blue-collar jobs. But Sullivan never fully forgot about his missing diploma. "I got to travel around the world twice, and that's a hell of a lot," he says. "But yeah, I missed it."
---
---
After retiring to Florida, Sullivan became a volunteer at the Veterans Memorial Park and Museum in Brandon, where he learned of an opportunity to earn that sheepskin. With an honorable discharge on his record, his missed classes were forgiven.
"I've had that 'Oh, you're going to be a dummy all your life, you don't even have a high school diploma,' he says. "Can't say that anymore now!"
Watch the ceremony live starting at 9 a.m.: http://graduation.hcpswebcasts.com/html/newsome.html
Support The 74's year-end campaign. Make a tax-exempt donation now.