Support The 74's year-end campaign. Make a tax-exempt donation now.
The latest culture war in education is being fought over how schools teach racial issues and episodes in U.S. history. That has led to a slew of state legislative measures that limit or ban discussions touching on the sensitive topic of race. Some extend the prohibition to teaching about sexism.
FutureEd has identified 47 bills introduced or prefiled this year in 23 state legislatures that limit teaching on these topics. Alabama, Arizona, Idaho, Iowa, New Hampshire, Oklahoma, Tennessee, Texas, and Utah have enacted 11 of these bills, signed into law by their Republican governors. And another bill is awaiting signature from Alabama Republican Gov. Kay Ivey.
Some of the bills, like Arkansas House Bill 1218, explicitly preclude the teaching of The New York Times' 1619 project, which frames American history in the context of slavery, or critical race theory, including South Carolina House Bill 4325. Others, like West Virginia Senate Bill 558, prohibit teaching "divisive concepts," including racism and sexism, those that make students feel guilty because of their race, or those that make a student feel inherently racist because of their race. And two Wisconsin bills limit training on racism and sexism for K-12 and higher education educators.
Click here to see all 47 bills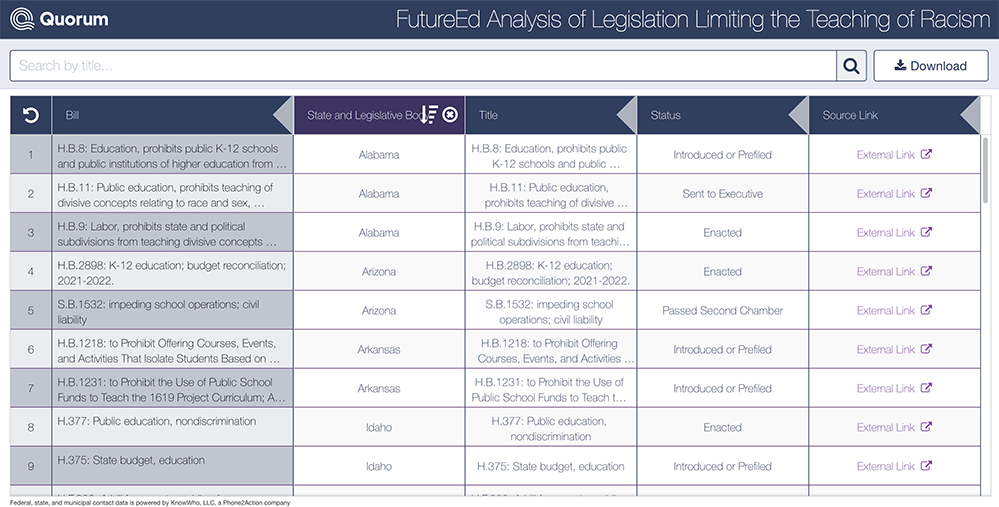 This article originally appeared at Future-Ed.org.
Support The 74's year-end campaign. Make a tax-exempt donation now.