The White House Reflects on Education Victories: What Obama Did for Dropouts, Standards, Pre-K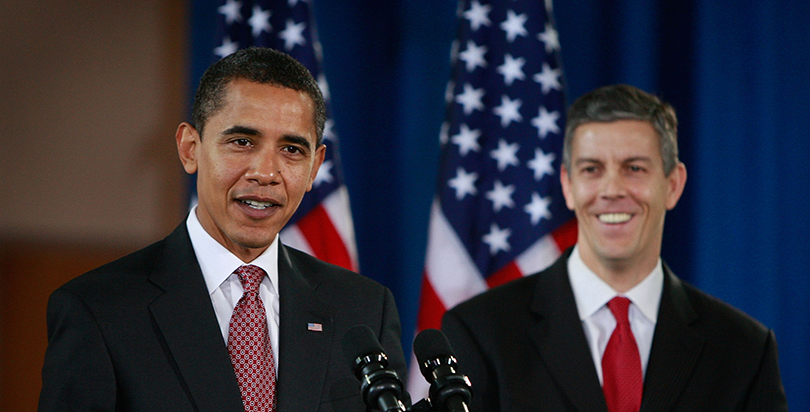 The White House Tuesday released a
report
celebrating a host of national accomplishments in K-12 education that should be no surprise to anyone who has taken even a passing interest in national education policy over the last seven years. At the top of the list: preschool, higher standards, and increased graduation rates.
The report – timed to coincide with Teacher Appreciation Day – also highlights the administration's work to support and protect educators. (Appreciating teachers:
The 74 spends a day with a special educator in Washington, D.C.
)
"Our teachers deserve credit for each of our accomplishments and the progress we're continuing to make, from better early education and higher standards to better student performance and higher graduation rates," the president wrote in a foreword to the report. "They are passionate about helping our students realize the best versions of themselves so our country can become the best version of itself. Time and again our teachers have met this solemn responsibility, even as we've asked more of them than ever before."
Some achievements the administration highlighted in the 60-page report:
Better High Schools Graduating More Students: The national high school graduation rate rose from 75 percent to 82 percent during the Obama years, and black and Latino students improved at a faster pace than other subgroups. The number of "dropout factories" that fail to graduate 40 percent or more of students was also cut, from about 1,800 to just over 1,000. The administration cited policies advanced in Race to the Top, waivers under No Child Left Behind and school improvement grants as key efforts that helped drive the numbers.
High Standards: Forty-nine states and the District of Columbia have adopted "college- and career-ready" standards and aligned tests, the administration said. Those high expectations should continue, the White House said, because the Every Student Succeeds Act requires every state "to hold all students to standards that ensure when students graduate from high school they are prepared to enter the workforce or to enter college without remediation."
(Although ESSA contains several explicit prohibitions on the Education Department mandating curriculum, including the Common Core, it does require states to adopt "challenging academic content standards." The administration's emphasis of that latter provision has emerged as a source of contention with congressional Republicans as the law is implemented.)
Preschool: Thirty-eight states offered public preschool programs at the start of the Obama administration, up to 46 now, the administration said. States have invested an additional $1.5 billion in preschool since the president's 2013 State of the Union speech, during which he pushed for a large-scale preschool program. Federal investment in state programs has now surpassed $750 million, and support for Head Start has increased by $4 billion, according to the report.
Nationally, though, Congress never passed a program that would serve all low-income four-year-olds. And only 29 percent of four-year-olds were enrolled in state-funded programs in 2014, according to the National Institute for Early Education Research.
Aiding Educators: And of course, on this Teacher Appreciation Day, the administration showcased the ways it has improved pathways in teaching — and invested in educators.
In the earliest days of his administration, Obama pushed for a $60 billion investment in schools to help keep teachers in classrooms as state and local budgets were slashed in the wake of the Great Recession. They've since poured $2.7 billion into competitive grants for teacher training, brought teachers and principals into the Education Department as full-time employees to help influence policy, and called for a STEM master teacher corps, which became law under ESSA.
The administration also highlighted the expansion of teacher evaluations tied to student outcomes that has flourished under Obama, up from 15 states to 42 states and the District of Columbia.
The White House was careful to say that Obama "understands that standardized tests do not begin to capture all of the subtle qualities of successful teaching or all the lifelong impacts great teachers can make," and he has called for multiple measures in evaluations. "But we also know that we must consider student achievement if we are to provide our educators with the right feedback and support to improve their practice," the report said.
The group announced that 30,000 new teachers had been trained and partners have committed to training the additional 70,000 needed to meet the goal. The American Institutes for Research have reviewed the estimates and say they're reasonable, the White House said in a release.
Get stories like these delivered straight to your inbox. Sign up for The 74 Newsletter