Antonucci: The 10 Most Memorable Teachers Union Quotes of 2016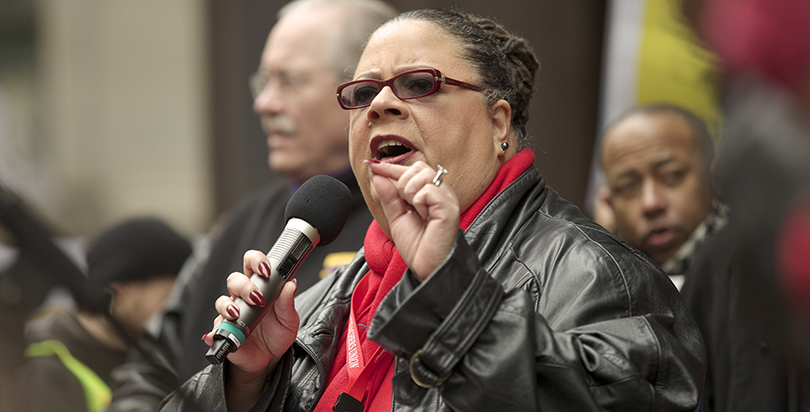 Teachers union officers and activists had a lot to say in 2016, and others had a lot to say about them. Here are the top 10 teacher union quotes of 2016, in countdown order:
10) "I am aware that Shelly Silver has been convicted of corruption-related offenses. However, the programs described above are just a few of the many educational programs he successfully initiated, supported and negotiated. I ask that, when sentencing him, Your Honor take into account his good works in fighting for and promoting education throughout the state." —Randi Weingarten, president of the American Federation of Teachers, in a March 14 letter to U.S. District Court Judge Valerie Caproni on behalf of former New York State Assembly Speaker Sheldon Silver (April 21, The Journal News). Judge Caproni ultimately sentenced Silver to 12 years in prison, a $1.75 million fine and $5 million in restitution.
9) "Our staff is under constant pressure to do more with less since we have not received a salary increase in eight (8) years." —From a petition written by employees of the North Carolina Association of Educators addressed to the union's executive director.
8) "I think we actually kind of did." —Lily Eskelsen García, president of the National Education Association, after commenting that her union could have written the Democratic Party platform language on education. (July 28, EdWeek)
7) "We feel it's a parent's right to choose." —Becky Pringle, vice president of the National Education Association, explaining the union's position on opting out of standardized testing. (May 9, Frederick News-Post)
6) "ESSA is 1,000 pages of ambiguity." —Shelly Moore Krajacic, member of the National Education Association executive committee and head of the union's Every Student Succeeds Act implementation task force, speaking to the NEA board of directors in April.
5) "The next year and a half must be founded upon building our capacity to strike, and our capacity to create a state crisis, in early 2018." —Alex Caputo-Pearl, president of United Teachers Los Angeles, in a July 29 speech at the UTLA Leadership Conference.
4) "The gravy train was running, and they didn't see the curve." —Dave Weiland, an Oconomowoc, Wis., school district teacher and local union leader, on the failure of the teachers union to prepare for the 2011 passage of Act 10, the state law that severely limited public-sector collective bargaining and ended agency fees. (November 27, Milwaukee Journal-Sentinel)
3) "His life has been in service, and he is continuing to be a teacher, a leader, a peacemaker, helping his community — even though it's now the jail community" —Benedict Kuehne, attorney for former Broward Teachers Union president Pat Santeramo. Santeramo was seeking to have his sentence reduced after he pleaded guilty to a federal fraud charge for misappropriating money the school district gave the union for an accountability program. The judge instead increased his sentence from five years to 6½ years. (June 9, South Florida Sun-Sentinel)
2) "We've permitted assessments on a lot of different levels, so why can't the government, as employer, create a State entity? Because this union under California law is a State entity…. So it seems to me that — and California tells the union what topics it can negotiate on, it requires them to do training, and in the end it accepts their recommendations with respect to the issues of employment at its own will, meaning the State is creating the union as part of the employment training and other responsibilities." —U.S. Supreme Court Justice Sonia Sotomayor, during oral arguments for Friedrichs v. California Teachers Association on January 11. Her suggestion that the State of California had created CTA seemed to baffle attorneys for both sides.
And the number one teachers union quote of 2016 is…
1) "[Illinois Gov.] Bruce Rauner is a liar. You know, I've been reading in the news lately about all of these ISIS recruits popping up all over the place — has Homeland Security checked this man out yet? Because the things he's doing look like acts of terror on poor and working-class people." —Chicago Teachers Union president Karen Lewis, in remarks to the City Club of Chicago on April 20.
Email tips to mike@the74million.org
Get stories like these delivered straight to your inbox. Sign up for The 74 Newsletter