Tucker: The 'Separate and Unequal' Doctrine is Alive and Well in Detroit's Terrible Schools. That Needs To Change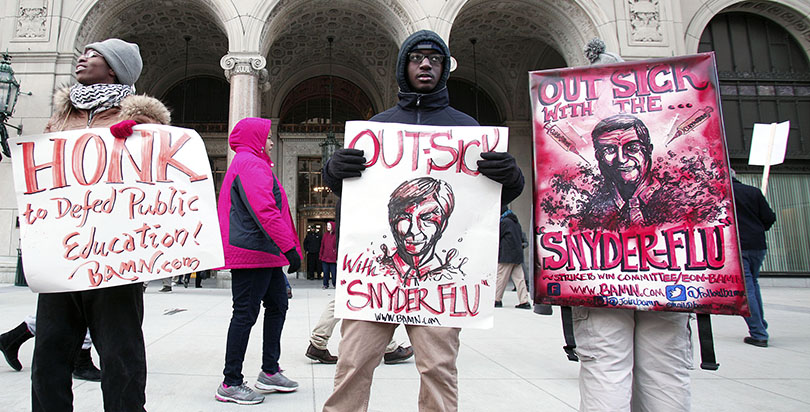 The dilapidated buildings that house some Detroit Public Schools bring to mind the ramshackle structures that accommodated the segregated black schools of the South in the mid-20th century.
Back then, it wasn't uncommon to find black students struggling to stay warm with pot-bellied stoves, trying to keep dry when the roof leaked or stepping over holes in the flooring of their school buildings.
That's what the doctrine of "separate but equal" dictated — miserably substandard buildings, outdated and worn textbooks, non-existent equipment for science labs and music rooms, few resources for field trips or school clubs. The system was anything but equal for black students.
Shamefully, similar conditions currently exist in Detroit, where teachers have staged protests to draw attention to deteriorating school buildings. As teacher Shalon Miller, a 15-year-veteran,
recently wrote
, "I wonder why my students are left in the worst conditions possible. I wonder why it's the same problem in urban communities across America. Why is separate and unequal okay in 2016?"
The politics that have left Detroit schools in shambles are complicated, and there is blame aplenty to go around. The recent history of the school system includes corruption, mismanagement and a revolving door of state-appointed managers who, in some cases, left the schools worse off than they found them.
But the larger story of the Detroit schools is a simple one that is all too familiar: the students are overwhelmingly black and largely poor. And the attention given to their educational prospects is not equal to that given to their wealthier (and whiter) counterparts in the suburbs. As Democratic presidential candidate Hillary Clinton tweeted, "No one would tolerate these conditions in a wealthy suburb."
That underscores the urgency of Acting Secretary of Education John King's call for the integration of schools — not just racially but also socioeconomically.
"We should support innovative, voluntary locally-driven efforts to promote socioeconomic diversity in schools," King said during a Martin Luther King Day speech earlier this month. "We should embrace opportunities where a middle school arts magnet program, or a dual language elementary school, or a regional science and technology high school can help to break down the concentration of our highest needs students in schools with access to fewer resources."
King's words brought the integration issue back into the spotlight where it had not been during the higher standards and tougher accountability era of his predecessor, Arne Duncan.
In the 60 or so years since the U.S. Supreme Court ended the doctrine of "separate but equal," K-12 public education remains abysmally segregated.
In some places, indeed, schools are worse off than they were in the 1970s. Take Detroit, as good a case as any. While the city was always racially segregated, white students accounted for 36 percent of its public school population in 1974. By 2010, that number had dropped to 2.5 percent, according to a non-profit called
Data Driven Detroit
.
Still, it's important to note that King has called for socioeconomic integration as well as racial diversity in public schools. Detroit has suffered not just classic white flight but also the disappearance of the black middle-class.
As manufacturing jobs, largely powered by the automotive industry, declined, higher-earning black families also fled the city, leaving behind a population that is disproportionately poor.
Because black household wealth still lags well behind that of white households, it's easy enough to confuse race and class. (Nationally, about 27 percent of blacks lived in poverty in 2010, while only about 10 percent of whites did. In Detroit, nearly 40 percent of families live in poverty, according to government data.)
But it's family income that has an outsized effect on a child's preparation for school.
Family income also affects how well the child's classroom functions. Poor and working-class parents often lack the social standing, the confidence and the time to spend attending school board meetings, pestering principals about incompetent teachers or running top-notch Parent Teacher Associations.
Poor kids don't just get the worst school buildings; they also get the worst teachers, research shows.
When poor children are educated next to more affluent kids, they do better. Research shows that children from less-affluent backgrounds benefit from being exposed to peers with higher expectations and from the engagement of well-connected parents. They are also likely to have stronger teachers.
It's not just the poor kids in Detroit whose educational opportunities have been stunted by socioeconomic segregation and neglect. That's the story for far too many less-affluent kids across the country.
Get stories like these delivered straight to your inbox. Sign up for The 74 Newsletter