The Memphis School Where Teachers Walk Students Home Every Day — and Math Scores are Soaring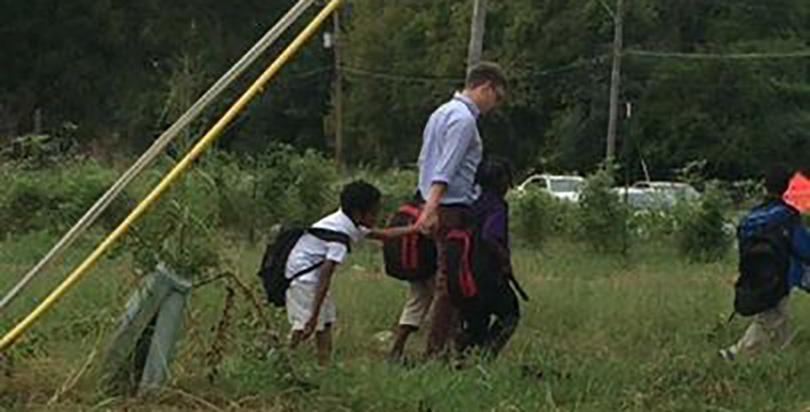 This article is one in a series at The Seventy Four which profiles the heroes, success stories, unexpected surprises and randoms acts of kindness to be found at schools all across America. Read more of our recent inspiring coverage at The74million.org/series/inspiring.
Memphis teacher Carl Schneider was just doing what he does every day — walking students home after school. But on September 30, resident Tabitha Tudy Jones noticed and snapped a photo from her car. When
she uploaded it to Facebook
, she probably had no idea the inspiring image she shared was about to go viral.
Think of it as a standing ovation for a teacher going above and beyond.
Schneider is a special education teacher at Whitney Achievement Elementary School. When Principal Debra Broughton thought that some of the kids could use an adult to walk them home safely, a few teachers volunteered. Each of them walks about 10-15 students to their home every day,
according to FOX 13
.
Their dedication is paying off.
According to the
Memphis Business Journal
, Whitney experienced a 31.2 percent improvement in the Tennessee Comprehensive Assessment Program (TCAP) for math, the second highest rate of improvement among elementary schools in Shelby County.
"I'm happy the community I work in is being highlighted in a positive way,''
Schneider told TODAY.com
. "I think our students deserve the same love and quality education as students in any other district. It's a lot of fun, and it's a great way to get to know the students on a more informal basis and talk about their day."
Photo Courtesy Tabitha Trudy Jones / Facebook
Support The 74's year-end campaign. Make a tax-exempt donation now.