The Maker Movement Is About More Than Science and Math — But Is All This Tinkering Really Effective?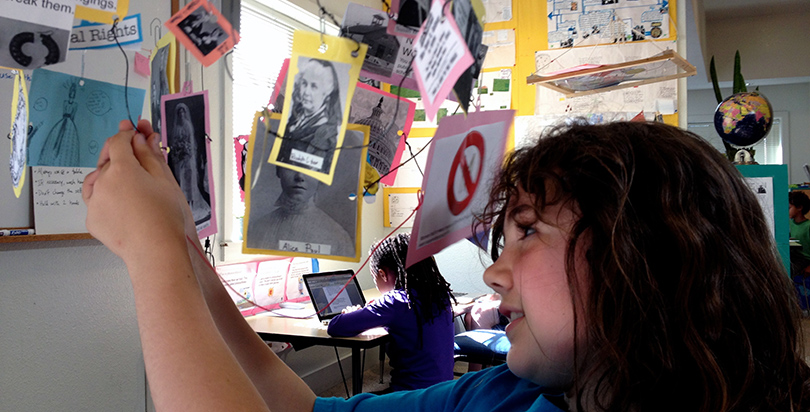 This is one article in a series that examines gifted education, classroom creativity and geniuses in society. (See our full genius archive) The 74 is a proud media partner of the 92nd Street Y's "7 Days of Genius," a global series of events orchestrated to explore "the power of genius to make a positive impact on the world" running March 5-12. See events: 92y.org/Genius.
In the last few years, the "maker movement" has become a marvel in American schools through Maker Faires featuring homemade robots to after-school programs that teach kids to code — to entire schools geared around the art of tinkering.
Maker-centered education, so the narrative often goes, could have profound benefits for students hoping to find work in a STEM-related job. Even President Obama has touted the economic benefits the maker movement could have on efforts to reinvigorate American manufacturing.
But for teachers who use making in their classrooms, the movement is about something much bigger — something that enhances educational experiences for all kids. They argue this learning-by-doing approach is an effective way to teach students how to develop character and purpose.
"That is one of the most important outcomes a maker educator sees," said Shari Tishman, the lead investigator at Agency by Design, a research initiative at the Harvard Graduate School of Education's Project Zero to explore the maker movement in schools. "Learning how to make things, being involved in maker-centered education, helps young people develop a sense of agency in the world, a sense that they can change the world."
But in education, trends often come and go. So how do teachers prove all these hands-on activities have a profound effect on student learning, to keep the maker movement from becoming another education fad left at the chopping block? (The 74: A Maker's (School) Dozen: 13 Must-See Sessions at South By Southwest Education)
An emerging movement around making
Inside the innovation classroom at Bricolage Academy New Orleans, something is missing: chairs. Instead of sitting with paper and pencils at desks, students stand at worktables and tinker with LEGOs, robots, wooden blocks, and circuit boards.
This focus on making sets Bricolage apart from most other schools in New Orleans. Making is an integral part of the school's purpose.
When Josh Densen decided to open a new charter school in New Orleans, he wanted his classrooms to be workshops. No more of the "same old, same old." With a commitment to educational equity and a desire to produce student innovators, Bricolage accepted its first kindergarten class in 2013. Densen said he plans to expand the school each year until it serves students from kindergarten to eighth grade, with the tools and innovation classroom projects growing more complex as students get older.
"It's unusual when we don't have 100 percent engagement in that classroom," Densen said. "They have to continue to operate with a lot of self control and focus because there isn't an adult standing over them throughout the entire process. They are given a lot of autonomy and are expected to rise to that level of independence."
At Bricolage, making isn't just reserved for the innovation class, which is a co-curricular course like music, art, or physical education. A focus on innovation is incorporated into the school's entire educational approach.
---
---
Across the country in Oakland, California, Park Day School offers a similar dedication to maker-centered learning — but with an emphasis placed on social justice. At the private school, Ilya Pratt, director of Design+Make+Engage, partners with teachers to incorporate making into their curriculum. Not all of these projects have a direct tie to STEM education.
For example, a few years back, Alex Kane used maker-centered learning to teach his fifth-grade students about the American civil rights movement. Using electrical wire and photos of key people and moments, his students built a three-dimensional map exploring how pivotal moments in that struggle were connected.
Last year, his students created a timeline exploring immigration to California. Both projects hung on his classroom's ceiling for several months.
"For some kids, it really helped them be able to see the system," said Kane, who now teaches fourth grade at a school in Davis, California. "Having it be a physical thing that was always hanging over our head, it was just much more in our face all the time."
Mapping progress
Despite all the enthusiasm around tinkering, limited research explores the cognitive benefits of maker-centered education, according to an Agency by Design white paper.
"In order to ask the question 'Are these effective?' you have to have an idea of what effective means," Tishman said. "What does it mean for them to be effective? Does it mean that they're going to do better on their STEM tests? Does it mean that they're going to go on to live the life of an inventor? Or does it mean that they're going to develop a sense of agency?"
Agency by Design is currently working to develop tools so educators can determine whether their maker-centered learning programs are working. If educators are unable to document how well their approaches work in the classroom, "then often any initiatives wither."
"We believe that one important step in developing a sense of agency is learning to see that the things in our world are designs," she said. "The assessment tools we will develop will focus on that slice of maker-centered learning, on developing a sensitivity to design."
At Bricolage, Densen said they're also grappling with ways to assess program success. And at Park Day School, Pratt said a system for assessment is necessary because educators generally don't generally have experience measuring learning through subjective assessment. "All they're familiar with is test, test, test."
Support The 74's year-end campaign. Make a tax-exempt donation now.