The Last Days of One Alaska Village, as Climate Change Swallows Its First U.S. School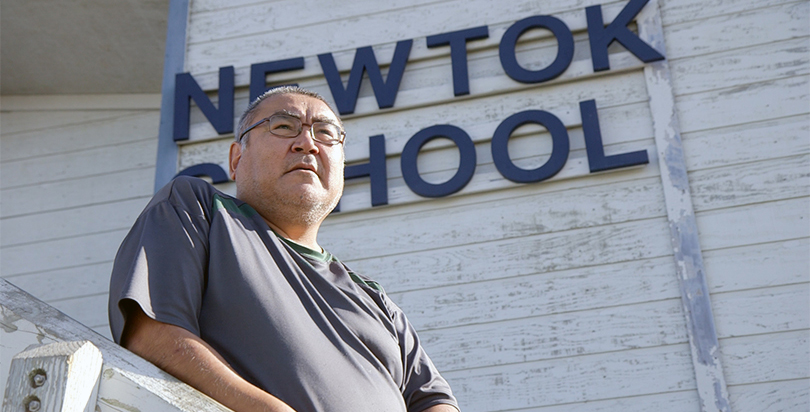 ---
(Video by Erik Keto and Hanna Craig. Reported by Mareesa Nicosia)
If they don't already, Wilson's young pupils will soon know this lesson by heart: Their village is at the front lines of the global climate change crisis that could ultimately devastate dozens of small indigenous communities scattered along Alaska's Bering Sea coast. They lie within the Yukon Delta National Wildlife Refuge, a 19.5 million–acre expanse of wetlands and tundra between the Bering Strait and the Aleutian Islands.
The village of Newtok — a few dozen dilapidated buildings splayed on a treeless, marshy bend of the Ninglick River just before it opens into the ocean — is disappearing. More than 100 feet of its shoreline was ripped away in a single storm; most years average 72 feet. The layer of earth that forms the village's foundation and was once frozen solid is turning to mud.
Just a few hundred feet from the encroaching river, Newtok's school sits perched on splintering wooden stilts, a T-shaped modular covered in peeling blue and white paint. Wilson, an elementary reading specialist from Ohio, arrived here in early August, but her two-year contract could be cut short by the very manifestation of what she is teaching.
In mid-August, though, time feels abundant here. The days stretch on and on — the sun does not set until 11 p.m., and children play and ride their bikes on the rickety wooden boardwalks that serve as Newtok's streets late into the night.
But sooner rather than later, the belongings that Wilson's fourth-graders listed in their story must be packed up, along with their books, pencils and backpacks. And the residents of Newtok will leave their sinking village and abandon the land their ancestors have lived off for generations, finally moving to sturdier ground — they hope — after years of anxious waiting, bureaucratic missteps and political infighting.
School as communal house
Newtok's school, also sometimes known as Ayaprun School, is part of the Lower Kuskokwim school district, which serves 4,100 students in 27 schools in a region about the size of West Virginia.
In Newtok, all but a few of the roughly 130 students are Alaska Natives from poor homes. The 28 staff members are a mix of certified teachers from the Lower 48, like Wilson, who are recruited to work on short-term contracts, and Alaska Natives, often uncertified, who typically work as classroom aides. Part of the draw for outsiders is that certified teacher salaries start at $52,000, quite a bit higher than the recent national average of $36,141.
SaveSave
SaveSave
Get stories like these delivered straight to your inbox. Sign up for The 74 Newsletter