Why the LA School Board Swung Pro-Reform: Did a Late Vote on 'Charter Killer' Bill Cost Board Chief His Job?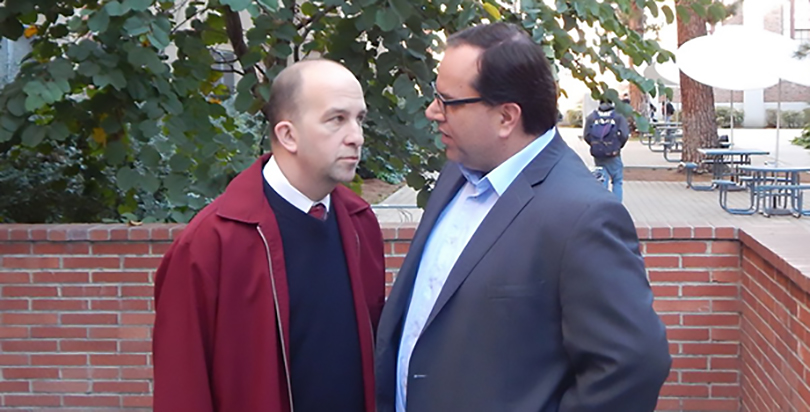 This piece was produced in partnership with LA School Report. See LASR's coverage of this month's election results: "Education Reformers Sweep L.A.'s School Board Vote, Setting Up Pro-Charter Majority"
Steve Zimmer's vote last month to direct the support of the Los Angeles Unified School Board to a piece of state legislation dubbed a "charter killer bill" factored into the board president's defeat at the polls last week, his board colleagues say.
The contentious 4–3 vote supported State Bill 808, authored by state Sen. Tony Mendoza, which allowed school districts to reject public independent charter schools if they could be considered a financial burden on the district — an argument that could be made about any charter, as state funds follow students as they leave district schools.
The day before the vote, Mendoza tabled the bill, which was put on a two-year timetable for public hearings. But the majority of the board went ahead with a vote supporting it anyway, over strong objections from the other three members.
Two other bills were included in the resolution, both of which were opposed by the California Charter Schools Association, which called the board's vote "clearly a matter of political gamesmanship." SB 808 also would have removed the option for charters to appeal denial decisions to the county and state boards of education.
The three board members voting against the bill were Mónica García, Ref Rodriguez, and Mónica Ratliff, and all three reflected that the vote may have had some impact on Zimmer's election.
"I don't think it helped, and especially since the content of the bill was not fully written," said Rodriguez. "That was a symbolic vote — it made a statement on platitudes."
Ratliff, who will be leaving the board, said, "It is tough to hypothesize how it affected Steve, but I don't think it was helpful to go on the record to support something that could shut down every charter school under the assertion that it was draining resources from the district. The charter community will attempt to oust you because you want to shut them all down."
And García said, "Everything has some impact and causes some increase in voter participation. It was a symbolic bill, and we don't always know how it will have an impact on us."
The vote, taken at the board's April meeting, happened just as absentee ballots were being mailed out, and those absentee votes proved critical to Zimmer's defeat. At the time, Zimmer said he thought the issues were important enough to motivate his base and perhaps help him. In fact, it may have motivated the pro-charter factions.
"I think it's important to be on the record to show that we think that every school should be held by the same set of standards and that every charter school should be authorized by the district that it is in," Zimmer said.
The board's vote to support SB 808 factored in the Los Angeles Times's endorsement and an editorial supporting Nick Melvoin, who defeated Zimmer for the District 4 board seat.
"This was a cheap shot in which the board, led by Zimmer, tried to foist the blame for its financial dysfunction onto charter schools instead of looking in the mirror. This isn't leadership and it's why, for all Zimmer's likable qualities, the board needs a change," the Times's editorial board wrote.
In his last debate with Melvoin before the election, Zimmer said, "This is a statement bill. I don't believe it will pass as it's written."
Melvoin shot back: "If this is a statement bill, why are we taking LAUSD time and lobbyists to fight these outside battles?"
George McKenna, who voted for the resolution, lamented about the vote at Zimmer's campaign event on Tuesday night and said it was too early to tell how it impacted the vote. "Charter schools say they are better than we are and that is why they are leaving our schools and it's an abomination. We are not fighting charter schools, but we should have a responsibility and ultimate authority over who is in our house," McKenna said. McKenna authored the resolution calling for the district to support the three bills.
Board member Richard Vladovic said that in the past he had warned Zimmer not to propose any controversial resolutions around the time of the election.
With the elections Tuesday of Melvoin and Kelly Gonez and the new charter-friendly majority on the board, it is possible that the resolution could be overturned. LA Unified Secretariat Jefferson Crain said that to maintain stability, there has been a six-month grace period implemented before directly overturning a resolution, but a vote of four could change that.
"I don't know if that is something we want to do right away," Rodriguez said about overturning the resolution. "We have more important things on the table."
García added, "The new board will have to pass things that will lead us to 90 percent graduation and get rid of Ds and Fs for graduation, and we are still woefully underfunded. This is not an issue that leads us to that."
Ratliff concluded, "That vote was a mistake. Ultimately, we are there for the kids. And there are charter schools for kids. If you threaten them with closure because they are a financial drain on the district, they will see that as a threat. It's not clear how this impacted things in the long run."
"The charter killer bill did give an extra dose of motivation to parents and kids in charter schools. It felt like life or death for our kids' schools," said Jenny Hontz, a parent organizer and a member of the parent advocacy organization Speak UP. "Even the district parents were outraged by the thought of giving the board the power to unilaterally shut down any charter for any reason without any appeal process to the county or to the state. Parents just thought that was ridiculous."
—Esmeralda Fabian contributed to this report
Get stories like these delivered straight to your inbox. Sign up for The 74 Newsletter