The 'Kindness in Chalk' Movement Finds a Few New Sidewalks: Meet the Mom Who Started It All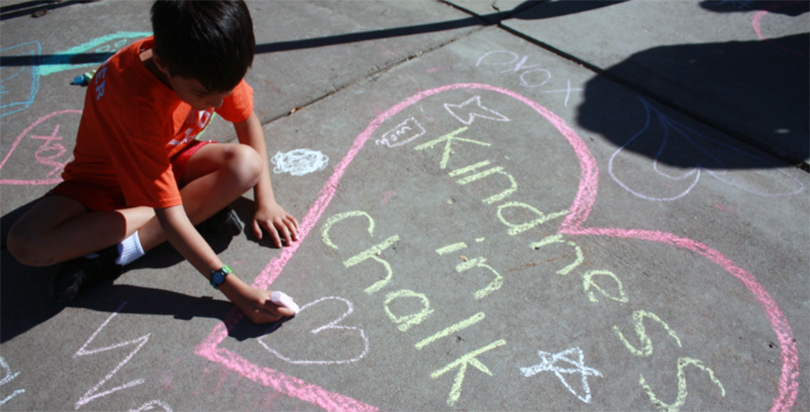 This article is one in a series at The 74 that profiles the heroes, victories, success stories and random acts of kindness to be found at schools all across America. Read more of our recent inspiring profiles at The74million.org/series/inspiring.
As thousands of students and staff arrived at their schools this past Monday morning, they were greeted with positive messages written in brightly colored chalk on their campus walkways.
Inspiration and encouragement, underfoot:
More amazing messages for staff and students at school #rushcreekrocks pic.twitter.com/tWbOvYgYCq

— D Ohlgren (@ohlgrend) October 3, 2016
---
The salutations were part of the growing "Kindness in Chalk" movement, a national daylong effort that was launched by Minnesota blogger Nicki Brunner shortly after her son started kindergarten in 2014. Here's a local TV feature on her story:
---
Brunner and her daughter, a toddler at the time, were drawing with chalk outside their home. As neighbors walked by, they grinned at the smiley face and "Have a happy day!" message that adorned the sidewalk. That sparked an idea in Brunner: How could she translate these kinds of positive messages, and positive reactions, to her son's school?
---
Art Club rocked the Kindness in Chalk project! Thanks for making a positive impact on your school! Proud of you all! pic.twitter.com/PJLb9lYgR2

— John Carroll (@ELKSPRINCIPAL) October 4, 2016
---
After getting permission from the principal, the Kindness in Chalk Day was a go. Brunner promoted the idea on her blog, MinneMama, and on social media sites.
The day was a hit locally — and has since become an activity in communities nationwide.
It's no coincidence that the day filled with messages of kindness falls during National Bullying Prevention Month, a campaign sponsored by anti-bullying organization PACER. The group reports that 22 percent of students report being bullied during the school year, though as many as 64 percent of bullying victims do not report it.
The issue hits Brunner close to home. "People close to me have experienced this, and I can see the impact that it has on children through adulthood," Brunner told NWCT Channel 12. The good news is that more than half of bullying situations stop when a peer intervenes, and school-based prevention programs have been shown to decrease bullying by 25 percent, according to PACER.
Thankfully, Brunner's message of kindness is quickly becoming a quick and easy program to implement at schools. The first year of Kindness in Chalk, 76 schools participated, and in 2015, that number grew to 267.
This year's number hasn't been finalized, but images on social media suggest that this year's event was a success.
---
Third graders at Sam Davey participated in the "Kindness in Chalk Anti-Bullying Campaign." This makes my heart smile! ?❤️ #Project715 pic.twitter.com/7QJDn6lk6I

— Joe Luginbill (@JoeLuginbill) October 4, 2016
---
Such a simple act can make a major impact. As Brunner told Channel 12, "It's totally free, but sometimes people need to hear it or see it or read it."
---
Kindness in Chalk #TeamDCS pic.twitter.com/iVnT5BWxx6

— CHES (@TweetDCS_CHES) October 3, 2016
Riverside students love our chalk kindnesses #kindnessinchalk pic.twitter.com/hXAwC0UN7H

— Matt Ruzek (@principalruzek) October 4, 2016
#kindnessinchalk @BrownsvilleES this morning. @pammoran I bet more @k12albemarle schools would love this! Surround them w/ positive messages pic.twitter.com/6dEkBdUpsN

— Brownsville Bees PTO (@BrownsvillePTO) October 3, 2016
Support The 74's year-end campaign. Make a tax-exempt donation now.