The Kids Are All Right: Teens Say Social Media Makes Them Feel Better About Themselves, Less Lonely & Less Depressed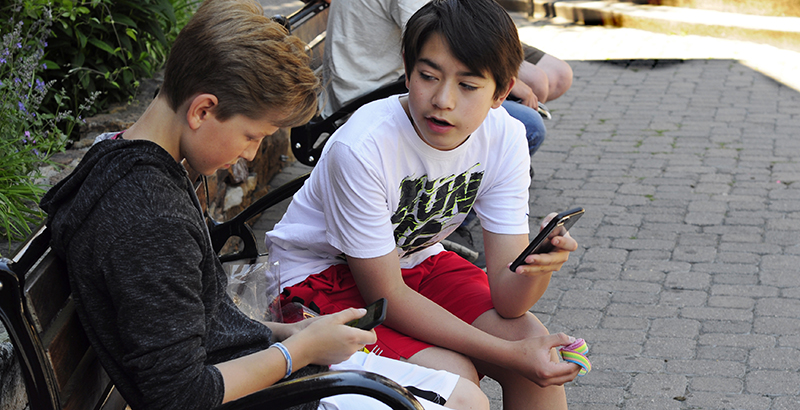 The rise of smartphones, selfies, and social media has made researchers concerned for young adults' mental health. But ask teens if social media is making them more anxious, depressed, or lonely, and the vast majority say no.
In a nationally representative survey of 13-to-17-year-olds from Common Sense Media, about three-quarters say their use of Snapchat, Instagram, and Facebook doesn't have much impact on their mental health. Of the remaining one-fourth, most say social media sites have a positive, rather than a negative, effect.
That's one finding from the survey, which compares teens' social media use from 2012 to 2018. Unsurprisingly, much has changed in these six years: Nearly 9 in 10 teens now own a smartphone. Snapchat is lit, and Facebook is for messaging grandma. Half of teens used to prefer hanging out with friends IRL — in real life — but now, only one-third do.
But are these drastic shifts cause for alarm, or are the kids all right?
"We are well past the part where we can say that social media has a singular effect on teens," said Michael Robb, senior director of research at Common Sense Media. "Its role in kids' lives is more complex, it is more nuanced, and it is, at the same time, both positive and negative, and we shouldn't shy away from that."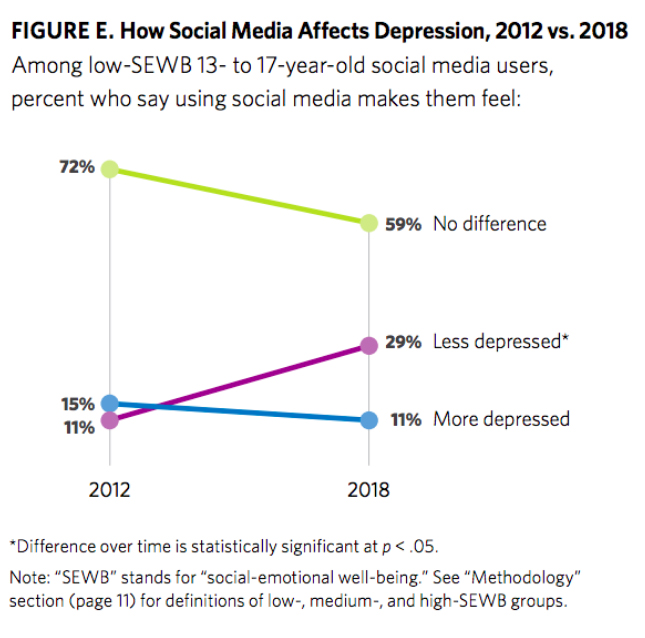 Teens who had low measures of social-emotional well-being were more likely to be negatively impacted by social media: The survey found that 70 percent of teens in this camp felt left out, compared with 29 percent of their peers with high social-emotional well-being. The vulnerable teens were also more likely to to be cyberbullied and to delete posts that received few likes and comments.
But even the majority of those who reported negative effects said they felt no difference in loneliness, depression, or self-worth from these apps. These teens also said social media is very important in their lives.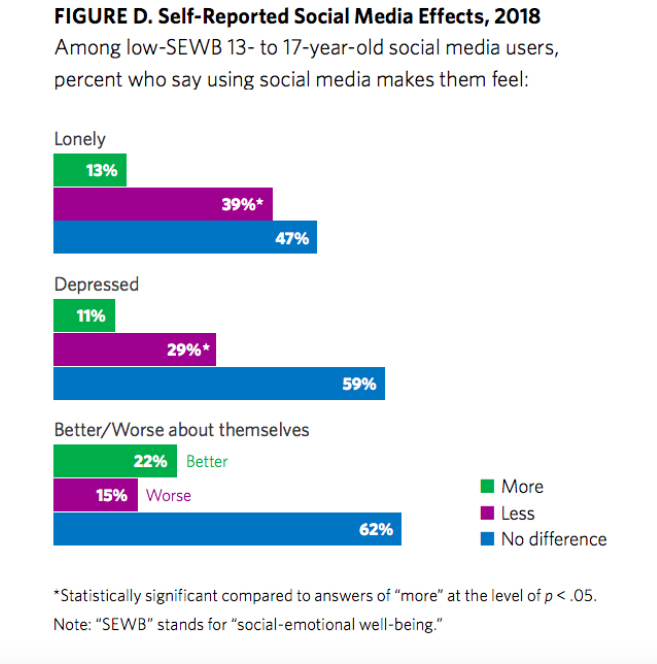 Researcher Jean Twenge questioned some of the survey results. Twenge, who wrote the book iGen — which looks at this generation's use of digital media — said asking teens whether social media makes them happy "is subject to denial and other self-protective attitudes."
In an email to The 74, she said young people might not realize they are becoming addicted to their devices. "For example, teens who spend a lot of time on their devices might conclude that doing so must make them happy — otherwise, why would they do it for so many hours a day? The answer is that they feel it's mandatory, or that they are addicted — but they don't fully realize this," Twenge said.
Researchers have long questioned how the frequency of social media use contributes to teens' anxiety and depression. Studies have found correlations between the amount of time spent on social platforms and mental health. However, it's not always clear whether people who are already depressed tend to spend more time on social media or if more social media use causes people to become depressed.
Interestingly, a survey conducted in the U.K. of 16-to-24-year-olds found that social media made them more anxious and depressed but also helped them with emotional support, self-expression, and awareness.
"Social media isn't any one thing. It's not a monolith, and different media will affect different kids at different times," Robb said. "These are kids who don't know a world without social media, so they don't have something to compare it to."
Robb said that rather than banning social media, parents can ask their teens how Instagram or Snapchat makes them feel and encourage them to take breaks for a few hours or even a day if they need to.
Other findings from the survey included changes in social media preferences. The past six years have seen a huge switch from Facebook to Snapchat: 68 percent of teens said Facebook was their main networking site in 2012, but only 15 percent now do. Meanwhile, 41 percent of teens said Snapchat is their main platform, followed by Instagram (also owned by Facebook) at 22 percent.
More teens than ever own smartphones — 9 in 10 now, compared with 4 in 10 in 2012. Most respondents — 35 percent — prefer communicating with their friends via texting, followed by in-person communication, social media, and video chatting.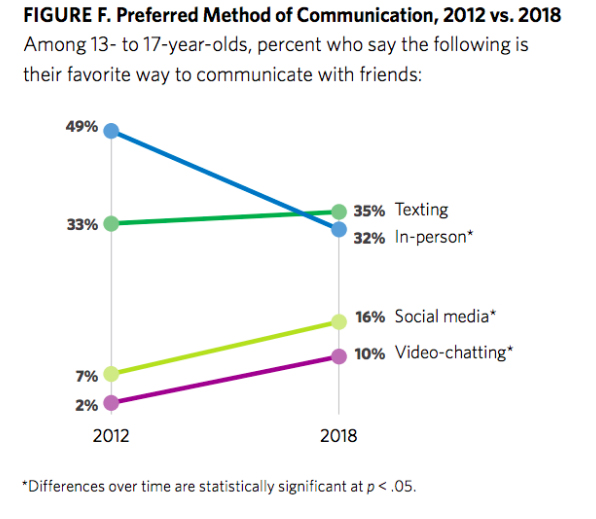 But many still realize social media is a distraction: 42 percent said it interrupts time spent with people around them, up from 34 percent in 2012. Teens also said social media and smartphones can interrupt sleep and distract from homework, and they are aware of the addictive nature of social media, with 72 percent saying they think tech companies manipulate them to boost their use.
The survey was administered to 1,141 13-to-17-year-olds between March 22 and April 10. It was conducted by research group GfK and has a margin of error of plus or minus 3.4 percentage points.
Get stories like these delivered straight to your inbox. Sign up for The 74 Newsletter