The Everyday Heroes: 16 Teachers and School Leaders We're Thankful for This Thanksgiving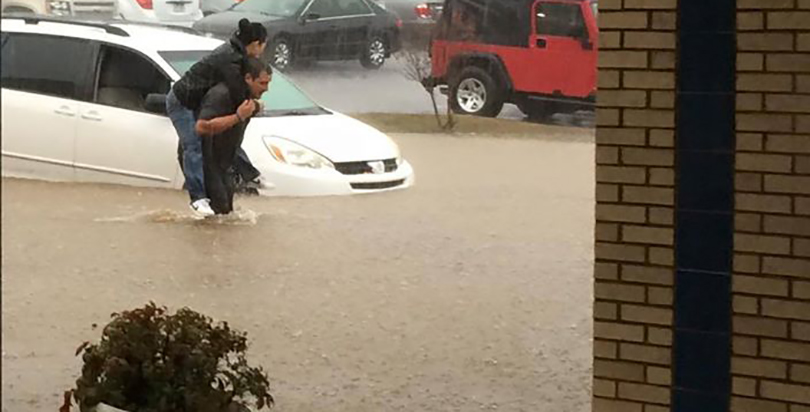 This article is one in a series at The Seventy Four which profiles the heroes, victories, success stories and random acts of kindness to be found at schools all across America. Read more of our recent inspiring coverage at The74million.org/series/inspiring.
But those stories are just the beginning. The more we searched the web this month, the more tributes we found to educators devoting their hours and efforts to benefit their students. Here's a cornucopia of inspiring dispatches about teachers making a big difference in our nation's schools.
16 teachers we're thankful for this Thanksgiving month:
Mr. Getty and Mr. Fleitas save the day (Florida, Nov. 2) —
When the 42-year-old father of a Lake Mary High School cross country runner collapsed at a meet earlier this month, two coaches jumped into action. Jay Getty of Hagerty High School in Oviedo performed CPR while Jorge Fleitas of Dr. Phillips High School in Orlando communicated with a 911 operator. They ultimately helped save the dad's life. The man was later transported to the hospital where he was expected to recover after a surgical procedure. (Read more at the
Orlando Sentinel
)
---
Today is Mr. McEntyre's 89th Birthday! This morning, the Permian Band & Orchestra, along with Mr. Nail, stopped by Mr. McEntyre's house and wished him a "Happy MOJO Birthday"!!

Posted by The Permian High School Orchestra on Friday, November 13, 2015
Happy birthday Mr. McEntyre (Texas, Nov. 13) — Permian High School's band and orchestra showed up at former music director Mr. McEntyre's house to wish him a happy 89th birthday with a surprise front yard performance. Students and administrators said McEntyre made such an impact during his time at the Odessa school that they ultimately named a building after him in 1995. (Read more: KMID)
Ms. Doss, building bridges to Paris (Oklahoma, Nov. 18) —
For three years, students in Rachel Doss' French class at Tulsa School of the Arts and Sciences have been writing to pen pals in France. But the program took on a more urgent meaning after the recent terrorist attacks in Paris. One of the class' French pen pals has a cousin who was injured during the attacks. Doss asked her students to write messages of solidarity, which they did with creativity and heart, to share with their friends on the other side of the Atlantic. (Read more:
News on 6
)
---
Mr. Neissl, the hero in the flood (Arkansas, Nov. 17) — Matt Neissl, a physical education teacher at Ramsey Jr. High in Fort Smith, proved that being in good physical health does indeed come in handy when the going gets tough. After torrential rains left a flash flood of knee-deep water in the school's parking lot, Neissl gave piggyback rides to students and a stranded motorist, carrying them to safety inside the school. (Read more: KFOR)
Ms. Junker, infusing discipline with empathy (California, Oct. 30) —
Karen Junker, a math teacher at Davidson Middle School in San Rafael, trains teachers and schools to implement restorative discipline methods for behavioral issues, encouraging an open dialogue where there used to be discord. Solutions include student panels, relationship-based reintegration, and recognition of developmental stages and emotional responses. (Read more:
WBUR
)
---
Mr. Ulmer's words of kindness (Florida, Nov. 17) —
Chris Ulmer spends the first 10 minutes of every school day offering verbal compliments to his special education students in front of the entire class. He says the students followed his lead and are now complimenting each other without being prompted. Be sure to check out Ulmer's
Facebook page
where he has posted videos featuring heartwarming interviews with his students about how they tackle the challenges they face. (Read more:
ABC News
)
Ms. Melluzzo's house calls (Washington, Nov. 22) —
After a redistricting measure last year, students from the Aladdin-Camelot Apartments in Lakewood, Washington began attending Park Lodge Elementary School. They now make up about one-third of the student body. So when it came time for parent-teacher conferences, the teachers were proactive in visiting the community, traveling to meet with parents in their apartment complex. Principal Synette Melluzzo said she wanted the parents to feel like a key part of their new school community. (Read more:
The News Tribune
)
Mr. Knoll's Syria lesson (Wisconsin, Nov. 18) —
Jason Knoll, social studies teacher and model UN advisor at Verona Area High School, was so moved by the Syrian refugee crisis that he decided to incorporate it into lessons. His students, in turn, were so inspired by his class that they volunteered to help, creating a project called Verona Aid to help refugees and low-income families. The project is now raising funds for the UNHCR (The UN Refugee Agency) and is expanding to collect backpacks and school supplies for the local United Way chapter. (Read more:
The Cap Times
)
---
Mr. Cunzio's Thanksgiving feast (New York, Nov. 20) —
The third-grade Thanksgiving Feast has become a rousing annual tradition at Columbus Elementary in Mount Pleasant, New York. Principal Mike Cunzio, Assistant Principal Terry Outhouse, teachers and lunch staff served up turkey, stuffing and all the trimmings to students as well as their parents, siblings, and grandparents. (See colorful photos from the festivities
on the school's Facebook page
)
Mr. Matthews' chess club (Virginia, Nov. 9) —
On Friday afternoons, parent Brett Matthews runs the chess club at Perrymont Elementary in Lynchburg, Virginia. Matthews recently ran a successful crowdfunding campaign to purchase a chess set for every student in the club. He says the game helps students learn to overcome ambiguity and build reasoning skills. (Read more:
WSET
)
---
Ms. Rankin, the hero who saved a boy suffering from a seizure (Ohio, Nov. 17) —
When second-grade teacher Kara Rankin at McGregor Elementary School in Canton heard a scream from the classroom next door, she rushed over to find 8-year-old Jacob Vogt on the floor experiencing a seizure. Rankin rolled him on his side and he seemed to be improving, but suddenly he turned blue. She used her CPR training to help revive him. Young Jacob doesn't remember the event, but says he plans to be a police officer when he is older so he can help people the same way he was helped by Rankin. (Read more:
FOX 8
)
---
Get stories like these delivered straight to your inbox. Sign up for The 74 Newsletter