The Eagles Have Landed — Outside This School. As Birds Nest Nearby, Teachers Hatch New Assignments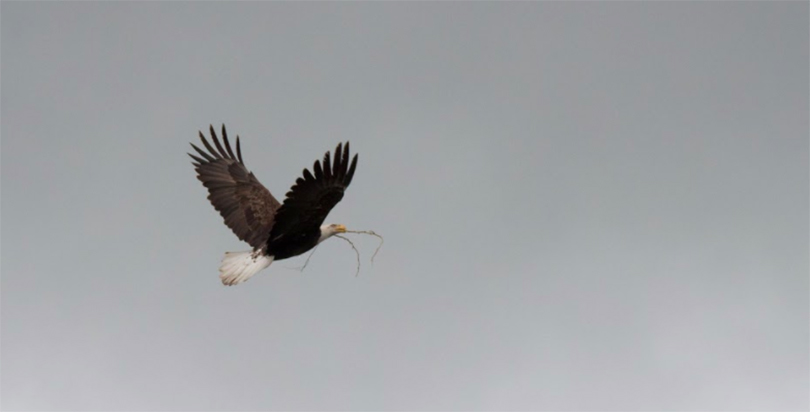 This article is one in a series at The 74 that profiles the heroes, victories, success stories, and random acts of kindness to be found at schools all across America. Read more of our recent inspiring profiles at The74million.org/series/inspiring.
All across the country, elementary school is for the birds!
In Milpitas, California, a pair of bald eagles took up residence in a redwood tree outside Curtner Elementary School — and hatched a baby eaglet.
---
---
"Having them by the school is really cool, because you can be outside and you see them flying around," fifth-grader Rachael Musharbash told The Mercury News. "They are our national bird."
---
American Bald Eagle eagles baby nesting nest Curtner Elementary School Milpitas benicia bridge train mount diablo park hawk jet point reyes pic.twitter.com/xWnIqZbOea

— ROGER THE BOX MAN (@ZBOXMAN94506) May 20, 2017
---
The parent birds work as a pair, providing food in the form of ducks and coots.
---
Nesting bald eagles have brought a stream of photographers to Curtner Elementary School here in Milpitas, to capture the shot of a lifetime. pic.twitter.com/torgz8l6Ib

— Jonathan Bloom (@BloomTV) April 4, 2017
---
Mom and Dad even seem to understand their place in U.S. history, timing a fly-by as students recited the
Pledge of Allegiance
, according to a local news report. "I don't even think a Hollywood scriptwriter could write that one up," Stan Szeto, a photographer and parent of a student at the school, told
KGO-TV
.
---
---
Meanwhile, in Tucson, Arizona, a great horned owl built a nest under a bush next to the front door of Robles Elementary School over spring break, giving the kids quite a treat when they got back from vacation.
"They get to study the life cycle of the owls and how long it will take before those eggs hatch," Principal Chandra Young told KGUN-TV.
And, in Avon Lake, Ohio, a resident pair of bald eagles named Stars and Stripes laid three eggs in a nest near Redwood Elementary School.
---
We have another egg at Redwood Elementary School! https://t.co/shBotpbVrf, @tjebert @AvonLakeSchools @SuperALCSD #myohioclassroom pic.twitter.com/aFqHec686S

— Julie A. Short (@jshortavon) March 6, 2017
---
Last year, the pair hatched two eggs at the same spot — and the couple are so popular that there's an eagle cam, so fans can keep an eagle eye on their fine feathered friends.
Get stories like these delivered straight to your inbox. Sign up for The 74 Newsletter