This article is one in a series at The Seventy Four which profiles the heroes, victories, success stories and randoms acts of kindness to be found at schools all across America. Read more of our recent inspiring coverage at The74million.org/series/inspiring.
As Veteran's Day approaches, history classes across the country turn to tales of bravery and valor, honoring the most poignant chapters of U.S. military history. At one Georgia school, however, the past leapt off the textbook page with a notable visit from three soldiers who served on the front lines of history.
Three World War II veterans from a nearby retirement home visited Kell High School in Marietta at the invitation of history teacher Elizabeth Etter. They spoke Oct. 30 to a group of 60 juniors at an event also Skyped to high school classrooms across the district, according to
a tweet by Marc Tartaro
, Technology Training and Integration Specialist at Cobb County Schools.
WWII Vets speak @KellHighSchool Thanks @MrsEtter_KHS pic.twitter.com/opVl6GzIiQ

— Marc Tartaro (@mtartaro) October 30, 2015
91-year-old Richard "Doc" Gambino, Army Staff Sergeant, told the gathered students that he tried to enlist seven times before finally being accepted. He served in General George Patton's 3rd Army and saw action in Utah Beach, Normandy, Alsace Lorraine & the Rhineland in France. He received a bronze star for his service.
Gambino also gave the kids a graphic description of American life prior the war, and what it was like to grow up during the Great Depression. Before enlisting, he said he worked for just $0.10 an hour at an apple and peach orchard. As captured by the
Marietta Daily Journal
, he told students, "I remember going to school with only cardboard taped to the bottom of my shoes. But I think the hard times we had prepared us for the war."
Fred Kramer, too, grew up during the Great Depression before becoming a private in the Air Force Reserve. Now 89 (and Etter's grandfather) he grew up in Kansas and also endured the Dust Bowl.
Kramer and fellow veteran James "Jim" Mehornay, 92, were just 17 years old when they enlisted, the same age as many of the students listening to their stories.
Mahornay was a Petty Officer, 1st Class in the Navy. He was stationed for a time in Guadalcanal in the Solomon Islands. He told the students it took his battleship 59 days to sail there, steering a zigzag route designed to dodge torpedoes.
The presentation concluded with a standing ovation from the students. Many were so captivated that they approached the trio afterward for more conversation — and photos.
Etter posted the day's PowerPoint lecture — complete with World War II photos and personal histories — to her personal website.
Read it here
.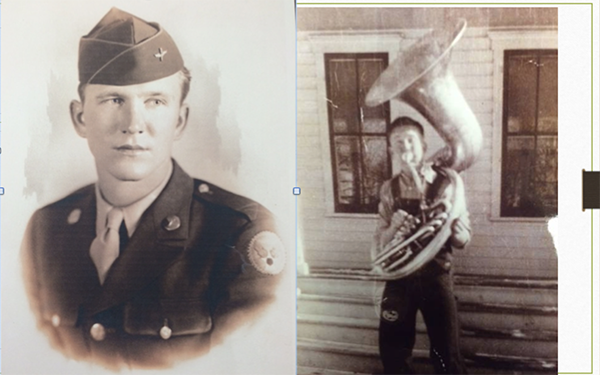 Get stories like these delivered straight to your inbox. Sign up for The 74 Newsletter