Updated July 5
June was a four-week celebration of the Class of 2016 at The 74, as we set aside an entire month to celebrate more than 20 committed, ambitious and hardworking high school seniors from across the country.
We met students from Kansas, Colorado, South Carolina, Ohio and beyond. Students who were graduating from traditional public schools, private schools and parochial schools. Some were headed to the Ivy League, others to community college, one to the military. But no matter where they were going, these students all shared a similar drive and determination to push themselves in their studies and future career goals.
These grads represent a mere fraction of the 74 million kids in America for whom a quality education is a right and necessity — and their accomplishments below speak for themselves. Without further delay, we're thrilled to introduce you to our Class of 2016:
CALIFORNIA – Lorena Ortega-Guerrero, Holy Names High School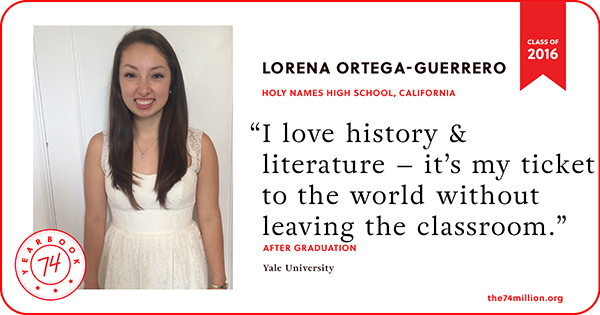 When Oakland's Lorena Ortega-Guerrero starts Yale University this fall, she is looking forward to breaking out of her comfort zone. "I grew up in the Bay Area and I've spent the majority of my life with other Latinos," she tells The 74, "so I'm excited to push my comfort zone and get perspectives from people who have lived very different lives from myself."
While Yale is quickly approaching, just two years ago, the 18-year-old graduate of Holy Names High School wasn't sure she'd be able to attend college. Ortega-Guerrero's parents, who were in the country illegally at the time, were facing deportation.
Ortega-Guerrero knew that if they left, she'd go with them to be able to stay with her family.
Luckily, an immigration lawyer was able to stop the deportation and keep her parents in the U.S., now legally.
Growing up in Oakland, education was always a priority for Ortega-Guerrero's family. "I've lived behind Oakland High School my entire life and I knew it wasn't the life I wanted" Ortega-Guerrero says. "We always pushed and strived to get whatever help we could to go to private school."
With the help of the Children's Scholarship Fund, Ortega-Guerrero was connected to the BASIC Fund, a privately funded organization that allocates partial tuition funds to allow students to go to the private school of their choice.
Ortega-Guerrero's parents enrolled her and her younger sister in a number of extracurriculars, including karate for self-defense, music lessons, and swimming.
"[My extracurriculars] were expensive, and people always asked my parents, why they were wasting their money on these classes," she says, but the loaded schedule taught her discipline which she could then apply to her studies. "I'm so grateful to my parents because discipline and time management has been something I've known since I was a kid."
Ortega-Guerrero says she pushes herself academically to show appreciation to her parents, for all they have sacrificed on her behalf. Her father is a handyman and her mother a house cleaner, so for Ortega-Guerrero, presenting her parents with a flawless transcript is her way "to pay them back. To show them their sacrifices are worth it."
The sacrifices paid off.
Now, despite her family's previous legal struggles, college isn't just an option, it's a reality. And after college? Giving back and helping others is on the agenda. "I want to do something I'm passionate about," she says, noting that it might include a career as a civil rights lawyer, inspired by the immigration attorney who kept her family together and in the United States years ago, and her dream of higher education alive.
---
KANSAS – Kylee Bishop, Ottowa High School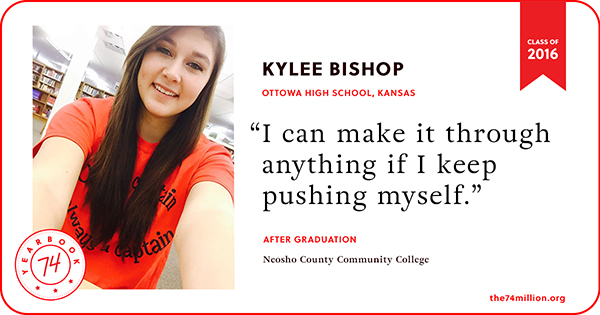 ---
ARIZONA – "AK" Akarachi Obinwanne Alilonu, Brophy College Preparatory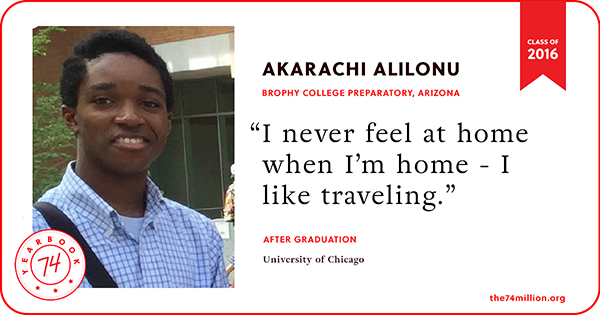 ---
VIRGINIA – Shanae Witherspoon, Bryant Alternative High School
---
COLORADO: Aislinn Vences, STRIVE Prep – SMART Academy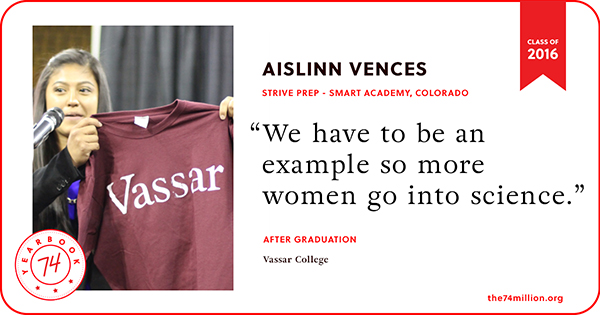 Aislinn Vences, 18, has been playing soccer since she was 5 years old. On a recent afternoon, Vences was on her way to a match when she used the game as a metaphor for how she approaches life.
"For me, soccer isn't just about having skill, though I like being out on the field and running around," she told The 74. "But it's really also about reading the field, seeing where a play starts, where it can go, and that's helped me handle situations off the field as well."
So when it came to picking a college to attend, Vences surveyed the field and weighed her options, before ultimately settling on Vassar College, a liberal arts school in Poughkeepsie, New York, where she received a partial scholarship.
"I was accepted to other colleges, but I picked Vassar because of the opportunities it offered me," she said, pointing specifically to her dream of studying science. Vences also hopes to join the women's soccer team at Vassar as a walk-on.
Vences is a graduate of STRIVE Preparatory Schools in Denver, Colorado, a charter network whose motto is "Where revolutionary education is commonplace and attending college is expected."
And pursuing education and pushing boundaries is a familiar feeling for Vences, especially as she hones in on her interest in STEM.
"The fact that there aren't that many women in the sciences motivates me to want to go into it more," she said. "I want my little cousins and my community to look up to me and say 'Oh, she's in an area that's male dominated and she's fine, so I can do it too. We have to be an example so more women can go into science than there are today."
Vences will be the first in her family to pursue higher education. Her parents immigrated to the U.S. from Mexico, where her father never finished middle school, and her mother didn't finish high school. As the first to not only graduate high school, but also go on to college, Vences hopes she is setting a good example for her three younger siblings.
"I want them to know they can go to college if they set their minds to it," she said. "College isn't just for some people who can afford it. If they really want it, they can do it."
---
SOUTH CAROLINA – Kenton Kelley, R.B. Stall High School
---
WASHINGTON – Kahealani Candido, Mt. Tahoma High School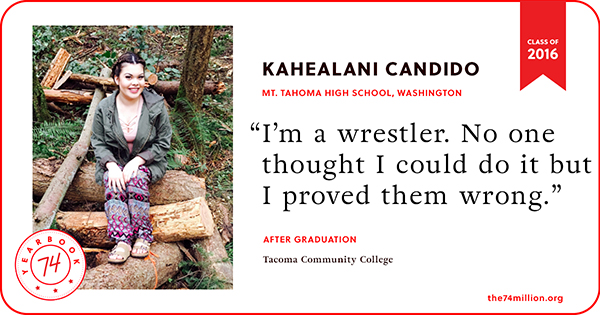 ---
ILLINOIS – Stephani Lopez, Phoenix Military Academy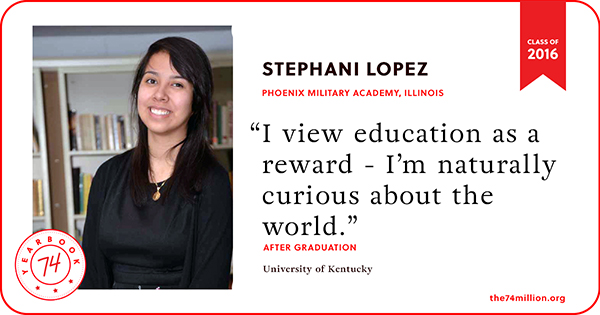 ---
PENNSYLVANIA – Frank Lopez, Louis E. Dieruff High School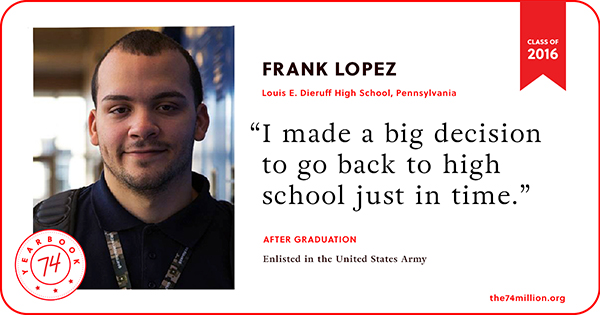 For 18-year-old Frank Lopez, graduating high school was not a given.
Just a few years ago, it wasn't even on his radar. After the deaths of his grandfather and his father, Lopez, who goes by Frankie, started to slack in school, saying the loss of his two male role models was a "huge hit."
"I became less and less motivated to go to school," he told The 74, "and then I dropped out."
Which is how in the middle of what should have been his sophomore year, Lopez found himself working in a meatpacking plant for pig legs.
"I had to chop pig legs open," he said, "chop them open and take the bone out, and then another leg would come in about five seconds. It was the same thing, over and over, just chopping."
The monotony of the job gave him plenty of time to think about his future.
"I realized I had to make a decision," he recalled. "Should I stay in a job where I would probably get injured, or should I go back to school, get my diploma and get a better job?"
(More from The 74: These 15 Amazing Teachers Made Our May)
He re-enrolled at Louis E. Dieruff High School in economically distressed Allentown, Pennsylvania with the help of Jon Fenner, program manager for Communities in Schools, a nonprofit that works with schools to keep students in class and on the graduation path.
"If I had called Jon even a week or two later, I wouldn't be graduating," Lopez said. "I made a big decision just in time."
It was the right decision, and one he took seriously.
"The Frankie I was before wasn't that nice," he observed. "Once I got back to school I was like, 'O.K., Frankie needs to ask this question, Frankie needs to pay attention, Frankie needs to graduate.'"
Lopez attributes this change in perspective to his girlfriend, Giselle Cruz, who he says was the one who got him back into the classroom.
"When I was working, she was always telling me to go back to school, pressuring me to. She was a big supporter of me and getting me motivated."
Congrats to Frank Lopez, graduate of the Class of the 2016. Good luck in the Army.
---
OHIO – Daniel Gonzalez, John Hay School of Science and Medicine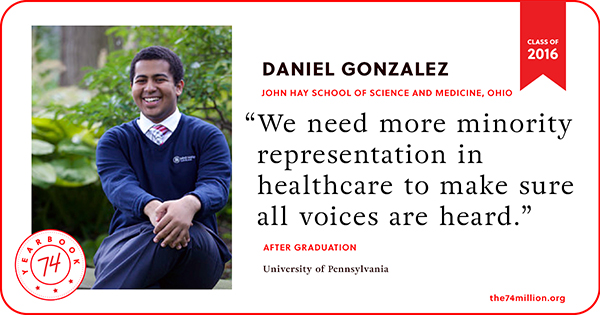 ---
DELAWARE – Monica Collins, William Penn High School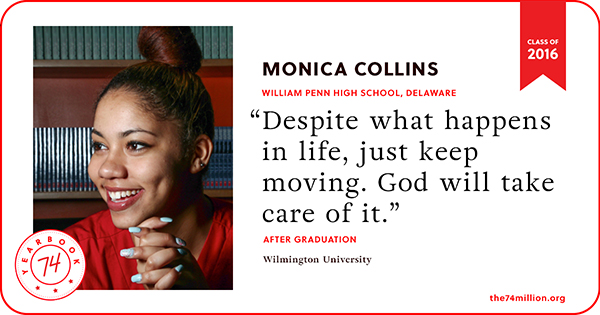 ---
ARIZONA – Sebastian Olea, Phoenix Country Day School
---
TEXAS – Miesha Bey, Plano East Senior High School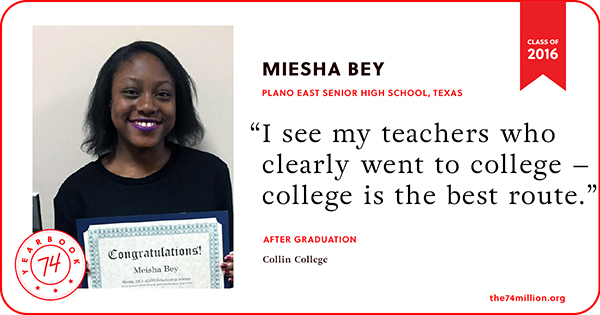 ---
NEW YORK – Emely Camilo Cuello, St. Raymond Academy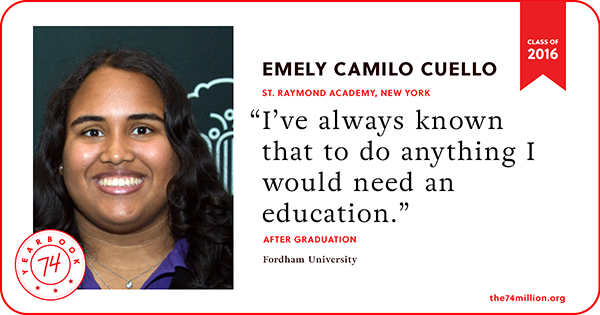 Growing up in Santa Domingo in the Dominican Republic, 18-year-old Emely Cuello quickly learned that the surest way to get access to even the most basic services (health care, etc.) was to have connections.
She did, and she knows she was lucky. "My parents had friends who worked at the hospital so when we were sick we could get the help we needed," she told The 74. Others, though, were not so lucky: "One time I saw a kid choking on something stuck in his throat, and nobody at the hospital was doing anything. It wasn't fair."
The injustice of this system made a lasting impression on her, and she's been determined to become a "voice for the voiceless" ever since.
Cuello arrived in New York City in 2009, committed to her schooling and is now graduating from St. Raymond Academy in the Bronx, which she attended through Student Sponsor Partners, a New York City-based high school scholarship and mentoring program.
This fall she will attend nearby Fordham University where she hopes to initially study social work as an undergraduate, and then ultimately go on to law school and become a lawyer to achieve her dream of helping others find justice.
She says she'll be the first in her family to attend college. Her parents didn't have the opportunity to go to college, and she was raised learning that for her to do well in life, she needed to focus on her education.
"That is something I have known since I can remember," she recalls, "so my graduating and going to college is amazing for my family."
Cuello has always been seen as a leader in her family — and a protector to those less able than she. "I'm both the youngest and the oldest sibling," she says. Her brother is older than she is, but has Down Syndrome, and Cuello sees herself as his advocate and protector.
"My mom would tell me that he may be older but I'm his big sister and have to protect him," she says "I took care of him while my parents worked, and it's helped me develop a sense of responsibility for the people around me."
---
DISTRICT OF COLUMBIA: Jessicah Ebiringa, Banneker High School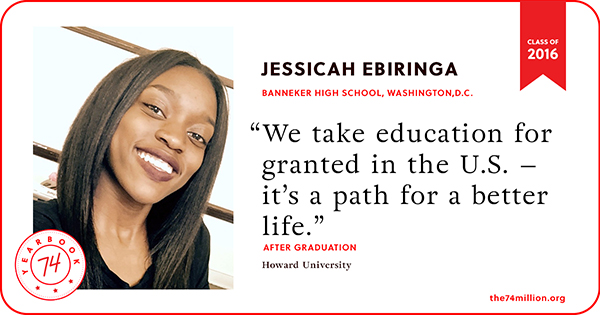 ---
NEW YORK – Victor Gautreaux, Cardinal Hayes High School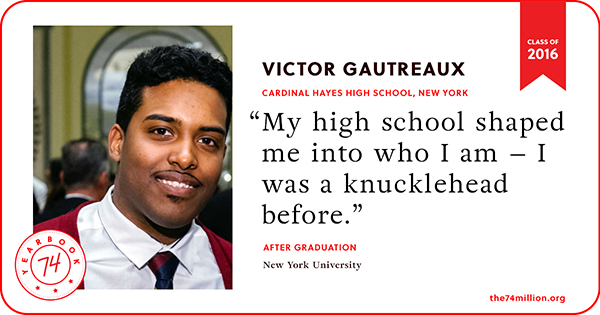 ---
CALIFORNIA – Jesus Serna, Animo College Preparatory Academy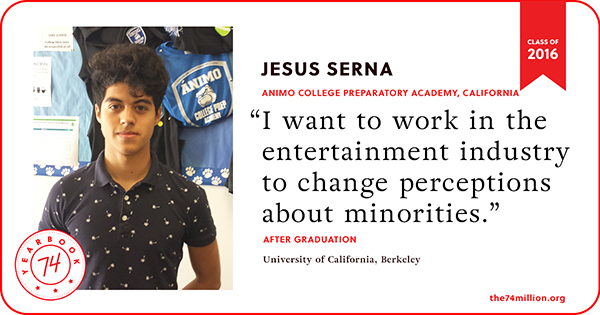 ---
TEXAS – Hector Garcia, South San Antonio High School
---
CALIFORNIA– Stephanie Martinez, Alliance Susan & Eric Smidt Technology High School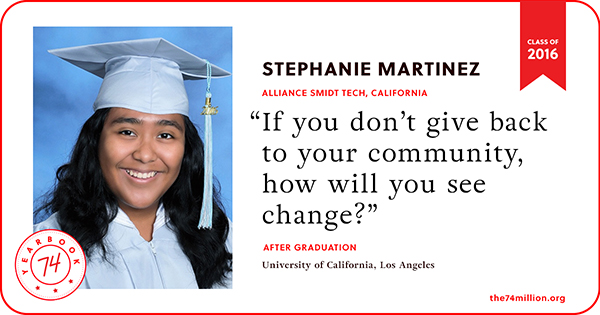 Seventeen-year-old Stephanie Martinez is looking to make a difference. Hoping to study either political science or Chicano/Chicana studies when she enters the University of California, Los Angeles this fall, Martinez knows firsthand the importance of political activism.
As president of her school's Junior States of America (JSA) club, the Los Angeles senior wanted to use the club for more than just debates and conventions, and instead help her surrounding communities. Through Martinez's leadership at Alliance Susan and Eric Smidt Technology High School, the JSA club has partnered with City Council members Gilbert Cedillo from District 1, Marqueece Harris-Dawson from District 8, and Curren Price from District 9 to help the council members with projects and campaigns around the city.
With Harris-Dawson they launched a 311 MyLA App campaign to promote street cleaning. The club spread out across South Los Angeles to test the app and report different street graffiti and trash that needed attending to.
"Community activism is important because it's where you live and where you came from," Martinez told The 74. "People complain about their communities and say 'Oh, there aren't enough resources,' or 'Oh, there's a lot of crime.' But if you don't give back how will you see change?"
Martinez grew up in the city's Lincoln Heights neighborhood and describes her childhood experiences as eye-opening, citing gang activity, police raids, and crime as the norm. Naturally, her mother was extremely protective, and Martinez says she still regularly walks her to the bus stop.
Martinez's parents hail from Guadalajara, Mexico and didn't pursue education beyond elementary school. But they wanted a different path for their daughter.
"I struggled with English when I was younger because it's not my first language," Martinez recalls, "But my mom would sit with me with a dictionary in one hand and my homework in another to try to help me. She knew I was the future."
And when it comes to the future, Martinez says she can see herself maybe becoming a lawyer, thinking often about how Latinos are represented in government.
But until then, she'll continue to give back to her community, while striving for change.
---
WASHINGTON – Fabienne Brutus, Federal Way High School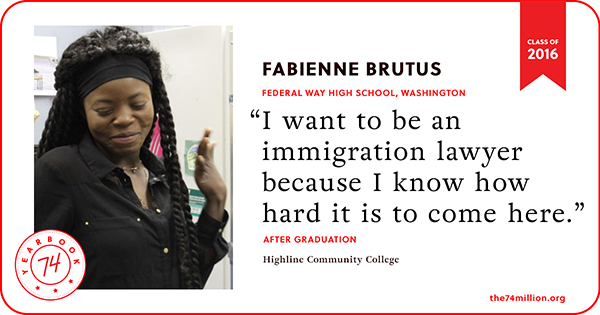 ---
TENNESSEE – Patrick Brown, Tipton Rosemark Academy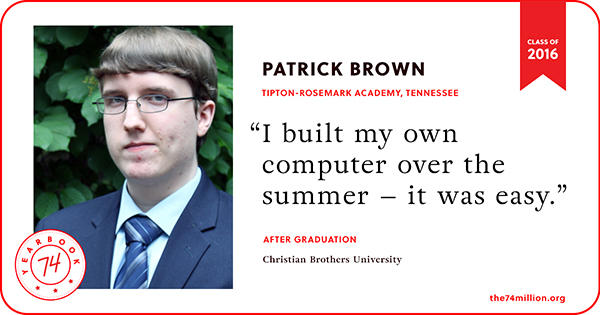 The 74's Inspiring Series: See all of our recent coverage of the heroes and triumphs inside America's schools
Get stories like these delivered straight to your inbox. Sign up for The 74 Newsletter