The 74 to Publish New Book 'The Founders' and Launch Oral History of America's Top Public Charter Schools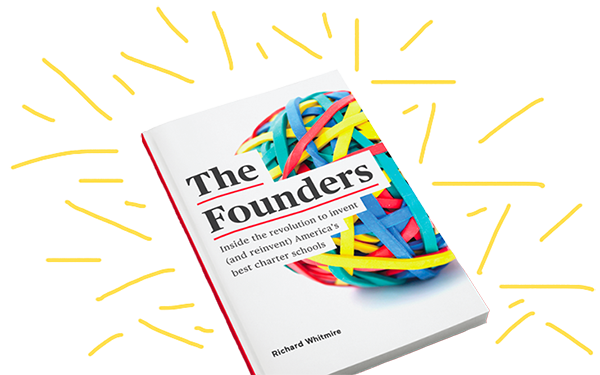 The Founders is now live!
Veteran journalist and author Richard Whitmire takes you behind the scenes with the founders, educators and disrupters who launched a learning revolution for America's most disadvantaged students in his latest project, The Founders: Inside the revolution to invent (and reinvent) America's best charter schools, a new book to be published August 30 by The 74.
The text will include a foreword by former Secretary of Education Arne Duncan and will be complemented by the launch of a website featuring exclusive video interviews and an oral history archive. (To get more information about the book's release, or where it can be purchased and downloaded, sign up for
The 74 newsletter
)
---
WATCH — A Preview of The Founders:
---
The Founders is the story of America's high-performing public charter schools — the game changers, the best of the best, the top 20 percent. It is part history, detailing the unexpectedly collaborative relationships that were instrumental in the expansion of these top public schools and part forward-looking; it's a story about the visionaries who reinvented American education for poor and minority children and are now reinventing it again.
Richard Whitmire, a senior education fellow at the Ewing Marion Kauffman Foundation, previously wrote for USA Today's editorial page, served as president of the National Education Writers Association and was named a fellow at the Palo Alto–based Emerson Collective, where he spent a year traveling and writing about charter school innovation.
He was previously the author of On the Rocketship: How Top Charter Schools Are Pushing the Envelope and The Bee Eater: Michelle Rhee Takes On the Nation's Worst School District. (Whitmire also wrote Why Boys Fail: Saving Our Sons From an Educational System That's Leaving Them Behind and coauthored The Achievable Dream: College Board Lessons on Creating Great Schools)
In The Founders, Whitmire shares countless untold anecdotes about the leaders, advocates, philanthropists and partners who helped spark an education revolution:
-How President Bill Clinton's seemingly innocuous trip to California's first charter school launched future Netflix co-founder Reed Hastings into a starring role in the state's charter expansion movement.
-How a conversation over Indian food with Secretary of Education John King changed the educational landscape in Boston.
-How a little-known meeting at Denver's Warwick Hotel changed the future for thousands of students.
-How a San Antonio philanthropist convinced some of America's best charter schools to move south and open in her hometown.
Whitmire also documents and analyzes some of the most pivotal chapters in the still recent history of high-performing public charter schools:
-How Joel Klein persuaded the best of the best to come to New York City – and changed the lives of a generation of New York City children.
-How Boston-based Building Excellent Schools founder Linda Brown became the godmother of many of America's top performing charters. (Read his previous
74 profile of Brown
)
-How a groundbreaking partnership between Uncommon Schools' Leadership Prep Ocean Hill and its district partner Brooklyn Landmark Elementary School is changing the lives of hundreds of low-income minority students.
Former Secretary of Education Arne Duncan writes in the book's foreword: "While the leaders of gap-closing charters are starting to push their gap-closing strategies to scale in school districts, some lawmakers and conservative commentators continue to resist the common sense investments that would elevate our education system — from universal early learning to better teacher preparation. I urge them to read this book, to visit these schools, and to meet with these charter pioneers — talk with their students and evaluate their work."
The book will be available August 30 for purchase online in an e-book format and available free for download as PDF. The 74 will also launch a
microsite
featuring documentaries, rare photos, and an extensive video archive featuring many of the key players in the book, including Joel Klein, Don Shalvey, Dacia Toll, Norman Atkins, and Steve Barr. Select excerpts will publish across The 74 network — including The74Million.org and California's LASchoolReport.com.
SaveSave
Get stories like these delivered straight to your inbox. Sign up for The 74 Newsletter