74 Interview: With Political Headwinds Rising, Constance Jones Becomes 1st African-American Woman to Lead Chicago's Noble Network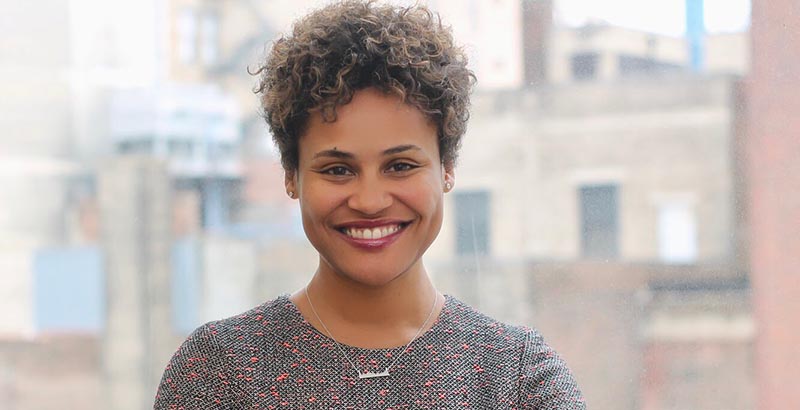 Last week, just a year after becoming president of Chicago's Noble Network of Charter Schools, Constance Jones was named CEO — the first African American and the first woman to head one of the nation's most academically successful groups of public charter schools.
Even as the number of black women leading charter school networks is beginning to tick up, Jones bears the distinction of taking over a system that — with 18 schools, 12,000 students, and a yearly budget of some $170 million — is one of the largest. Virtually all of Noble's students are of color and come from underserved communities, yet its schools comprise 10 of the top 15 programs on Chicago Public Schools' 2018-19 quality ratings.
Still, Jones faces some stiff headwinds. Last month, co-founder Michael Milkie stepped down amid allegations of inappropriate behavior with alumni, sparking two outside investigations. Incoming governor J.B. Pritzker has supported a moratorium on new charter schools, and it's likely that the winner of Chicago's mayoral election in February will be markedly more hostile to charters than the city's current administration. The city's school board, which is controlled by the mayor, is expected to renew Noble's charter in coming months. But going forward, relations could get rockier.
Meanwhile, some Noble teachers have been trying to unionize, which could put the network in the untenable position of having its core staff belong to the Chicago Teachers Union, which has worked to curtail Noble's growth.
Still, in her first interview since taking the top job, conducted jointly with Head of Schools Ellen Metz, Jones told The 74 that the successes of Noble's first two decades have left them well-positioned to deal with any turmoil.
This interview has been edited for length and clarity.
The 74: You serve 10 percent of Chicago's high school students. You're looking to make a large transition, to move forward without one of your founders. This is a huge undertaking.
Jones: There are lots of ways to talk about the transition that happened, but the one thing I want to make very clear is that the values that we had in terms of high expectations of character, high expectations of action, of leading from a place of truth and love, are the things that got us to this point today — and will be drivers for how we lead Noble going forward.
Noble is more than one person. We would not be here today if it were only one person who was accountable for the success. I think it's important to underscore the one constant over the past month since we've been navigating this transition is the 12,000 students that we serve. They're still here. They're still depending on us every single day.
I'm really excited that as we look at the next chapter, Noble is being led by two very strong, courageous women who lead from a place of love and compassion and high expectations.
What do you envision the next chapter is?
Jones: We're going to be very laser-focused on continuing our great work with college access and graduation. That is something that we've heard loud and clear is incredibly important to the students and families we serve. A college degree can open so many doors.
But I come from the belief that when you know better, you do better. We've learned a lot over the past 20 years. We now know that while it's great that Noble gets a lot of accolades for its college work, it's not good enough. On average, our students graduate college at four times the rate of students from similar backgrounds. That still means 60 percent of our students, roughly, are not receiving a college degree.
So we can't just rest on our past success. We have to think about, if our mission is truly dedicated to providing life opportunities for everyone we touch, what does that look like for the 60 percent of the students who are not graduating from college?
We are in the process of understanding and addressing why there are certain disparities. Even if you look within the communities we serve, specifically our black and our Latinx students, why are there certain gaps and outcomes?
How did those disparities come to your attention?
Metz: Noble has always used data to inform our decisions and our approaches. For years, Noble has sliced data by gender and race. And as Noble grew and expanded, Noble went from being a set of schools that served predominantly Latinx students to now a system of schools that serve roughly half Latinx and roughly half African-American.
Jones: So who we serve has changed, and with that, a spotlight has emerged. The disparities are glaring, and this is not something that we're proud of. Our black students are experiencing disparity and inequity in almost every measure that you can think of, whether it's GPA or enrollment in AP courses or discipline outcomes. We want to tackle it head-on. And the first way we do that is by talking about it. We can both praise Noble and critique it at the same time.
I don't want to paint a picture that our black students are floundering. We have black students who graduate who are doing incredible things. There's a danger in a single story, and I don't want to paint that.
Things outside your control likely will shift significantly in coming years. You will have a new political landscape in Chicago, where the mayor appoints the board that approves charter schools. You may have a new labor landscape. How do you anticipate meeting those challenges?
Jones: The politics comes with the job, but it is not the job. The job is serving students and families in Chicago. So here I am. I would hope that any mayor that we have takes off his or her political lens and simply comes to our schools, talks to our students, talks to our teachers and staff. Because without question, when people come to our campuses and they see the work that we are doing, if you choose not to support us, it's only because of politics.
And that's not acceptable, in my opinion. Noble is having such an incredible impact on the city of Chicago. If you're truly committed to Chicago being the best place it could be, you have to be committed to Noble. And if you're not, there's something else driving you.
If your teacher corps unionizes, will that present challenges?
Jones: Our teachers have the right to unionize. They have the right not to unionize. They have not filed a petition to date. My focus is always on ensuring that we are able to have the freedoms and flexibilities to meet staff and teachers' needs. That involves the direct engagement and conversation that is so critical to our work.
I've seen the Chicago Teachers Union vehemently combat our opening of schools. I've seen them combat and object to funding. A lot of the work I did as chief external affairs officer was advocating for funding for charters that are traditionally underfunded.
Those things give me pause. I've seen them criticize some of our teachers. That deeply concerns me.
Ultimately it is up to our teachers whether they choose to unionize or not. But based on my personal experiences, I don't think it would be best for Noble and our ability to serve our students and families and staff.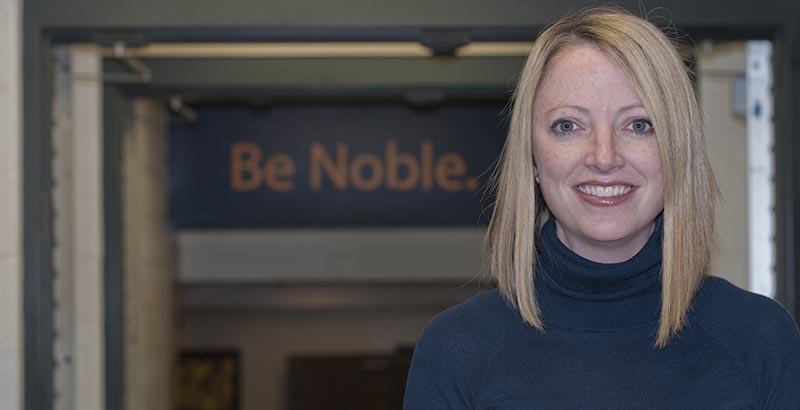 You two talk about doubling down on culture. My first visit to a Noble school, I was blown away by how orderly and calm it was and how focused everybody in the building was. How do you ensure student safety and foster a good learning environment while also reconsidering some disciplinary practices?
Metz: I believe that our results are not possible if students are not experiencing a safe and supportive school on a consistent basis. Schools across our city and state and nation are missing out on providing a consistent experience for young people.
What Noble does so well is this idea of curating a clear, consistent, positive, and firm experience. We have to be unapologetic about that. When you use language like "calm" and "orderly," you know those words can — though I think you meant them nicely — be a little bit loaded. They can get twisted into, you know, we've got just compliant children walking around and they're afraid.
I always push back on that because I believe that our students can really thrive in the consistency that we provide. What we're trying to do is take a lot of students who in many instances have been undereducated because of lots of reasons — low expectations, racism, the list goes on — we're trying to get them ready to be able to access college, to get that degree. In order to do that, we need to treat instructional time in a really sacred way.
We always want to make sure that our rules are grounded in purpose, not power. Schools and institutions have a tremendous amount of power inherently, right? There's a power dynamic at play that school officials, whether you're a teacher or a member of a culture team, need to be acutely aware of at all times.
What do you want people to know about the significance of the leadership of a black woman?
Jones: My family grew up in rural eastern North Carolina. My mom was the only one of eight kids to go to college. She was a public school teacher for almost three decades. My dad was a math whiz. He loved math so much that that's where I got my name from: Constance means the constant.
My parents were determined to set an incredible path for me because of their love for education, their love of learning. I grew up embedded in a culture of love and expectation. I am incredibly blessed. I would not be here today without the incredible courage that my parents took with being the first in their families to go to college. It's hard for me to look at a student and not see myself in some way. That motivates me in a way that nothing else can. I get so much joy out of seeing our students succeed.
You're always on, you know, even in those moments when you're just exhausted. I saw my mom always on as a teacher for almost 30 years. She was never off. I think about her. I think about the teachers and staff. They give their hearts and souls to this work. We've got to always show them respect and grace and compassion, because we're so blessed to just have them here trying to do right by kids every day. That should never, ever go unnoticed.
This stuff is deeply personal. And it's never-ending. It's also the best job ever.
Disclosure: The Eli and Edythe Broad Foundation provides financial support to the Noble Network of Charter Schools and The 74.
Support The 74's year-end campaign. Make a tax-exempt donation now.