The 74 Interview: Olympian Alex Rigsby on Winning Gold, Learning Through Sports, and Mentoring 4 Classrooms of Kids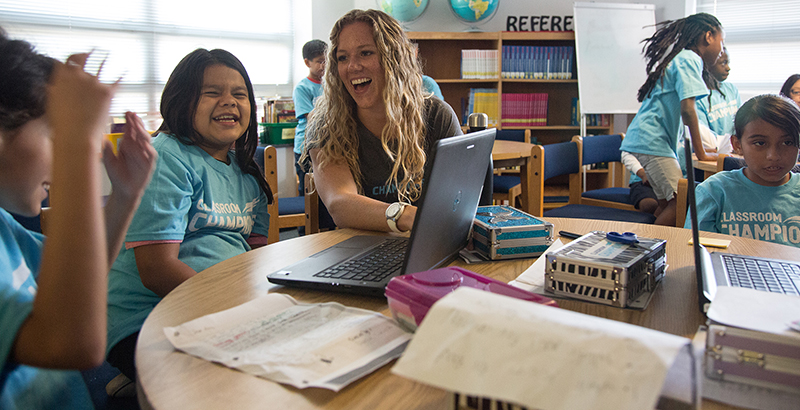 See previous 74 interviews, including 2017 Teacher of the Year Sydney Chaffee, former education secretary John King, and former secretary of state Condoleezza Rice. The full archive is right here.
The past few weeks have been a whirlwind for Alex Rigsby, goalie for the United States Women's Olympic Hockey team that just won gold in PyeongChang. That was certainly borne out the night Rigsby and her teammates were honored at a blustery outdoor NHL game between the Washington Capitals and the Toronto Maple Leafs at Navy-Marine Corps Stadium in Annapolis, Maryland.
The remnants of a brutal nor'easter were driving 30 mph winds as Rigsby took a few minutes to talk about girls' hockey and sports, and her work with Classroom Champions — a Canada-based nonprofit that pairs Olympic and Paralympic athletes with low-income classrooms for mentoring. The organization was founded by 2009 by Olympic gold medal bobsledder Steve Mesler and his sister, education researcher Leigh Parise. Rigsby, 26, is in her second year as a Classroom Champions mentor and works with four classrooms: two in Alexandria, Virginia, and two in Portland, Oregon.
This interview has been lightly edited for space and clarity.
T74: Do any mentors of yours particularly stand out when you look back?
Rigsby: I definitely had some coaches along the way that were huge mentors to me. I looked up to them so much growing up, and they are still a part of my life. One played professionally for 15 years — he is actually now going to be my future father-in-law. So he was a big mentor of mine, and he introduced me to Manon Rhéaume, who was an Olympic goalie and the first female to ever play in an NHL exhibition game. So people like that in your life who notice, see what you are striving toward, and you can look up to. Obviously, my parents were huge role models in my life. It is one thing I preach to my kids, too: If they can talk about what they want to achieve with their teachers, classmates, parents, and find those people in their lives to help support them and their goals, it goes a long way.
How and why did you get involved with Classroom Champions? What has it meant for you?
I got involved with Classroom Champions a couple years ago when the company I worked with, their client was on the board of Classroom Champions and recommended me for it that year. But at that time, the mentors were full, so I stayed in contact with them. A year later they reached out and they were able to get me on for a full-time mentor.
What has been the best part of that experience?
Seeing the impact it has on children. It is so fun interacting with them and seeing the progress they are making throughout the year and the different challenges that they accept and meet from what I give them every month. I was lucky to be able to see two classrooms of mine last year. It was just so awesome to see all the kids and how excited they were, and see them look to me as a friend and get excited to work on their goals and perseverance and all the different types of things we talk about.
How should kids, or a teacher or mentor encouraging them, think about their sport or passion and how far it could take them?
I think it is about setting goals for themselves. That is one of the biggest things we preach to them: It is about goal setting and chasing your dreams. Making sure that you are setting goals for yourself and knowing that you can work hard toward them, and when you put your mind to it you can definitely work toward it and achieve it. Sports are just such a great thing for any kid to have, and if they take it to a high level or not, they are going to be able to learn some lessons from it, and if they can take anything they learn and move forward with it, it is going to help them in their life.
Before the Olympics, your team was really active in pay equity. But the gold medal game was on at 11 p.m. on the East Coast. How did you feel about that in terms of getting girls more interested in hockey and sports, especially after everything you have accomplished and fought for?
Honestly, we were kind of in our own little bubble when we were at the Olympics, and we were so focused on what we needed to do to accomplish. We had one goal in mind, and that was to win the gold medal. What was so rewarding for us is how many people have come up to us since we won and said, "We stayed up to 2 in the morning! We watched overtime! We watched the shootout! It was incredible, it was inspiring!" That is so rewarding for us because all of us can remember being up late watching the women in the Olympics when we were younger. For us to be able to watch those women and now for others to come up to us and say that they watched our game and how inspired it was, is pretty incredible and very humbling.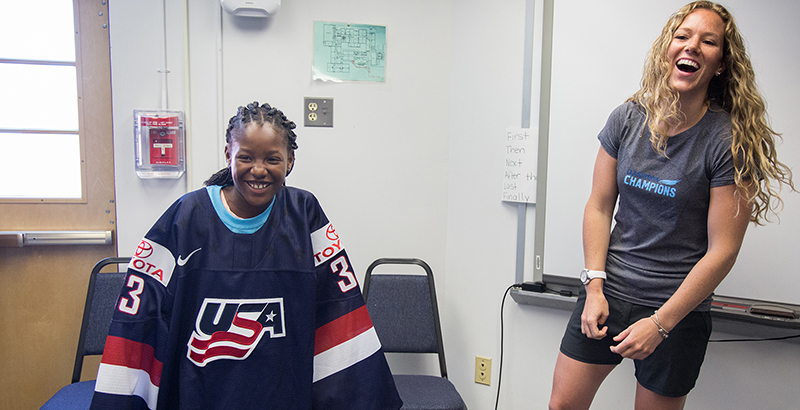 Your team is the first American women's hockey team to win Olympic gold since 1998, so it's the first one for a whole new generation of girls. What impact do you hope this has on girls and hockey, and girls and sports more generally?
The '98 team was our team's inspiration, and they had such a positive impact on the growth of women's hockey. We hope we can inspire the next generation of boys and girls like they did for us, and to increase participation in not only hockey but other sports as well. We hope we can be strong role models for this next generation and influence them to dream big.
Disclosure: Andrew Rotherham serves on Classroom Champions's international board of directors.
Support The 74's year-end campaign. Make a tax-exempt donation now.