The 74 Interview: Harvard's Karen Mapp on ESSA, Family Engagement, and How Schools and Communities Can Partner to Help Kids Succeed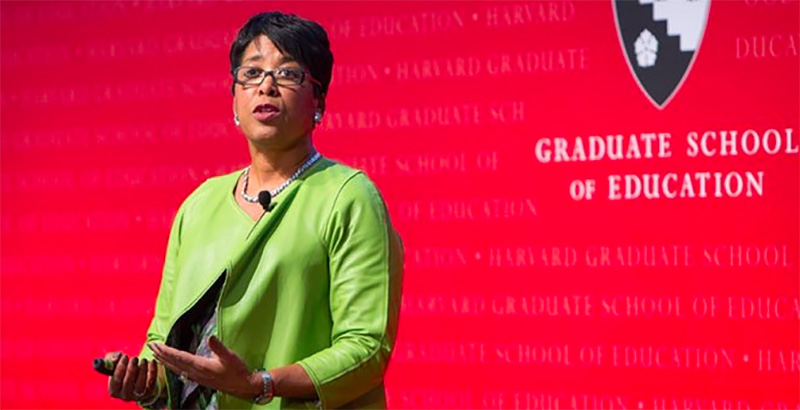 The Every Student Succeeds Act contains a subtle difference from previous legislation when it comes to connecting families with schools: The phrase "parental involvement" has been changed to "family engagement."
Subtle, but important, said Karen Mapp, who pushed for this change during her time as a consultant for the U.S. Department of Education in 2013, as ESSA was being crafted. Now a senior lecturer at the Harvard Graduate School of Education, Mapp said she'll never forget an encounter she had while she was deputy superintendent of family engagement for Boston Public Schools. A grandmother told her about attending a parent-teacher conference for her granddaughter. The teacher asked the grandmother when the real parents were going to show up.
"Any adult caretaker that rises up to take care of our children, those people should be included and counted and valued and respected," Mapp said.
It's just one of the many adjustments she has recommended as to how family engagement is addressed in schools. It's a critical field, as research shows that quality family engagement can prepare students for college, improve high school graduation rates, and better student achievement.
The heart of this work involves treating families as true partners, with valuable insight into their child's learning, Mapp said. Here's how she recommends schools do that.
This interview has been edited for length and clarity.
The 74: How would you describe the state of family engagement in schools today?
Mapp: I'm very optimistic about what I'm seeing around the country. I'm seeing quite a few school districts realizing that family engagement — and I'm describing that as real, respectful partnerships between families and school staff — they are beginning to see this as an absolutely essential ingredient to not only student improvement, but also school improvement.
What do you mean by school improvement?
Not just grades and test scores, but social-emotional, attendance, and students' attitudes about school. When you look at all the benchmarks that schools are trying to achieve, school personnel realize that to hit the mark, they need to form strong partnerships with families.
What does the research say about why family engagement is important?
It's hard to summarize because there's over 50 years of research. Johns Hopkins did a recent study on how, when families and school staff meet through an initiative called the Parent Teacher Home Visit Project — this is a home visit that is very much focused on building trusting and respectful relationships between teachers and parents — their [children's] attendance rates go up and these are children who are more likely to be on or above grade level by third grade.
Every year there's more research, both quantitative and qualitative, on the impact of various types of initiatives, because family engagement is a broad label. What I'm also very excited about is, over the past 10 to 15 years, we've had researchers working on identifying the most effective forms of family engagement. For many years we've had schools make assumptions about what were the best forms of engagement. Some of the most common and traditional forms, like helping with homework, back-to-school night, fundraising, coming to events at school, we're starting now to be able to rate the value of improving outcomes for kids and schools. What we're starting to see is, the more the strategy partners families and staff in a way that they're familiar with the learning and developmental goals and outcomes that the school is trying to reach, those are the kinds of strategies where we see effective results. Some of the things we've done for hundreds of years around family-school partnerships have actually turned out to not be the most effective.
What are some examples of practices that should maybe be retired?
I'm not so sure I would use the word "retired"; they have to be repurposed. They have to be changed and shaped. For example, a lot of times schools will say, "Read to your kids at home." There's research that shows that families who read with their children, those children go on to be better readers. But we have to be careful about what we define as reading. Say, for example, a family doesn't speak English, and then we send home something that says, "Read at home," and parent says, "Well, I don't speak English, so maybe my participation in my child's reading isn't valuable." [Schools] don't explain to parents, "No, no, that's not true." If you ask your child questions about the reading, share experiences, your cultural traditions, traditional recipes, that all counts as a literacy activity. It doesn't just have to be you picking up the book and reading it to your child. We need to expand what we mean so that more families feel included and feel as though they can participate.
What are some of the best family engagement practices that you recommend for schools?
We have to be careful about having one list and circulating it, because when I work with school systems, I like to learn more about the context. Where is the school? What are the backgrounds and the demographics of the children? What are their goals? Those answers help shape the family engagement strategy at a school. We developed something called the dual-capacity framework for family-school partnerships [in which schools focus on training both families and teachers to partner in educational improvement] in 2013 under the auspices of the U.S. Department of Education. We identified some of the effective practices that should be built into any family engagement strategy.
One of the foundational pillars of effective practice is that whatever initiative a school or district designs, there has to be a real intentional focus on building relationships of trust and respect with families. The relational piece is the glue that holds the rest of the initiative together. Having trust is really important for any initiative to be sustained.
Another foundational pillar is that the initiative needs to be linked to learning. These more traditional strategies, when you asked parents and teachers, "Was there any information shared with families about what it is the children should know and be able to do?" you find out that wasn't shared. The families leave not knowing anything more about what children should know for their age. The school goals were never shared.
Another pillar is that it needs to be collaborative with families. Family funds of knowledge have to be respected and seen as valuable. It's a two-way street: The school isn't just talking at families, but doing work with families.
Another pillar is, whatever we do needs to be interactive. I'll ask schools, when they have events for families, is there an opportunity for families to get a chance to practice something. Not [only] watch the teacher or child, but actually get to participate in some sort of learning activity so that they can learn a new skill or tip or tool to support their child's learning.
Last but not least is an important pillar: that this be done through an asset-based developmental lens versus a deficit lens, where the communities are looked at as people who need a service or need to be fixed versus a community who actually has a lot of assets that the school staff need.
Those are the five [pillars]. Another key pillar we're learning about is that family engagement needs to be culturally responsive and respectful.
What specific tools have you seen work in different places?
I've written a book called Powerful Partnerships with Ilene Carver, who was a teacher here in Boston, and Jessica Lander, who is a teacher in Lawrence, Massachusetts. The book is for teachers. They have specific questions about what do I do from August to June to build these partnerships. One of the things we wrote about is changing the traditional parent-teacher conference into something called a family conference. This is where the student has a chance to weigh in and talk about his or her strengths and challenges, and then as a group the family and the teacher and the student talk about some of the ways we can work together to ensure your success. The more traditional parent-teacher conference usually leads to heightened anxiety for both the teacher and the parent. But a family conference is a real dialogue and is an opportunity for the family to express themselves. The teacher asks, "Tell me what you've seen and what you think are your child's strengths." Sometimes they ask a question like, "What are your hopes and dreams for your child?" The student gets a chance to say, "Here are my strengths and challenges and things I would like to get better at." And then there's a compact or summary of what we can all do together to help the student reach their goals. It's a lot more of a shared-responsibility type of event. Families report that they like this style of conference much better; teachers like it better because it's built through a dynamic partnership versus the school being the expert and the parents just listening. It's taking an already existing event and changing it so it's more effective.
The Every Student Succeeds Act has been more supportive of family engagement. Why is this federal policy a step forward?
We were able to put more of the dual-capacity framework into ESSA, and there were few shifts in terms of how the budget for districts would be distributed among the districts and schools. We wanted to see a little bit more money rest with the new district positions for family engagement. We did want to see the set-aside be increased from 1 percent to 2 percent, but we were not successful with that.
There's a lot more language about collaboration between parents and staff. There's more language about providing capacity-building training for staff around family engagement. We were able to get the language changed from "parent involvement" to "family engagement." Although some people think that that's just semantics, we think it's language that's much more inclusive. Maybe these things seem like small steps, but the more we can do to signal that we're really talking about family engagement and family, meaning any adult caretaker that rises up to take care of our children, those people should be included and counted and valued and respected. The law now says "family engagement," and the engagement part connotes the kind of commitment that we're looking for.
Do any states stand out to you as leaders in family engagement best practices or policies?
I'm proud of Massachusetts, because some years back they did include proficiency in family engagement in our state educator evaluator standards. New York state is another one that has done that. So the next frontier is getting language about family engagement and community engagement proficiency built into the teacher credentialing system, because that would push our teacher preparation institutions into including capacity-building around family and community engagement in their training. That's the next frontier. We have had a lot of teachers tell us they haven't gotten any training in this area, and that can lead to ineffective practice.
What are some challenges in recommending family engagement to schools?
People have not been trained. A lot of times they lack the confidence. A lot of unfortunate bad practices have been handed down year after year: for example, the way that we do parent-teacher conferences. The more we can start to expose people to effective practice, the more we'll be able to implement and sustain programs that work. I don't think this is a lack of will, necessarily. I think people are fearful because they haven't had the experience and sometimes they end up having a bad experience, which, understandably, makes people less inclined to try again. If we can build the capacity of our professionals to do this work in a much more effective way, they will enjoy it more and want to do it and be more passionate about it.
If a teacher came to you for advice on how to better engage families, what would you say?
This is a skill that has to be learned over time. It's not something that somebody can give you a sheet and say "do this." It's something that people have to practice. For example, in Powerful Partnerships, we have reflective exercises, writing about your core beliefs about families and family engagement, self-interrogation, self-reflection, and then we have small, low-hanging-fruit changes that you can make to your practice and then move to things that might be more comprehensive. People want to say, "Just give me the list of things that I can do." It's not quite that easy. Like with anything else, it comes with practice, it comes with learning, it comes with reading. Some of these districts are getting family engagement coaches who go to schools and coach their staff. I have a workshop series that Scholastic books coordinates, and it's for trainers to go out and actually help school teams learn the practice of family engagement. I don't want you or others to think that this is a matter of getting a checklist and saying, "Oh, I did this." This is about changing your heart and your mind.
Do you find most teachers really do want to engage families? Are they often distracted by all the other things they need to do?
Most teachers I've met absolutely are very passionate about wanting to engage families better and say, "We don't know how to do it. We need help." Even some of the teachers who are a bit reticent in the beginning, when they see the results, they [say], "Show me more." I've seen teachers be very enthusiastic about this, especially when they realize engaging families makes their jobs easier, not harder. Yes, the investment in the beginning is time-consuming, especially because teachers already have so much on their plates. But teachers have told me, "If I had known back when I started teaching that engaging families was going to make my job so much easier and fulfilling, boy, would I have done it earlier." Some people feel like family engagement is a burden or an add-on or an extra; these teachers will tell you, "This is an absolutely integral part of my teaching practice."
Support The 74's year-end campaign. Make a tax-exempt donation now.