The 74 Announces Launch of TopSheet.com, an Education News Aggregator & New Daily Newsletter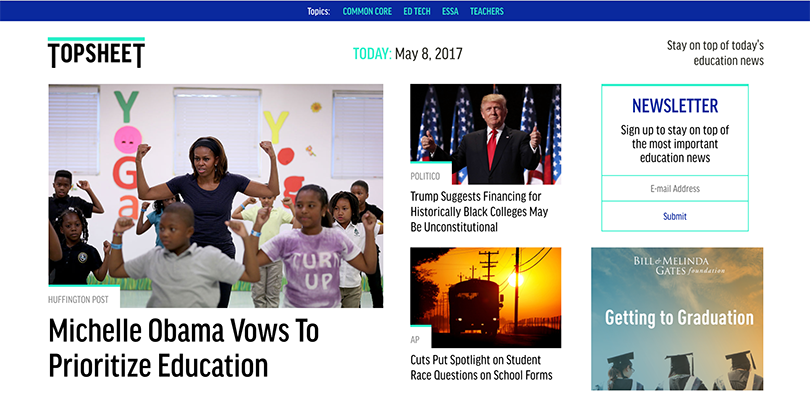 The fast-growing education news publisher
The 74
is expanding once again with the launch of
TopSheet
, an education news aggregator and daily newsletter. Led by RealClearEducation founders Andy Rotherham and Emmeline Zhao, TopSheet will keep readers ahead of the curve and foster a smarter dialogue by highlighting the most consequential education news and analysis from leading journalists and columnists across the country. You can see the inaugural
Tuesday lineup at TopSheet.com
, and both read and
sign-up for the TopSheet morning newsletter right here
.
TopSheet is the latest addition to The 74 news network, which now includes The74Million.org, LA School Report, a book-publishing vertical, the nation's first Spanish-language education news site, and a social media video unit that's reached millions of viewers with a growing library of documentaries, expert interviews and ed policy explainers.
"The 74 has been recognized for its ability to explain for readers, from parents to politicians, the pressing education debates and issues of the moment," said Steve Snyder, 74 Media editorial director. "Our new platform TopSheet will be a real-time filter for daily headlines — the first morning newsletter you'll want to read to find the signal in the noise and the site you'll want to bookmark for updates throughout the day, all curated by Andy and Emmeline, whose instincts about what matters are second to none."
TopSheet will provide a bird's-eye view of national education policy as its editors diligently monitor changes across the country on a daily basis — at the local, state, and national levels. Its unique morning newsletter will not only deliver the day's top headlines and analyses but will also dig deeper to debrief readers on education news that flew under the radar.
"There is a lot of education content produced today, but it varies widely in quality and relevance. So we wanted to make sure there was a daily tip sheet that gave leaders and decision makers the information they need to know fast, and a website to support it with a curation of important news," Rotherham said. "This is like the Hair Club for Men: We're not only producers of this material; we're consumers. Essentially, we're reading a lot of content so you don't have to if you're in a hurry. We need that so we know what we're looking for in this fast-paced and media-saturated environment."
Zhao, who oversees special projects at The 74 and will be the daily editor of TopSheet, said, "TopSheet will provide an impactful, clean, and concise experience in three major ways: It will be about filtering and making sense of the sea of information and voices on education by curating for quality, relevance, and newsworthiness. It will also trim the distracting visual noise that dominates news sites today with a simple and elegant single-page interface. And, at a time when education has become especially politically charged, TopSheet will not be about politics or ideology, but about what matters most — intelligent, fact- and evidence-based pieces that allow lawmakers and voters alike to make informed decisions and do their jobs effectively."
Before joining The 74, Zhao edited RealClearEducation, led the education vertical at The Huffington Post and covered the economy for The Wall Street Journal. She wrote for CWSJ, exploring the intersection of the American and Chinese economies and Chinese students in America, and did translation and multimedia work for FTChinese.com.
Rotherham is a senior editor and board member of The 74 and partner at Bellwether Education Partners, a national nonprofit organization working to support educational innovation and improve educational outcomes for underserved students. He leads Bellwether's policy analysis and thought leadership work. He also is a contributing editor to U.S. News & World Report, writes the blog Eduwonk.com, and is co-publisher of "Education Insider," a federal policy analysis tool produced by Whiteboard Advisors. Rotherham previously served at the White House as special assistant to the president for domestic policy during the Clinton administration, as an education columnist for Time, and as executive editor of RealClearEducation.
Since launching nearly two years ago, The 74 has rapidly expanded its footprint in education news publishing. In January 2016, The 74 announced a partnership with LA School Report, which now serves as The 74's West Coast bureau. Several months later, The 74 launched LA School Report Español, a Spanish-language news site covering Los Angeles public schools. The 74 also recently published its first book, The Founders: Inside the Revolution to Invent (and Reinvent) America's Best Charter Schools, by veteran journalist and author Richard Whitmire. The book takes readers behind the scenes with the founders, educators, and disrupters who launched a learning revolution for America's most disadvantaged students. Lastly, The 74 has expanded its education video series "The 74 Explains," which provides viewers with a short breakdown of issues that matter most in education.
Get stories like these delivered straight to your inbox. Sign up for The 74 Newsletter