This article is one in a series at The Seventy Four which profiles the heroes, success stories, unexpected surprises and randoms acts of kindness to be found at schools all across America. Read more of our recent inspiring coverage at The74million.org/series/inspiring.
September was a month of change at schools. The humid days of summer slowly lent themselves to the crisp fall air, and empty classrooms once again filled with the energy of young minds being expanded. But one thing didn't change: the positive impact teachers, administrators and communities are having on students across the country.
This month, we profiled the
South Carolina high school that opened a new internet cafe
, the
outdoor classroom movement
, and the
California school that's mobilized to help a rival
in the aftermath of a devastating wildfire. But those are just three of the hundreds of inspiring stories we found. So grab a latte and find a comfy seat. It's time to warm your heart with 13 more wonderful stories that broke in September (also check out our inspiring round-ups from
August
and
July
).
---
---
September 9: Lawyer donates 23,000 backpacks to Detroit elementary schools, one for every student —
The backpacks were full of school supplies, and educators said the donation goes a long way towards leveling the first-day-of-school playing field for students from low income families. Attorney Mike Morse said he wanted the students to know that there are people in the community that care about them. (Read more:
Good News Network
)
---
---
September 16: Retiring 60-year-old high school teacher performs 'Uptown Funk' with her students on the Ellen Show — After twenty years of teaching dance at a high school in Canada, Shirley Clements celebrated her retirement by performing a choreographed dance to one of the hottest songs of the year. The original performance was recorded and uploaded last spring. The video went viral, catching the attention of America's favorite dancing talk show host, Ellen Degeneres, who invited Clements to her show to perform. Degeneres then presented her with a $10,000 check from Shutterfly to help open her own dance studio. (Read more: Huffington Post)
September 7: Wisconsin middle school student launches fund to give educational travel opportunities to kids —
Eli Pollak, an eighth grader at Hamilton Middle School in Madison, Wisconsin, named his fund Travel to Learn. He is the only student who has proposed a fund to the Foundation for Madison's Public Schools, which is now the fund's administrator. So far, Eli has raised $5,000 and is hoping to fund the first trip next year. (Read more:
Madison.com
)
---
---
September 1: Maine elementary school students take the Walking School Bus to the first day of class — Rowe Elementary School in Norway, Maine only has three buses, so they were looking for a way to cut down on transportation costs. They decided to implement the Walking School Bus, a nationwide program designed to help kids walk to school. Students who live within a half mile of Rowe can now walk to school in groups supervised by parents and trained volunteers. (Read more: Sun Journal)
September 14: Illinois high school coach prevents bus accident after driver passes out —
Don Fredericks, affectionately known as "Coach Freddy" by the students at Geneseo High School, took control of the wheel and prevented the bus from colliding with oncoming traffic. The bus was carrying the school's cross country team. No one was injured in the incident, and the bus driver was released from the hospital a few days later. (Read more:
WQAD
)
September 19: Reno nonprofit hosts clothes shopping day for homeless teens —
Project 150 collected clothes, shoes, and school supply donations from the community. They threw open their doors to area homeless and displaced teens, who were given two shopping bags to fill up with the free goods. (Read more:
KRNV
)
September 19: Maryland high school raises $30K to buy new wheelchair for student with cerebral palsy —
A student club at Watkins Mills High School in Gaithersburg, Md. called Learning for Independence, held a bake sale and set up a GoFundMe page to raise money for 19-year-old Ibrahim Samia, who has been using a donated wheelchair for six years. Any leftover money will be used to help other disabled students. (Read more:
WUSA
)
September 3: Two student body presidents in Utah unite students at their respective high schools to fight hunger —
When Raleigh Sorbonne from Skyline High in Salt Lake City and Danny Naylor from Olympus High School in nearby Holladay realized they would both be student body presidents at their respective schools, they decided to organize for a common cause: fighting hunger. They used a locally-made app called Time Machine, which combines tasks and social media to raise awareness for various causes. Students have donated over 20,000 minutes of time to the Utah Hunger Games campaign, which benefits the Utah Food Bank. (Read more:
KSL.com
)
---
---
September 2: Motorcyclists escort student with down syndrome to his first day of high school —
Friends of the boy's family were worried that he would be bullied at his Salisbury Township, Pennsylvania school, so they took to Facebook to ask for help. Local motorcycle clubs learned of the concern and organized to escort him to school the first day. (Read more:
FOX 8
)
September 14: Michigan elementary school serves up student-grown vegetables for lunch —
Since 2011, students at Aspen Ridge Elementary in Ishpeming Township have been growing vegetables in a hoop house. Now, the school is serving up the vegetables, including tomatoes, carrots, and potatoes, in its salad bar. (Read more:
WLUC
)
September 13: New Jersey software company rushes to combat state's brain drain through recruiting high school students with internships and scholarships —
Commvault Systems, headquartered in Tinton Falls, has watched many an employee leave the Garden State for hot tech spots like Silicon Valley. They're tackling the problem by hiring local high school students to work at the firm. The students are offered paid internships, a $2,500 college scholarship, and office perks such as foosball and ping pong. The company hopes the students will return after they graduate from college. (Read more:
USA Today
)
---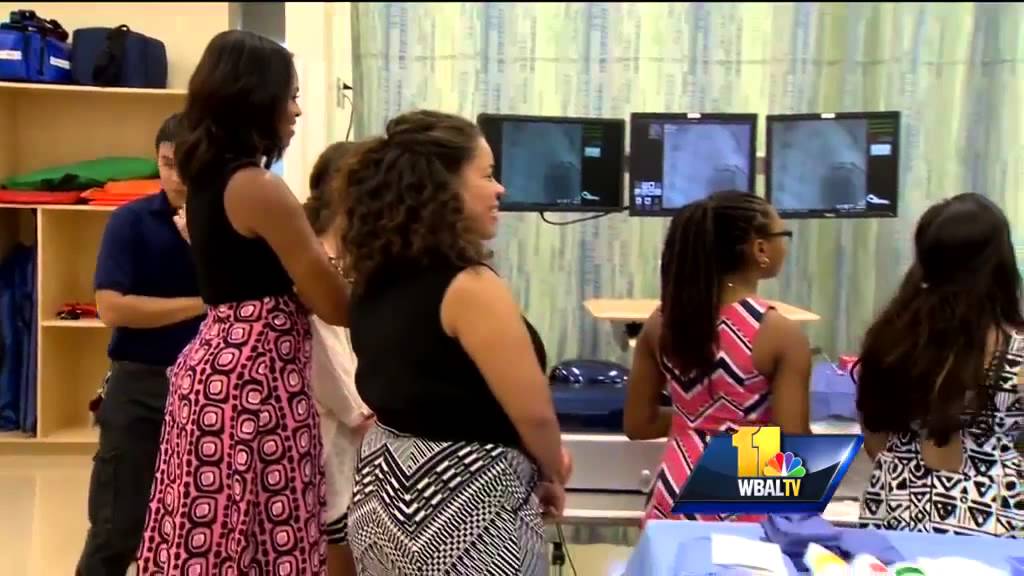 ---
September 17: Michelle Obama encourages Maryland high school seniors as they explore higher education options — The First Lady encouraged Howard County students to relax and to consider the many choices available to them. The visit was part of her Reach Higher initiative, launched in 2014 to assist students and school counselors in exploring college opportunities and funding. (Read more: The Baltimore Sun)
September 12: Transgender teen crowned homecoming queen at Missouri high school —
Just a few years ago, Landon Patterson sat in the football stands at Oak Park High School, thinking about her fears of transitioning. This month, having fully transitioned this year, the senior was voted homecoming queen, a signal that her peers accept her as female, a dream come true for the Kansas City teen. (Read more:
FOX 4
)
Get stories like these delivered straight to your inbox. Sign up for The 74 Newsletter