The 10 Most Memorable Teachers Union Quotes of 2022
Politics, teacher pay, student enrollment, learning loss, staff cuts — teachers union officials, activists and critics had a lot to say in 2022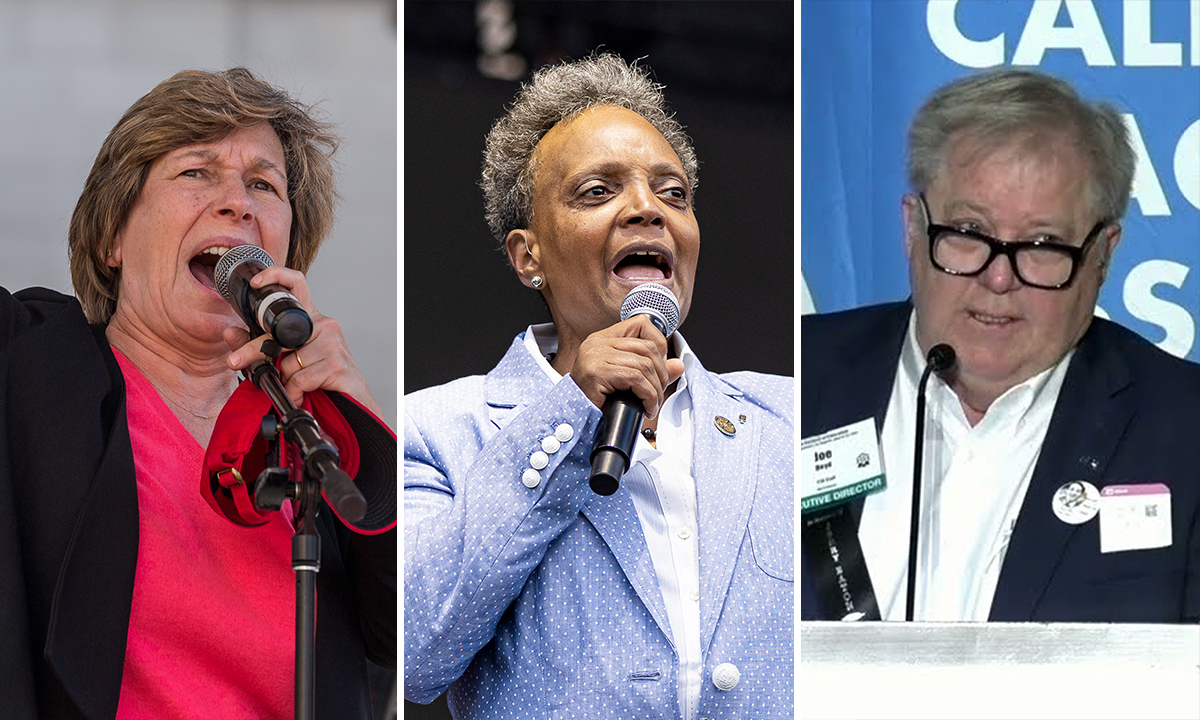 Support The 74's year-end campaign. Make a tax-exempt donation now.
Teachers union officers and activists had a lot to say in 2022 — and others had a lot to say about them. Here are the 10 most memorable teachers union quotes of 2022, in countdown order:
10. "I understand that we have elections, but at the end of the day, we need politics out of schools." — Randi Weingarten, president, American Federation of Teachers (Feb. 7, Politico)
9. "Anybody who believes this teachers union is merely a union hasn't been paying attention. They believe themselves to be a political movement or political party, and that is the lens through which we have to view every one of their actions." — Lori Lightfoot, mayor of Chicago (Jan. 5, Politico)
8. "And it's going to get worse, as more and more people look at other ways of educating their children, particularly with the Hope Scholarship, and getting money for that. You're going to see decline in all the counties." — Dale Lee, president of the West Virginia Education Association, discussing declining public school enrollment and staff cuts, referring to the state's school choice program. (May 23, WCHS-TV)
7. "What I know from my experience with these negotiations is 6,000 educators stood behind every word in this contract." — Uti Hawkins, vice president of the Seattle Education Association, commenting on the agreement reached after a week-long strike. Only 4,000 members participated in the ratification vote, and of those, 29% voted against it. (Sept. 28, KOMO News)
6. "In fact, there is little evidence in data from the Ohio Department of Education, the retirement systems or our membership suggesting a mass exodus. To the contrary, most of our colleagues are staying." — Scott DiMauro, president of the Ohio Education Association (December-January Ohio Schools)
5. "Greco recalls a recent conversation with a teacher who said, 'I live 13 miles from here, and I'm ready to leave, and I'm on top pay. The road construction on the turnpike is ridiculous, there's no parking.' Says Greco, 'These external factors are forcing people to leave. I've heard that from many, many people.' " — Ron Greco, president of the Jersey City Education Association (Nov. 16, Jersey City Times)
4. "We will not celebrate scraps when thousands of educators in this city are struggling to afford to live doing the job they love." — Arlene Inouye, secretary of United Teachers Los Angeles. The district has offered a 23% increase in compensation over the next two years. (Sept. 10, Hey SoCal)
3. "National Education Association President Becky Pringle doesn't use the term 'learning loss' because she said students are always learning, even if not in the ways policymakers typically measure." — from WTTW, Chicago's PBS station, on June 30
2. "Yes, educators, we should be starting at $100,000 and then moving up that scale." — Danette Stokes, president of the United Education Association of Shelby County, Tennessee (Oct. 26, Fox13 Memphis)
1. "Our power only matters if we organize to create the kind of conditions in our schools that will retain and recruit the next generation of union educators. This includes a minimum six-figure salary — now. It includes fully paid health care without caps. And it includes a fully paid retirement where we don't have our members having to contribute 10% or more of their salaries." — Joe Boyd, executive director of the California Teachers Association, in a May 2022 speech to the union's State Council (May 22, YouTube)
Mike Antonucci's Union Report appears most Wednesdays; see the full archive.
Support The 74's year-end campaign. Make a tax-exempt donation now.