Texas College Students and Professors Feel the Effects of Halted Study Abroad Programs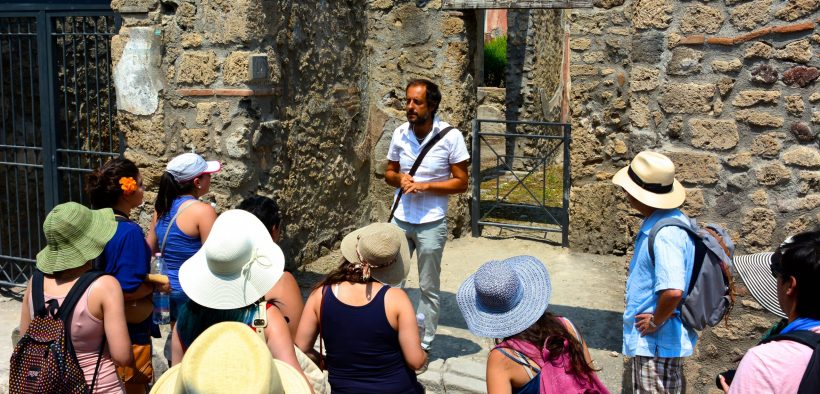 Support The 74's year-end campaign. Make a tax-exempt donation now.
For two years, Victor Hurtado studied and researched the Italian Doge's Palace as an undergraduate art history major at the University of Texas at El Paso.
And in the summer of 2018, he saw the palace in Venice, Italy, with his own eyes.
"I just stood there awestruck. I was looking at that building and I couldn't speak for a minute," Hurtado said. "I had studied it. I had read about it. I had listened to podcasts about it. But nothing compares to seeing it in person."
Hurtado and his classmates saw the landmark in Venice as participants of the ROMA AETERNA study abroad program. But since 2020, the COVID-19 pandemic has put similar trips on hold.
The program's director, UTEP art history Professor Max Grossman, has had to cancel the visits in 2020, 2021 and again for 2022. Other professors and students in study abroad programs at UTEP have also faced cancellations.
"I have become numb. At this point it's like, 'OK, another year?'" Grossman said.
For many students, this means they have already or will graduate without the chance to travel and learn abroad.
Hurtado said the loss of the study abroad program isn't just about educational experiences, but also about personal development.
"It just really made me a different person," Hurtado said. "It made me a better person and enhanced my perspectives of world cultures. I would say that if it weren't for studying abroad, I would be much different."
The suspension of the programs also affects UTEP professors' abilities to conduct necessary research.
"I conduct primary research in support of my publications, my conference papers and my other academic activities. My study abroad program is a creative way to get me to Italy so that I can go visit the archives and other primary source materials," Grossman said.
The inability to know if students are vaccinated complicates their entry into Italy, Grossman said.
And as countries have different COVID-19 risk levels, uncertainty about students' safety is a constant challenge for UTEP, said Dania Brandford-Calvo, the executive director of the Office of International Programs and Study Abroad.
"Our students (are being denied), not by us, not by a society, not by border restrictions, but by an epidemic," she said. "It's saddening."
As the future remains uncertain because of COVID, so does the future of study abroad programs, Grossman said.
"This is a critically important educational experience that is unavailable to our undergraduates," he said.
Disappointment at opportunities missed
Study abroad programs were immediately canceled in March 2020 after UTEP and universities across the nation transitioned to online and remote learning due to the COVID-19 pandemic, Brandford-Calvo said. The university now monitors country conditions before approving international travel for students or faculty.
Brandford-Calvo said the school looks to the Centers for Disease Control and Prevention data to monitor COVID-19 levels. If a country is categorized as having a level three or four risk, meaning "high" or "very high" COVID-19 transmission levels, respectively, it is unlikely a program in that country will be approved.
Stephanie Nevarez, a current UTEP master's student studying occupational therapy, was planning to study for a week in Ciudad Juárez during March 2020.
The trip was canceled a week before the scheduled departure.
"It was upsetting but at the same time I was very understanding of the situation because I was a little scared to travel to another country during the time of a pandemic," Nevarez said.
The week-long program for master's of occupational therapy students allows them to fulfill class credit and work in a clinic where they can treat patients south of the border.
The opportunity to work and learn in a different country would have allowed her to expand her cultural competency skills, she said.
"When it happened I did feel that by not having that experience it was going to hinder my education as an occupational therapy student and was going to maybe deprive me of some experiences," Nevarez said.
The value of studying in other countries
Hurtado said his experience in Rome had a profound impact on his education.
"Just knowing that I have done research about it (Doge's Palace) and that I could finally see it in person, do some more research about it there in person really just helped me broaden my academic profile," he said.
Hurtado said the experience helped him solidify his academic interests and inspired him to apply for a master's program in art history in the future.
Grossman said Hurtado's experience is one of the many results of studying abroad.
"I've had students who have been on my study abroad program (and) have gone on to Ph.D. programs, to work for auction houses, museums, art galleries, because study abroad is a fundamental part of their training," he said.
Octavio Macias, a UTEP alumnus who graduated in 2018 with a bachelor's degree in art history, attended Grossman's study abroad program in 2017.
He said the experience gave him valuable tools as he completed his master's in musicology at the Peabody Institute in Maryland.
"I really liked being able to go to Peabody with all my training and having translated primary texts (or) primary sources from Latin, Italian, (or) Spanish. There's something to be said about coming with hard archaeological facts (because) no one can argue with you," Macias said.
While the trip was important for his education, he feels that the effects were even greater for his personal life.
"Italy really makes you grateful for being alive," Macias said. "It reminded me of how wonderful and splendid life can be and what it means to have a true quality of life."
He explained that issues like universal health care, reliable public transportation, and devoting more time for friends and family are cultural priorities that Italians promote, which led him to readjust how he views his personal life.
Macias said the experience abroad was so profound that he hopes to move to Spain next year.
"It's just liberating (to) have options (and) you give yourself (those) options," he said.
He also said that study abroad programs teach students social skills faster than what universities may offer.
"There's nothing that makes you learn faster than being in survival mode and you don't feel that if you stay in a classroom (or) the library all day," Macias said.
For Hurtado, the study abroad experience planted a "travel bug" in him and heightened his understanding of others.
He recalled observing how Italians eat dinner at 8 or 9 p.m. and take walks outside afterward.
"You're immersed and you feel like you're walking along with them. You're participating in their culture and by extension that feels like you're part of their culture," he said.
For current UTEP students, programs in Europe and China have been canceled, a UTEP spokesperson said in an email. Countries such as Australia, South Korea, Kuwait and Oman are approved, the official said.
Brandford-Calvo said the approval of study abroad programs is largely based on risk management and being able to secure healthy environments for students.
"Our programs, the university and individuals are liable when involved in these types of endeavors, liable for litigation," she said.
The current state of UTEP study abroad opportunities
Prior to the pandemic, approximately 475 UTEP students traveled abroad every year, Brandford-Calvo said. Her goal was to increase that number and send 600 students abroad by the summer of 2020.
But only 12 students are currently abroad, she said.
"When study abroad halted, what halted — besides the fun, more credits and going away — was the opportunity for building those bridges that expand the worldview of the student. The most significant aspect of studying abroad is that you will expand, not immediately, but your worldview will expand," Brandford-Calvo said.
UTEP's spokesperson said one of the biggest challenges are the different international laws regarding COVID-19.
"When programs remained opened, measures to enter (a) country and/or region have required 15 to 21 days quarantine periods, recent proof of a negative COVID-19 test, and/or a vaccination card (not all vaccines have been accepted)," the UTEP spokesperson said in an emailed response.
For Grossman, this means that if students arrive unvaccinated in Italy, they are required to undergo a five-day quarantine and be tested every 48 hours, according to Italian law.
With hotels and trips already planned and paid for in advance, Grossman said the potential of a student needing to quarantine would be an out-of-pocket cost and a disruption to the group's plans.
"I've also learned that if a student of mine were to get sick (with COVID) in Rome — even just suspicion of COVID not necessarily a positive test — as program director, I cannot leave Rome," he said.
A waiting game
With a third year of program cancellations, many students are inching closer to graduating and will miss the opportunity to study abroad.
"I have a number of students who have been hoping to attend my program for the last three years and each year I have to tell the same people 'I'm sorry. I'm hopeful that we can do it next year.' And then of course, we cancel again," Grossman said.
While Nevarez wasn't able to study abroad during her academic career, she currently is in Dallas completing her last clinical rotation before graduating in December.
Going to Dallas was the first time that she left El Paso and she said she's already been exposed to new cultures. It's helped her make up for the loss of new experiences she would have gained in a study abroad program.
Although only miles away, traveling to Juárez can be a new world for many students, said Dahlia Castillo, the director of the Juárez study abroad program and professor of occupational therapy.
"The cultural shock piece affects everyone differently. (Every year) students have different reactions," Castillo said.
Since the border has been open to only "essential travelers," which includes students, Castillo was able to take American students to Juárez in August and has plans to return next year.
"They are (our) neighbors and we are more alike than we are different, but we're still extremely different," Castillo said.
Castillo is also one of the directors of the Spain study abroad program. Like Rome, the Spain program has been canceled for three years because of the pandemic.
Both Castillo and Grossman said that all they can do is wait.
"I'm going to wait till there's more predictability. I'm hoping that a year from now the risk of COVID will be a lot lower and that Texas law and Italian law will fit together more closely," Grossman said.
Now an administrative assistant at UTEP's Upward Bound program, Hurtado works with local high school students to help prepare them for college. He tells students about his experience abroad in hopes that he'll inspire them to attend one themselves.
"As long as I inspire one student, as long as I get that little travel bug into one student, I've done my job," he said. "And as long as I do that, I've at least got someone who might pass the word on to two or three students."
Brandford-Calvo said UTEP is still functioning as if the programs will be restored soon.
"We never stopped working, recruiting, advising and guiding students who wanted to go abroad because we knew that the momentum had to be maintained for when the doors opened up again," she said.
This article originally appeared at El Paso Matters.
Support The 74's year-end campaign. Make a tax-exempt donation now.