Test Scores Show Slow Progress For Hawaii Students
While chronic absenteeism improved in Hawaii public schools, there was little improvement in reading and math scores in the 2022-23 school year.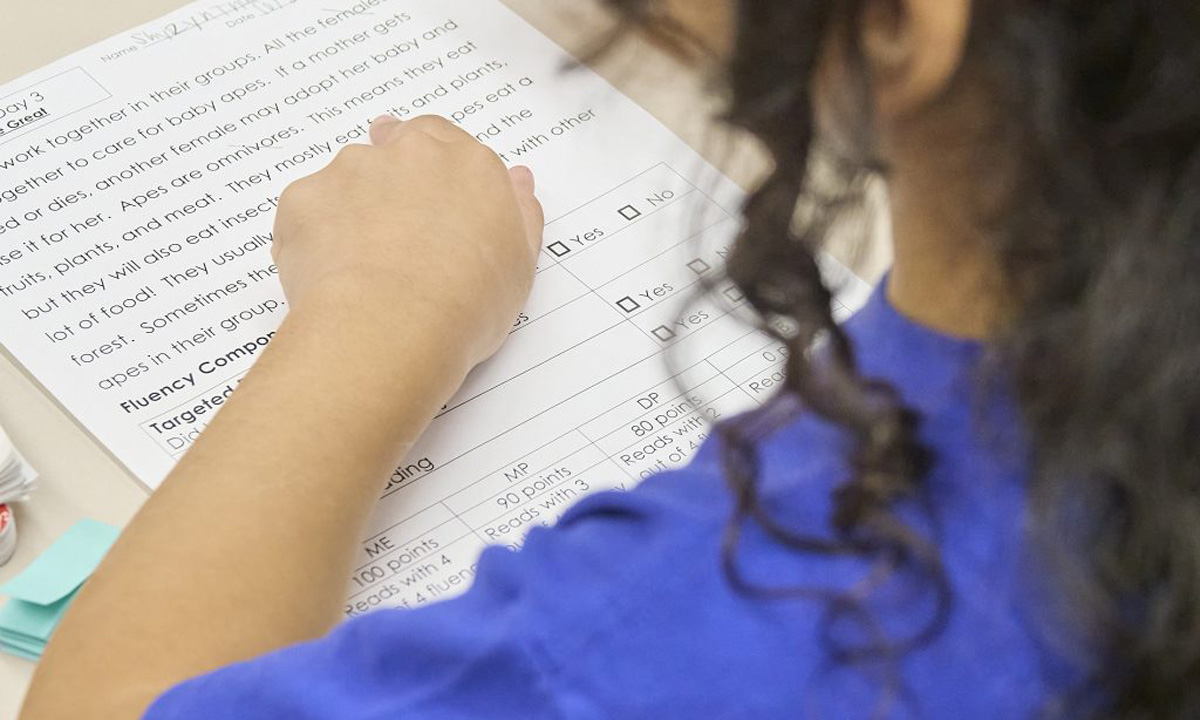 Support The 74's year-end campaign. Make a tax-exempt donation now.
Hawaii's public school students slightly improved their math skills while reading scores remained stagnant in the last academic year, underscoring the challenges in recovering from learning setbacks during the COVID-19 pandemic.
The Department of Education released a summary of results from the 2022-23 Strive HI reports, which assess the performance of all public school students, including those attending charter schools. Additional data, including individual schools' performances, will be available on Thursday, when the DOE presents the report to the Board of Education.
In the school year that began in 2022, 52% of students achieved proficiency on state assessments in language arts, the same percentage as the previous year though slightly higher than 50% in the first full school year following the start of the pandemic. That was a drop from 54% language arts proficiency in the two years before the pandemic began in March 2020.
The improvement was more pronounced in math skills, with 40% of students achieving proficiency in the last school year, compared with 38% in 2021-22 and 32% in 2020-21. That figure was 43% in the year before the pandemic. In the 2019-20 school year, Hawaii received a waiver for standardized testing and did not include math and reading data in its annual report.
Students in grades three through eight and 11 complete assessments that measure their proficiency in state math and reading standards, according to the DOE's memo.
Cheri Nakamura, director of the educational advocacy group Hui for Excellence in Education, described the results as "positive and promising," adding that she looks forward to seeing how the DOE continually pursues its strategic plan goals relating to math and reading proficiency.
The department's 2023-29 strategic plan calls for all students to be proficient in reading by the end of third grade and proficient in math by the end of eighth grade, or to receive additional support if they're falling behind in these subjects.
Fourth and eighth graders also complete the National Assessment of Educational Progress assessments, which provides a standardized measure of proficiency in reading and math for students across the country. Between 2017 and 2022, Hawaii achieved the highest gains in fourth grade reading across the country.
While the state achieved "incremental progress" in reading and math, DOE can continue to support students through initiatives such as prioritizing summer learning and providing intensive tutoring opportunities, said David Miyashiro, executive director of HawaiiKidsCAN. He added that he would like to see additional information on how the department spent federal Covid-relief funds and how effective these interventions were in addressing learning loss.
"Being able to answer those questions as a state is really important," Miyashiro said.
Terry George, president and CEO of the Harold K.L. Castle Foundation, commended Hawaii's improvement on National Assessment of Educational Progress scores, noting that the state has gone from being among the lowest in the country in reading and math in the early 2000s to keeping pace with the rest of the nation in recent years. But, he added, not all students have seen the same levels of achievement.
The state's achievement gap among high needs and non-high needs students was 34% in reading and 29% in math during the 2022-23 school year. The state defines high-needs students as those who are English learners, economically disadvantaged or receiving special education services.
"Hawaii's done better than many other states in trying to maintain achievement, but the gaps are still stubborn," George said.
Since the 2015-16 school year, the achievement gap for language arts has remained around 34%, while the gap for math has remained around 29%.
When it comes to equity in learning, Miyashiro said he would like to see a more detailed breakdown of test scores by student demographic in the DOE's memo. For example, he said, while fourth grade reading scores were a strength for the state as a whole, only 18% of Native Hawaiian and Pacific Islander students achieved proficiency on the NAEP assessment.
"The big number looks really good, but within that, we have to be honest and clear who isn't getting caught up yet and who needs the extra support," Miyashiro said.
In other measures of student success, Hawaii follows national trends surrounding high rates of chronic absenteeism since the pandemic. In the 2022-23 school year, 30% of students were considered chronically absent, a 7% decline compared to the previous year. The DOE defines chronic absenteeism as missing 15 or more days of school, and said in its memo that elementary students have experienced the greatest levels of absenteeism since the pandemic.
George said he remains hopeful that the DOE can make progress toward its strategic plan goal that students attend at least 90% of instruction. Moving forward, he added, he would like to see the department use results from the Strive HI report to inform the next steps it can take to carry out its 2023-29 strategic plan.
At Thursday's meeting, George added, he would like to see a productive discussion between the Board and DOE around how available data can inform the state's priorities moving forward.
"We need to move beyond blame for issues," he said. "We need to own this together, and we need to work together using all the resources at our disposal to really advance learning for all students in all schools."
Civil Beat's education reporting is supported by a grant from Chamberlin Family Philanthropy.
This story was originally published in Civil Beat.
Support The 74's year-end campaign. Make a tax-exempt donation now.