Tennessee Representative Says He Would Burn Books Deemed Inappropriate By State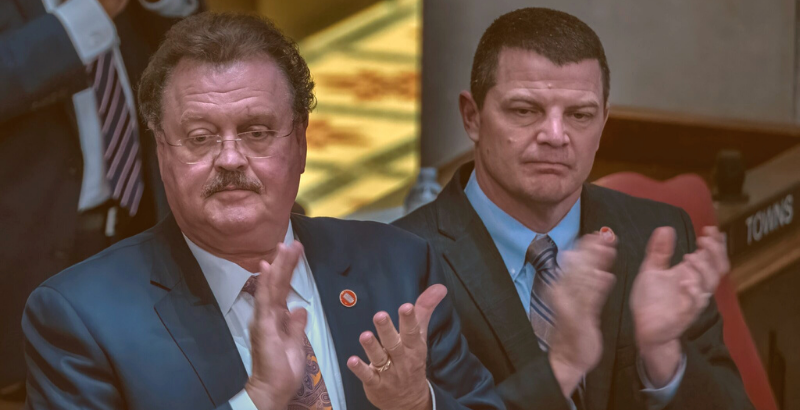 Get stories like these delivered straight to your inbox. Sign up for The 74 Newsletter
State Rep. Jerry Sexton said Wednesday he would "burn" books found obscene by an expanded state textbook commission charged with policing school library selections.
In debate with Sexton over legislation requiring school districts to submit lists of library books to the commission, state Rep. John Ray Clemmons, D-Nashville, asked what the state would do with the books, put them out in the street or set them on fire?
Sexton responded, "I don't have a clue, but I would burn 'em."
The House passed the measure, but it is unclear whether it will pass the General Assembly. Sexton, a Bean Station Republican who is not seeking re-election this year, acknowledged the House and Senate bills are likely to go to a committee to work out differences. Sexton carried the bill for House Speaker Cameron Sexton, R-Crossville, and Sen. Jon Lundberg, R-Bristol.
Republican lawmakers have consistently pointed toward a book, "Me, Earl and the Dying Girl" as an example of obscene material found in elementary libraries. Sexton continued that mantra Wednesday, though he referred to it as "Me, Earl and the Girl Named Pearl," saying it is "very sexual" and "pornographic" in nature. He also claimed lawmakers found obscene materials in school libraries in 93 of 95 counties.
The House legislation would require schools to make lists of books to be sent to the state textbook commission for approval. The commission, which will receive extra appointments, including the state library director, from House and Senate speakers, would be charged with going over those lists and giving approval.
The measure also sets up a process for parents to file complaints with the state.
Clemmons and other Democrats continued to object.
"Don't librarians currently decide what's appropriate to go in a library? And why are we usurping the authority of librarians and placing the state in the place of deciding what's appropriate and what's not for children?" Clemmons asked.
Sexton responded that he's not sure who's putting obscene or pornographic books in libraries, though he said librarians might be signing off on them.
In a back-and-forth with state Rep. Gloria Johnson, D-Knoxville, Sexton said he wasn't sure about the qualifications required for people to serve on the textbook commission. But he noted his mother had no educational training and raised 10 kids, in addition to helping raise 23 great-grandchildren.
"She done a great job," he said, adding common sense should be used to determine what is appropriate.
Just as parents turn off the TV when certain words are said in the presence of children, the state is doing the same thing in libraries.
"We're turning those books off that are not appropriate, that use words that are very illicit, not only just words but some of these books have drawings. We consider them XXX and pay a premium price to see it at the movies," he said.
Johnson noted in response, she would "have to trust you on that thing about movies."
Arguing that one group shouldn't determine what books are read by students across the state, Johnson noted, "History hasn't looked fondly on people who ban books or burn books."
Sexton, however, said the state isn't banning books, just removing them from libraries.
Lindsey Kimery, past president of the Tennessee Association of School Librarians and legislative task force co-chair for the group, said Wednesday the library bill was not on her group's radar until Monday night.
"This is how sly and sneaky it was," Kimery said, adding she wondered why some Democrats voted for it previously.
Language was dropped that would have required creation of a statewide list of books. Instead, school districts will have to compile a list of books for the textbook commission to review.
Sexton said nothing about creating a statewide list during discussion in a committee meeting, only that it would add seats to the textbooks commission, Kimery said. 
The Tennessee Association of School Librarians worked for three years to create the position of state librarian, which was eliminated from the Department of Education around 2000, but not to oversee a statewide list of unapproved books, she said.
"We're just watching in horror," Kimery said. 
Librarians feel they've been turned into "collateral damage" this legislative session after groups affiliated with conservative organizations started complaining about selections they claim were found in libraries.
Representatives of Moms for Liberty, a Williamson County-based group, testified in committees for other legislation designed to ferret out books with obscene words. At one point, musician John Rich accused librarians of "grooming" students for sex and said they are worse than perverts who drive around in vans trying to lure children into the vehicle.
Lawmakers considered a bill earlier this session that would have criminalized librarians for allowing obscene material in libraries. It failed in the Senate. Another bill from Gov. Bill Lee set up a process to review books and handle parents' complaints.
The Tennessee Association of School Librarians points out schools already have processes for parents to object to books, which involves talking to the librarian, going to the school administration, then the school district.
Librarians select thousands of books each year based on descriptions of the content, age recommendations, awards and other types of information. When parents make complaints, they work with them to handle the situation, she said.
Kimery, however, raised questions about the complaints directed at "Me, Earl and the Dying Girl," pointing out it is a high school book. In her investigation, she could not find anything showing it was in an elementary school or middle school in the state.
The book does contain sexually graphic language in a couple of places, but it is written for students age 15 to 18, some of whom are old enough to serve in the military, Kimery said.
Librarians are worried this type of legislation will create a "slippery slope" for widespread book bans, she added.
"We're providing books that meet the needs of our students, books they're interested in reading because we want them to have books to choose from so they will become lifelong learners and readers, books that support the curriculum," Kimery said.
Tennessee Lookout is part of States Newsroom, a network of news bureaus supported by grants and a coalition of donors as a 501c(3) public charity. Tennessee Lookout maintains editorial independence. Contact Editor Holly McCall for questions: info@tennesseelookout.com. Follow Tennessee Lookout on Facebook and Twitter.
Get stories like these delivered straight to your inbox. Sign up for The 74 Newsletter