Tennessee Bets Big on Personalized Learning, Launching Pilot Program & Eyeing Big 2020 Goals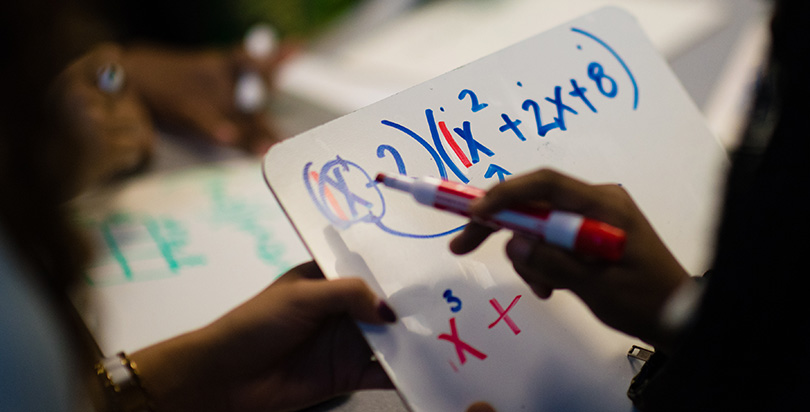 When Jeran Tenpenny wrapped up his first year of teaching last summer at Tennessee's Cannon County High School, he hoped to solve a problem that had vexed him for months. His algebra students mastered basic concepts, but they had trouble communicating what they didn't understand when faced with more challenging algebraic equations.
So he and a teaching coach at BetterLesson, an education technology company, hatched a plan to improve student learning. He would encourage students who struggled on a test or quiz to seek extra help from him during their lunch hour and write explanations about exactly why they got each question wrong.
Then, if they were unhappy with their performance on the first test, they could take another one to show they understood the material.
"My goal is to help my students to not care so much about their grade but, 'Have I mastered the concept and the material I am supposed to learn in algebra?' " Tenpenny said.
That sort of classroom strategy shift is what the Tennessee Department of Education and BetterLesson were aiming for when they launched a partnership last year to help educators adapt their teaching styles to diverse groups of students.
That pilot program is one of the first steps in a major commitment by the state to incorporate personalized learning in the classroom, with three specific goals in mind: that Tennessee will rank in the top half of states on the National Assessment of Educational Progress by 2019; that the average student ACT composite score will be a 21 by 2020, and that the majority of high school graduates from the class of 2020 will earn a postsecondary certificate, diploma, or degree.
In November, a state task force released a report spelling out specific strategies: using data to track student progress and inform instruction; letting students set their own learning pace by demonstrating competency in skills and subject areas; boosting professional development and awarding teachers micro-credentials for demonstrating excellence in particular aspects of teaching; and boosting instruction in science, technology, engineering, and math — the Algebra I/Integrated Math I Blended Learning pilot that Tenpenny is part of.
"One of the driving goals for the department's work is supporting districts and schools to meet the unique needs of each and every Tennessee student," Deputy Education Commissioner Kathleen Airhart said in a statement. "This pilot is an opportunity for Tennessee teachers to explore tools that can help them individualize their instruction, something that is particularly challenging in high school."
Under the program, which began last summer, about 50 math teachers from more than 30 Tennessee schools participated in a three-day crash course on personalized learning. Now, they are teaching their 5,000 students using blended learning techniques, supported by a BetterLesson coach who advises and guides them throughout the year.
The department hopes the pilot program will help reduce the achievement gap, increase student test scores, and boost student engagement. Another 50 teachers will be added to the BetterLesson training program next school year, as one-on-one coaching for the current cohort tapers off.
As part of the training, educators must identify specific challenges they face in the classroom and devise strategies to solve them. Then they have biweekly virtual meetings with their BetterLesson coach to track their progress. Using BetterLesson's web tools, teachers can also upload videos of their class for their coach to watch, and browse through educational resources and lesson plans.
The usefulness of personalized learning has been a subject of much debate. Educators and executives offer different definitions of what personalized learning is, and research on its effectiveness is limited. 
In Tenpenny's classes, though, BetterLesson has had an impact. Since he implemented his new retesting policy, fewer students have needed to re-review concepts after an assessment is over. More of them are taking charge of their own learning and seeking the help they need to understand the material, he said.
"My BetterLesson coach has helped me," Tenpenny said. "I see how my students' grades have improved over the course of the year."
---
---
Support The 74's year-end campaign. Make a tax-exempt donation now.