Technology On the Move: Heart Zones' Wearable Monitors Put Fitness First in Phys Ed Classes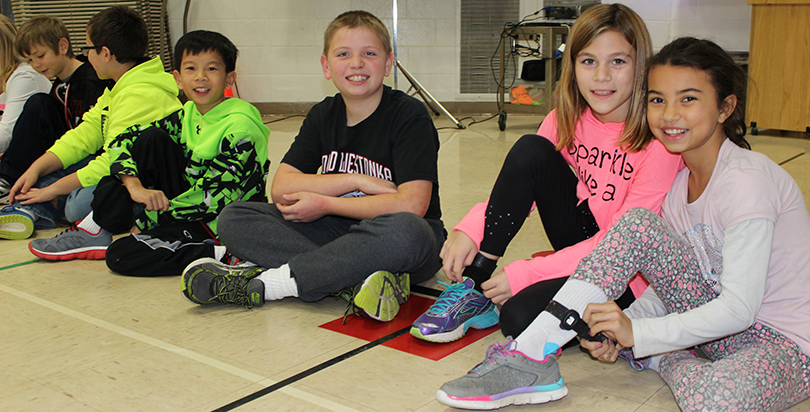 Students in Westonka Public Schools, outside Minneapolis, used to love physical education classes when they were in grade school, but by the time they reached high school, gym was one of the least sought-after electives.
With a traditional physical education model that was all about showing up for class, wearing the proper uniform and learning a skill that had little to do with exercise, fitness or enjoyment, the high school's phys ed classes simply weren't attracting students, Mark Femrite, assistant superintendent of teaching and learning, told The 74.
"The high school was stuck in the old mold," he said. "We had some hard conversations about that at the high school."
Those conversations led Westonka to examine districts around the state with physical education departments attracting students, and a common theme emerged: "What they were doing was very different than us, with learning targets and grades based on growth and mastery of standards," Femrite said. "And we noticed they were all using technology, smart devices, as a way to measure individual growth. That was an eye-opener to our phys ed staff."
For the district's leaders, "There was something to learn from these other schools and how they are measuring individual growth," Femrite said. "You cannot do that without technology."
Westonka is now in its second year using wearable technology from a small firm in California called Heart Zones, and today, physical education in the district looks nothing like the tired, static gym classes of yesteryear.
Students strap on Heart Zones monitors when they walk into the gym, and statistics for each kid — heart rate, steps taken and calories burned, for example — are instantly projected on a screen for real-time tracking. Students in K-4 clip the tracking devices to their shoelaces; in the upper grades, the devices go on their arms.
"Now you are getting real-time feedback directly tied to your level of effort in the class," Femrite said. "Now your grade is tied to your effort based on steps or the number of minutes you are in the different zones of cardio. The kids are engaged and excited to come."
Students walk into gym class with clear goals, immediately starting to run or jump rope to accumulate points using technology that comes naturally to them. "It is crystal clear what the mission is when it comes to fitness," Femrite said. "They can see it. That's the game changer. It brings ownership to the students."
The benefits span all levels. For the athletes who had complained that physical education class was a waste of time, their individualized goals can improve sport performance. For out-of-shape students, their individual goals can help improve fitness.
Westonka joins a growing trend of incorporation of wearable technology into education-based fitness programs; the U.S. market for this sort of classroom-based technology is predicted to grow from 36 percent to 46 percent by 2020.
Oral Roberts University in Tulsa, Okla., for example, requires all freshmen to wear Fitbit activity trackers as part of its physical fitness requirements. In UNICEF's Kid Power program, participating youngsters earn points on devices that track steps and movement. The points unlock funding that pays for UNICEF to deliver food to malnourished children around the world.
For Westonka, incorporating technology into its phys ed classes was only the first step in a fitness-focused revamping of the entire curriculum. Every unit is being reviewed for relevance and to balance the value of learning a lifelong skill — such as executing a badminton stroke or swinging a baseball bat — versus fitness.
"We want you to learn different skills, like shooting a basket, but we also want you to understand fitness and understand your own fitness goal and how your level of fitness and effort correlates to your physical well-being," Femrite said. "I would say this is where K-12 phys ed is going into the future, and we were fortunate to figure things out on the early end."
Get stories like these delivered straight to your inbox. Sign up for The 74 Newsletter