#TeachStrong: Teachers Unions, Reform Groups Launch Joint Campaign to Elevate Educators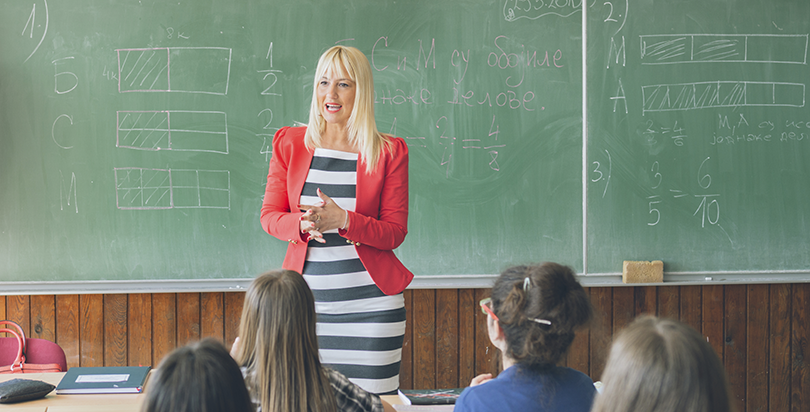 Policy discussions about teaching are often fraught with partisan political strife. But on Tuesday a coalition of 40 diverse education groups — ranging from teachers unions to education reformers — are joining together to announce a new campaign promoting principles they say will "elevate" and "modernize" the teaching profession.
The campaign, entitled
TeachStrong
, is organized by the Center For American Progress, a liberal think tank, and supported by dozens of other organizations including the nation's largest teachers unions and reform-oriented education groups such as Teach For America and Teach Plus.
"We're very excited about the strange bedfellows coming together," said Catherine Brown vice president of education policy for the Center for American Progress. "I think the time has come…A lot of these groups have been focused on this agenda for a very long time."
While policymakers nationwide are increasingly holding educators accountable for student outcomes, the bar has not been similarly raised for the systems that recruit, train and pay teachers, Brown said.
The TeachStrong campaign highlights nine principles it says will help elevate the profession, including paying teachers more, making tenure meaningful, supporting new teachers with residencies and giving all teachers more time to plan.
"We have raised expectations for schools pretty dramatically. We have raised expectations for students. We have raised expectations for teachers," Brown said. "We haven't actually elevated the systems that support them. That's the next thing that needs to happen in education policy."
Teach For America sees the new campaign as a way to change the public conversation about teaching so that it becomes a more attractive profession to highly talented would-be educators.
"At Teach For America, we're proud to join with our partners in the education community as part of the TeachStrong Initiative," Teach For America CEO Elisa Villanueva Beard said in a statement to The Seventy Four. "Teachers take on immense leadership every day, and as a nation, we need to elevate and modernize the profession. TeachStrong is a step in the right direction."
Meanwhile, Randi Weingarten, president of the American Federation of Teachers, which has often portrayed Teach For America recruits as under-trained,
told The Washington Post
that instead of blaming teachers, the TeachStrong campaign will point to policies that will help make educators successful.
"How moronic is it to think the way you're going to have great teachers is to vilify people," she said. "I think what's happened is that finally some common sense is taking over. This is a fundamentally different way of looking at teachers, how we recruit, train and support them and give them the latitude and tools and conditions to do their jobs."
But Eric Hanushek, a senior fellow at the Hoover Institution of Stanford University, said the potential impact of the priorities outlined in the TeachStrong campaign will depend on how they are implemented.
"It depends on what doing them means. We've tried a whole bunch of those things and we've haven't gotten great evidence that these things at that level work," he said. "The specifics and the details matter a lot. Sometimes doing some of the things on their list work and sometimes they don't."
Campaign organizers have been working with participating partners for the last seven months, often focusing on finding agreement on the nine principles, said Brown, who acknowledged "there was a fair amount of consensus but also some amount of wordsmithing."
"The TeachStrong initiative surfaces some very important issues related to elevating the teaching profession," Sandi Jacobs, senior vice president of the National Council on Teacher Quality said in a statement to The Seventy Four.
"Teaching is an extremely challenging career and teachers deserve support for the incredible work that they do. Such support goes a long way towards ensuring every child gets the education he or she deserves."
The coalition has about $1 million to spend on the campaign though individual groups can also add their organizational muscle to the cause. TeachStrong hopes to capitalize on the presidential campaign and force candidates and policymakers to outline agendas that will modernize the recruitment and retention of teachers. So far, presidential candidates have talked little of K-12 education issues.
"The first step is raise this issue in education policy debates," Brown said. "When people are asking what needs to happen to improve student gains…we want this to be the issue that public leaders are pointing to."
So far, the campaign has stopped short of offering specific policy recommendations on more controversial issues such as whether districts should adopt performance-based bonus systems or what factors should determine tenure. While the coalition may refine its vision at a later date, for now it hopes to put support for teachers at the forefront.
"We think this presents an opportunity for us to break through the contentiousness of the last five years," Brown said.
Get stories like these delivered straight to your inbox. Sign up for The 74 Newsletter